2015 Round-Up
Reading Time:
3
minutes
The exciting 2015 is almost ready to pass its rights to a new follower, one day is left. This is a holiday period when people usually resuming their work and targets they achieved. We are summing up KeepSolid results and achievements of the outgoing year too.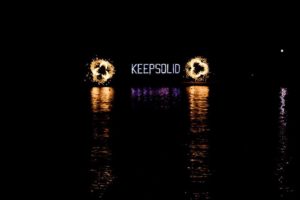 Above all others, we would like to mention that VPN Unlimited strengthens its position on the global market by offering a secure online protection and privacy, a safe web surfing and a free access to any web content. We have just reached a milestone of 3 million VPN Unlimited users and over 5 million users overall!
We want to thank you for being with us all this time, for your valuable feedback, for your constant support! These are things we can hardly get some issues sorted out without!
KeepSolid major results of the 2015 year
2015 was a very busy year, though very adventurous. We have started with 50 servers in 16 locations back in December 2014. Today our customers have access to hundreds of solid servers in 53 locations in 39 countries around the world. Our servers cover all continents, but Antarctica. Besides, for the past year we have extended our offering of the safety and security solution, VPN Unlimited, to new platforms. Now it is available on iOS, Mac, Android, Windows, Windows Phone and Linux.
KeepSolid.Workshop for young and talented programmers
In April we have started KeepSolid.Workshop project – an educational program for 2nd and 3rd-year university students to get hands-on experience in programming. This is a 12-session course with exciting live presentation by our professionals.
KeepSolid.Workshop 2.0 started this September. Altogether 60+ students participated in two workshops. The top students will be offered an internship with an opportunity to work for KeepSolid after university graduation. Currently, we have 6 students-internees, who are working on a new product development with a release aimed in February 2016.
WiFi Hotspot Protector against malicious public network connections
We have launched a new product – WiFi Hotspot Protector for iOS. This app is on guard for safety of users' sensitive information, like credit card details, e-mails, passwords, and pictures. It is the primary goal of WiFi Hotspot Protector to keep cyber criminals away from your valuable data. With one tap, you get a personal online protector that will detect possible security problems, and notify when you are near potential threats in public Wi-Fi hotspots.
A new payment option – Bitcoin
Since October, we accept Bitcoin as a payment option. It is the safest and most secure monetary transaction available online. The encryption that is installed in its protocol protects the security of your money, and serves to protect your anonymity, preventing identity theft that is highly pervasive when you use credit cards for payment.
VPN Unlimited features Apple Watch support
The last but not the least achievement in this list is that we brought VPN Unlimited to Apple Watch. This feature saves your time and gives you easier control over your online safety. You are able to turn on/off VPN Unlimited, or change a server you are connected to right from your wrist.
This year was a great one. We will continue to provide you a seamlessly private and secure online experience and improve it even further with your feedback and support.
Wishing you a very happy and prosperous New Year!