How about eDevelopment on the European Union Level?
Reading Time:
3
minutes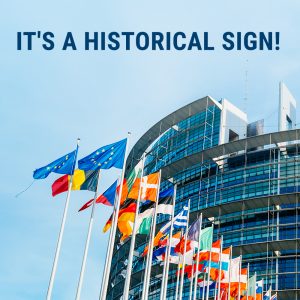 Living in the 21st century, humanity typically takes technical development as a routine practice. Therefore, sometimes we don't even ponder about the significance of some digital solutions. We take technologies for granted – like complaining about an uncomfortable chair while on a plane. Hello, you are flying in the sky, like a bird! As such behavior doesn't make sense, we'd like to break stereotypes of ordinary attitude toward innovations. Let's take a closer look at eSignature because this is a real digital revolution for the business world.
Breaking news
According to EU eGovernment Action Plan 2016-2020, in 2016 the EU had to accelerate the take-up of electronic identification, authentication and trust services (eIDAS), including electronic identification (eID) and electronic signature. As a result, on the 25th of October the most important eSignature event of the year was set in the European Parliament in Strasbourg. The President of the EP, Antonio Tajani, and the representative of Estonia, the head of the European Union in the second half of 2017, Matti Maasikas, electronically signed a new regulation on "Security of gas supply".
The name of the act doesn't really matter, more to the point is the historical nature of the event. The first e-signing of the legislative act is a great improvement for eIDAS in particular and for business in general. These news can be compared to the introduction of the first smartphone. Since then our life extremely changed and that's what is happening to the business world now.    
E-Estonia
Estonia was expected to be part of such leap-ahead event. As Antonio Tajani put it, "Estonia is at the forefront of the digitalization process". This fact is absolutely true since the independent country began introducing the list of various reforms. Long story short, now 99% of state services available online, meanwhile, 94% of population use ID-cards, an identity document inside of Estonia that contains cryptokeys, certificates, and eSignatures.
This digital breakthrough became possible due to E-Estonia, the website that was named 'the most advanced digital society in the world'. It is an electronic system where you can do practically everything: open a bank account, meet bills, even vote for a new president. Consequently, the Estonians have no need to visit any public office at all. Due to such enhancing development of IT in Estonia, the primary goal of all countries is required to focus on achieving the same results.
KeepSolid's brainchild
Electronic technologies are our present and our future. Legal electronic signing system on the government level is a step forward to more optimized and effective business processes. According to Matti Maasikas, "E-signature saves paper, time, and money", and we completely agree with this statement.
Our brainchild, KeepSolid Sign, can serve as a bright example of e-signing technology for your business. Despite the fact that we don't have the digital signature feature yet (our team is working on it), you can easily sign various documents both for your personal and business needs. High security measures we use, such as peer-to-peer information distribution architecture and AES encryption, will make you feel completely safe entrusting your documents and personal information to KeepSolid Sign. Read more about our technologies in a recent blog post.
Try KeepSolid Sign for absolutely FREE and make a significant step towards the electronic future.