Going on 2014 FIFA trip? You'll need 'Brazil Things to Pack' List
Reading Time:
2
minutes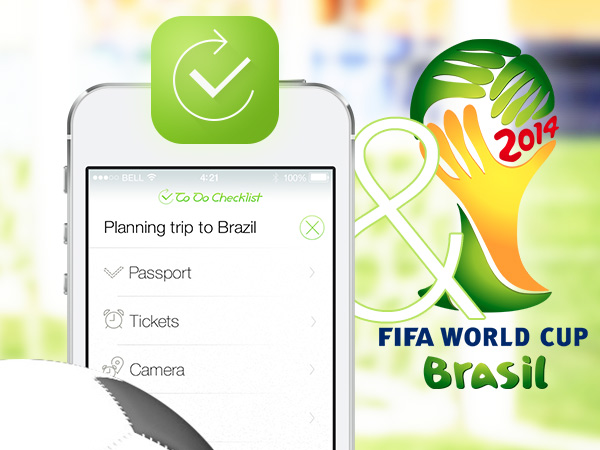 Do you know how passionate are soccer fans about "their sport"? Although 2014 FIFA in Brazil is yet to come, the fans are getting their things ready for the trip. Calling it a trip of a century, the soccer fans are about to indulge on exciting soccer matches that they are most passionate about. They are going to remember Brazil for a lifetime. Soccer is not a game but a form of an art, yet unfolding Brazil as one of the most inspiring destinations has many spectacular sightseeing places that you should get ready to fall in love with.
Why Now?
Actually, Rio de Janeiro will be occupied by tourists for the next two years. Wherever you wish to go, To Do Checklist 3.0 will get you there.
Upcoming 2014 FIFA
2016 Summer Olympics
Putting aside all the fuss and thrill around FIFA 2014, basic trip preparations steps should be taken today and you better have your Brazil FIFA Travel To Do List ready. Follow our lead, making To Do Checklist 3.0 your ready-to-use assistant and things-to-pack guide.
Did my Suitcase Become Smaller?
And yes, we agree that packing things is a headache but you can easily manage with our help.
Important Stuff! Let's get serious for a minute:
Travel Passports and Visas to enter Brazil.
Plane and soccer match tickets (purchased from FIFA only).
Do your transport and accommodations bookings (confirm your bookings).
Stay healthy for travelling and consider the vaccinations.
Find an affiliate bank in Brazil, but it is better always to have some cash available (difficulties during ATM money withdrawal should come as no surprise to you).
Safety & Security – stay cautious as you are responsible for your own safety.
Use To Do Checklist set Match Days & Location reminders.
Clothes
3 casual shirts
3 pairs of pants / jeans
2 swimsuits
Formal outfit
2 comfortable sandals & shoes
Snickers
Underwear / travel lingerie
Light jacket / thin sweater
Sun hat / cap
Sunglasses
Medication
Aspirin
Digestives
Band-aids
Prescription medication
Allergy medicines
Sleep medication
Eye drops
Motion sickness medicine
Electronics
Power converter
Phone & phone charger
Camera & camera charger or batteries
Music player
 Toiletries
Hand sanitizer
Travel sized: shampoo and lotion
Contact lens case and cleaning solution
Sun screen
Miscellaneous
Refillable water bottle
Digital Books & Magazines
Goggles
Travel guide
Pocket dictionary
City and subway map
Umbrella