How SmartDNS Service Helps Unblock Media Streaming
Reading Time:
4
minutes
Need to access online services and websites blocked behind geo-restrictions? SmartDNS is the best solution. But what is a SmartDNS service? How it works? How to use it? And how it compares to other similar services, such as proxy servers and VPNs? In this comprehensive article, you will find all the answers!
How SmartDNS works
SmartDNS is based on the Domain Name Server technology. The SmartDNS version of it directs specific parts of the user's traffic to a proxy server, obfuscating the users' real IP address and thus hiding their location. The proxy server works as the middleman and then directs the traffic to its destination. 
SmartDNS provides two major benefits to the user:
It allows to access websites and services that were previously unavailable due to geo-blocking and content censorship. For instance, to access the US Netflix library of shows and movies while you are located in a different country.

Since it only routes only a part of the internet traffic through a proxy, SmartDNS reduces network latency and minimizes load on the server. So the user can still enjoy their full network speed AND stream media online.
SmartDNS for watching Netflix and other streaming media
These features make SmartDNS an extremely appealing option to circumvent geo-blocking. The most common use of SmartDNS is to access popular media streaming services, such as Netflix, Hulu, BBC iPlayer, or Rai.TV. 
SmartDNS is also extremely easy to set up and use! It doesn't require a specific operating system or complex configuration, and can work with pretty much any internet-enabled device. This includes routers, smartphones, smart TVs, media players, laptops, video game consoles, etc. And since the configuration takes place at the system level, a single SmartDNS account works across all browsers and applications on the configured device, or even all devices in the network if SmartDNS is installed on the router.
SmartDNS advantages and disadvantages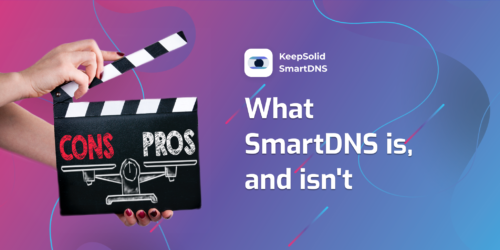 Pros:
Faster than VPN services due to different operating principles (as described above); this makes SmartDNS great for streaming media content, e.g. accessing Netflix

Simple and quick configuration

Supports a variety of devices, including those most commonly used for watching movies and TV shows online, such as smart TVs and media players

Can be used across all apps, browsers, and even devices in the configured system

Generally cheaper than paid VPN and proxy services
Cons:
Unlike VPNs, SmartDNS is NOT a security solution – it doesn't encrypt the device's traffic

It's not a privacy solution either – it can't totally prevent third parties from tracking the user's activities

Certain DNS filters can interfere with SmartDNS services work
Why do I need SmartDNS service
SmartDNS services work best if you need to bypass geo-blocking and access geo-restricted content, wherever you are. For your buck, you get the ability to watch the US Netflix, Hulu, BBC iPlayer, or Rai.TV, etc. Combine geo-blocking circumvention with high speed and reliability – and you will get why SmartDNS is the ultimate tool for watching movies, TV shows, and other online media streaming content.
Why do I get blocked on Netflix and other streaming media services?
Geo-blocking, which is the major reason for certain internet content being unavailable in certain regions, may be caused by various reasons. Sometimes it's due to content distribution rights and limitations. Other times, network provider and even the government might declare certain content "harmful" or "offensive" and ban it. That's why you can't watch the US Netflix in India, or certain streaming services in China.
Whatever the cause, your IP address holds information about your physical location.  So when a network provider or content distributor detects that you try to access the wrong content from the wrong location – BAM! – you are denied. 
How to use SmartDNS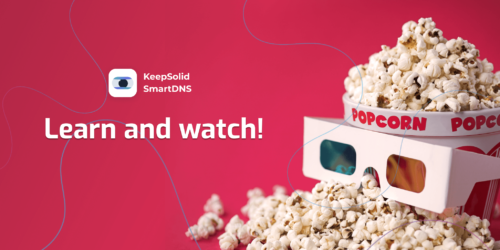 A great benefit of SmartDNS is how easy it is to use and set up. Besides, with KeepSolid SmartDNS you can get the service for free for 7 days, so that you have enough time to check out its features and see whether it suits your needs. Here's how to start using SmartDNS:
Conclusion on SmartDNS use
As you can see, SmartDNS is perfect for accessing geo-blocked sites and services. It's a great alternative to counterparts like proxy servers or VPNs, if you take into account its pros and cons. Its speed and efficiency make SmartDNS invaluable for unblocking Netflix and other media streaming services.
Keep in mind, if you're looking for a security or privacy solution, you're better off with a decent VPN service. Such tools work best for protecting your online data and traffic, encrypting your personal information, securing your device on public WiFi, avoiding ISP / corporate / government surveillance, or ensuring your anonymity online. 
The only drawback of VPNs is how they inevitably slow down your internet speed, which might be a deal breaker if you only wanted to watch Netflix shows and movies, or any other geo-restricted media streaming service. If that's what you need, then SmartDNS might prove the real game changer.