Our Sales Department Experience: How to Improve Sales Process with KeepSolid Sign
Reading Time:
4
minutes
KeepSolid products have been on the market since 2013. One of the engines for our development has always been the fact that our company uses our own products. KeepSolid Sign is not an exception, and can serve an excellent example. We have implemented the app into the work of our sales department even before the official release. Since December, 2017, we've successfully been signing contracts online, and now we'd like to share the results with you.
For those of you who haven't heard about KeepSolid Sign yet, it is an eSignature solution created to make your signing process faster and more convenient. Today, we'd like to tell you how this app helped us improve our sales process, through the example of OEM sales managers.

OEM sales managers in KeepSolid
First things first, OEM (Original Equipment Manufacturer) sales managers are responsible for growing B2B sales of OEM products. At KeepSolid, we sell VPN Unlimited OEM solutions:
VPN Unlimited SDK (Software Development Kit) – create your own, brand new application equipped with the benefits of our VPN software

VPN Unlimited White Label – our specialists develop a VPN solution for you that you can use as a part of your own product

VPN Unlimited for Routers
As a result, our clients are the companies that either work in security segments, want to develop new applications, or just use routers for their business. Given the nature of the business, it is not similar to B2C product sales, for the negotiations with partners can last for half a year. That's why the time is money statement describes the work of OEM sales managers pretty accurately – every minute counts!
KeepSolid Sign saves OEM sales managers about 3-5 days of overall downtime.
Click To Tweet
Before…
The process of signing contracts for OEM sales managers before using KeepSolid Sign was quite time-consuming. Just imagine this long procedure. We used to send a letter with a contract to our partners by email. After that, their manager had to check the email, find our contract, download it, and print it. Then they would make an appointment with top managers to sign contracts. In the end, the manager would scan these contracts and sent them back to us by email.
Sometimes, these stages could take both sides well over a week. And that would be the best case scenario, when the contract didn't get lost in the mailbox, or some mistake was made signing it.
…And after!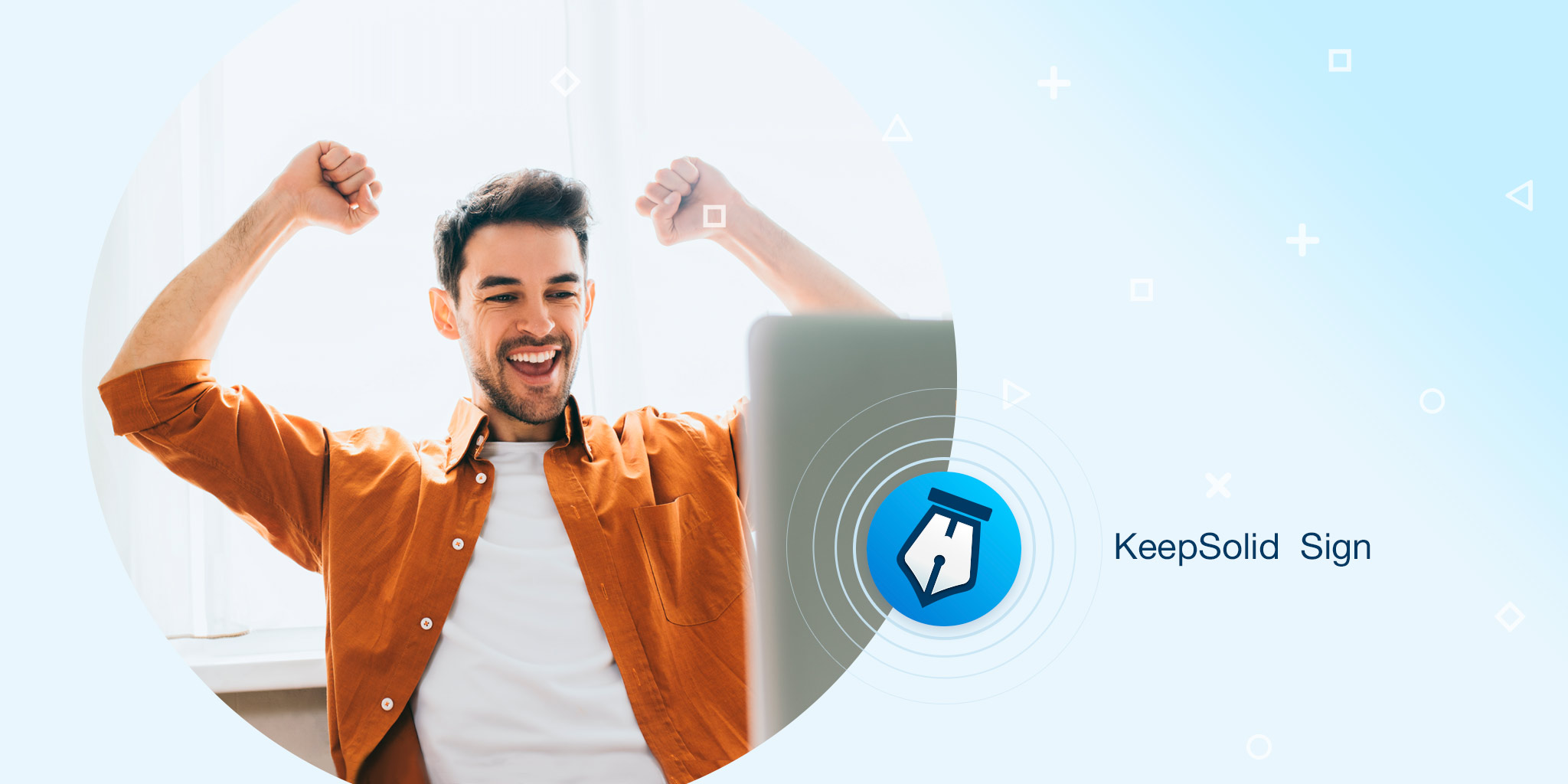 Now our OEM sales process is optimized. Our sales managers add our clients to the Contacts tab in KeepSolid Sign. Then they open the contract, annotate our clients and send it to them via the app. Clients receive an invitation to KeepSolid Sign to their email. After that, they can download the app or open the doc in the browser. All of the parties see their signature blocks and fill them electronically in real time. After that, the contract synchronizes and everybody has an online sample. Such optimization saves OEM sales managers about 3-5 days of downtime.
Steps of sales process
Now let's move on to practice. Obviously, our sales managers don't need KeepSolid Sign every minute. When do they actually use it? There are 2 stages of the sales process where KeepSolid Sign becomes essential.
Negotiation phase

. As already mentioned, this process might take way too much time. In order to provide our clients with all of the information they need to make a decision, we have to share with them some confidential materials about our VPN software. That's why at the beginning of negotiation, we use our app to sign an NDA (Non-Disclosure Agreement). KeepSolid Sign also optimizes the negotiation process by tracking our contract status and history.

The closing of a deal

. When the client is ready to buy our OEM solution, it's about time to sign a purchase agreement!
What are the benefits of KeepSolid Sign for us?
Time-saving

. No more lengthy e-mail exchanges between our OEM sales managers and their clients. Documents are sent within our service and can be quickly handled. In-app notifications also contribute to the swiftness of contract signing.

Signing history

. All of the documents that sides sign during the sales process are always saved for them. This comes in handy if they have to check the draft of the agreement that they signed some time ago. Nothing will ever be lost under the piles of mailbox correspondence again.

Collaboration with foreign clients

. Long distance is not an issue with our international multilingual app.
Top 3 of our OEM sales managers' favorite features:
Adding text.

This feature becomes essential, when you need to add more information than just a signature. The ability to correct a contract in real time is a big plus!

Annotation of observers.

An observer is a participant who can only access a contract in view mode. Adding observers exempts sales managers from the need to constantly contact with top managers. They can control the process of signing on their own from within the app.

Templates creation. No need to waste time adding and editing typical contracts over and over again when you can save them as templates.
Bottom line
All in all, KeepSolid Sign helps our OEM sales managers to avoid an old-fashioned print-sign-scan-send routine. Now they don't have to wait long before getting the signed contract back from their client. Also, coming soon: we are going to implement KeepSolid Sign to our HR and Accounting departments! Subscribe to our blog for new articles about our experience!