New Functionality for the Upcoming Official Release of KeepSolid Sign is Almost Here!
Reading Time:
3
minutes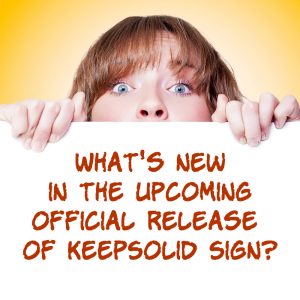 Only two months have passed since we launched a public beta of KeepSolid Sign. Here we are again to talk about updates which our upcoming official release will feature. All this time the work has been humming and now we are ready to present you our fruits of labor which you can savor shortly, namely by the end of December!
If you haven't tried KeepSolid Sign yet, it's just the right time to do this now as the app is still available for absolutely FREE. But, on December 22nd, 2017, we will activate our paid plans. So, hurry up!
KeepSolid Sign is an eSignature solution to improve your business workflow by closing deals in just a few minutes. With our app, you don't have to waste your precious time on a print-and-scan routine. Also, KeepSolid Sign helps you easily collaborate with your teams and, as a result, increase your company's productivity manifold.
During the beta testing time, we've gotten lots of requests about new features which you'd rather we implemented in our app:
"I have access to my documents in Google Drive, Dropbox, Evernote. It's very cool, it would be great to add OneDrive since my company uses OneDrive as the cloud storage system."
Octavio Mejia


"I can't seem to be able to open a document I have received in iOS Outlook directly into Sign. That function would be best if it could be accessed via "share" from any relevant apps. Would be if I could open documents from the camera roll into Sign as well."
Matthew Clarke

After these months we are proud to say that we literally made all of them fly. How about figuring out the details together?
What's new?
We are constantly working on new features to improve our app and make it even faster and more convenient for you. Today we're going to share novelties that will be available in the nearest future. Let's get straight to the point:
Highly anticipated features and abilities for all platforms
We are adding

OneDrive

and

Box

to the basic list of cloud storages. This enables you to avoid situations when you can't add to KeepSolid Sign necessary contracts or agreements from your favorite cloud. Choose any cloud you like and never stop eSigning. 



Open In

feature will be also available. Save time adding your docs in KeepSolid Sign from email clients, Camera Roll, clouds, or wherever they are. Open your document, press Open In, choose KeepSolid Sign, voila! You are ready to close the deal.

Need

Tips

to smoothly get started with the app? No problem, they will be here for your convenience. No more worries to get the wrong end of the stick. The clear understanding of all details and buttons is guaranteed.
New for Android
Finally, you may

scan documents

from the camera in the app. You don't have to get back to the home screen, scan the doc with the other app, import its photo to the Gallery, and lots of other unnecessary labyrinthine actions. Do scans in KeepSolid Sign and don't squander your time.
New for iOS
Drag&Drop

PDF-docs from Files right to the Documents page. One more ability to speed up adding your contracts to the app. Only one motion of your finger and you are ready to sign.
We hope we satisfied your needs and you'll like our new functionality. Have more suggestions? Don't be shy and contact us at [email protected]. Remember: the official release of KeepSolid Sign will be waiting for you by the end of December. Follow our Blog Posts to be in the loop.
To be continued…