KeepSolid Sign – the First Electronic Signature Software for Apple Watch
Reading Time:
3
minutes
Wow! Our team has incredible news for Apple Watch owners. As you can guess from the title, KeepSolid Sign is officially available for the watchOS platform. We are proud to be the first e-Signature software provider to support this platform.
Making your electronic signing more convenient, mobile, and intuitive, we decided to go further in our development and release our app on yet another smart platform. Previously, you'd have to always keep your smartphone in your pocket. Now you'll stay productive even while working out or jogging. So, take some more tea, as the March Hare would say, and learn more about new KeepSolid Sign benefits that are available on your Apple Watch device.

Why did we choose Apple Watch?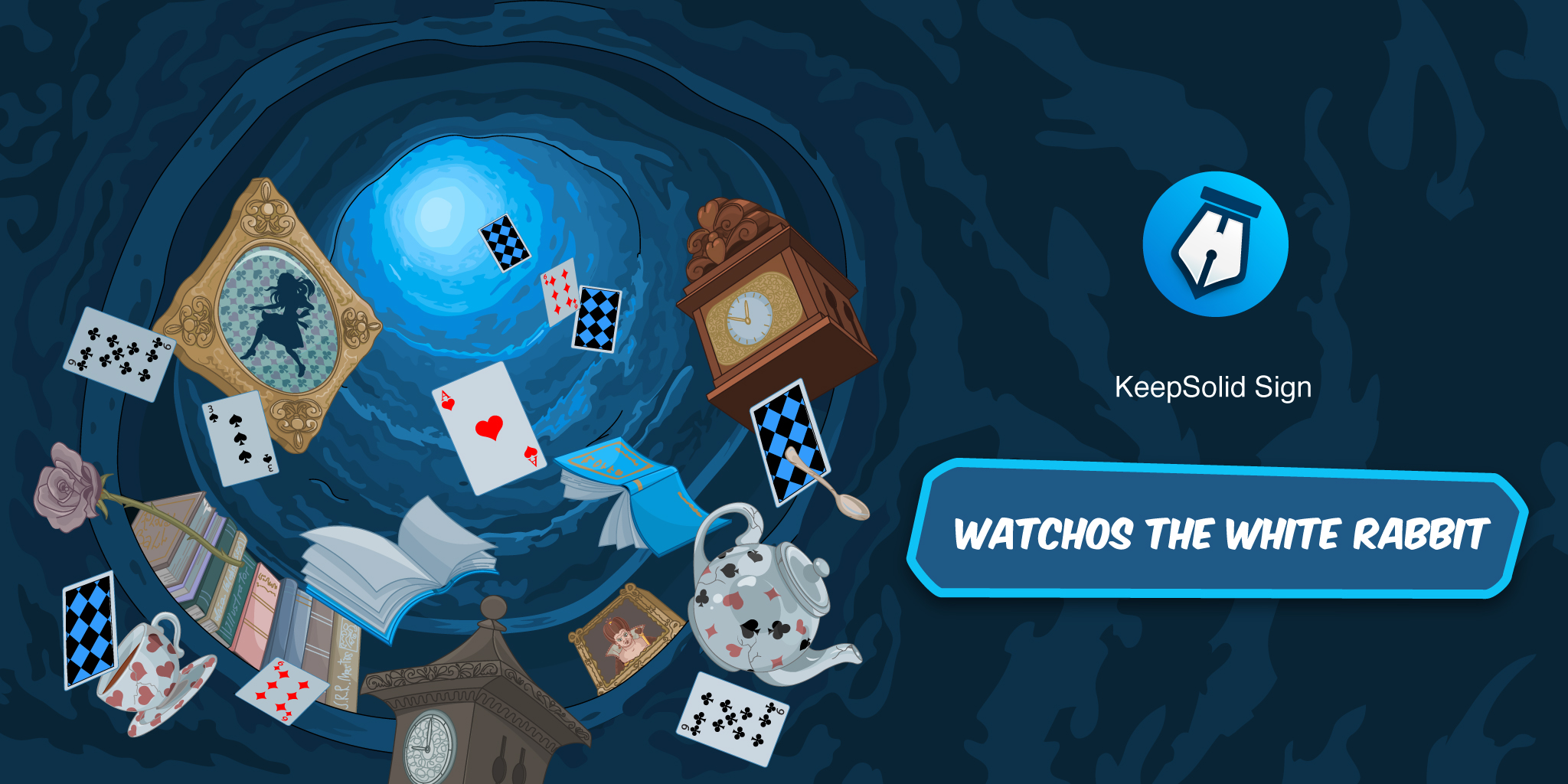 Since smart devices are enhanced day by day, it seems logical that your e-Signing tool has to be available on all your devices, including smartwatches. According to Statista, 50% of the US residents are familiar with Apple Watch, which makes it the most popular smartwatch brand. That's why, when we decided to get one step ahead in innovations, there was no doubt that we had to choose Apple Watch.  
So, let's get over a bit of history first. In 1998, the Joint Communiqué became the first electronically signed document. It was endorsed by the United States and Ireland to recognize the importance of electronic commerce promotion. Almost two decades later, on April 24, 2015, the first smartwatch by Apple inc. came to market. On January 26, 2018, KeepSolid Sign was officially released. And now, on July 31, 2018, KeepSolid Sign becomes available for watchOS platform. Twenty years of global development have not gone in vain, that's for certain!
KeepSolid Sign for Apple Watch. Looks like years of global development have not gone in vain. Curiouser and curiouser! What's next?
Click To Tweet
How does KeepSolid Sign on Apple Watch work, and what are the features?
The key point of KeepSolid Sign on your Apple Watch is that you stay informed of all the contract signing processes with little to no effort. All the necessary information about your document workflow is right on your wrist. The available functionality of KeepSolid Sign for your Apple Watch is as follows:
Immediate notifications

. No matter where you are, waiting for a signature from your business partner or for a contract to sign, our app notifies you the moment they click the

Send

button.

Document status

. Awaiting for a deal completion can feel like

forever

. Open the app on your

Apple Watch

and check if the document is already signed or still waiting for a participant's signature. 
"-How long is forever? -Sometimes, just one second." ― Lewis Carroll, Alice in Wonderland
Click To Tweet
That's all for today. We hope that you are as excited about this electronic signature update as we are! If you have any questions or suggestions about KeepSolid Sign for Apple Watch, leave them in the comments below. We'll be glad to discuss them with you 🙂