3 Key Questions to Ask About Electronic Signature
Reading Time:
3
minutes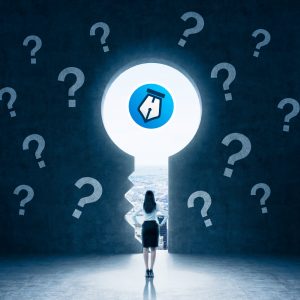 Technical innovations have become so common that it feels like nothing can surprise humanity these days. Despite the fact that we use technologies in almost all spheres of life, we don't always understand their true purpose and fail to utilize them to their full extent. Electronic signatures can serve as a great example of such a misunderstood novelty.
For example, according to Statista, in 7 years in Spain the amount of companies using digital signatures only increased by about 25%, even though the first eSignature service was launched there in the late 90s. About twenty years have passed, and only now people seem to be ready for this transformation. That's why if you think that an app like KeepSolid Sign is only a tool to create your eSignature and add it to a document, we'd like to debunk this bias. In order to clear things up, we will answer the whats, the whys and the hows, with KeepSolid Sign as an example. By the way, if you are interested in the past and the future of our app, we offer you to read the article about our official release.  
Question #1. What is an electronic signature?
An electronic signature is a solution which allows you to sign documents online and helps you get rid of print-and-scan routine. It is much more than just a picture of your handwritten signature which you just scanned in the doc – it is a data in electronic form which can authenticate you and link your identity to the signature. As a result, it can be used to sign contracts, complete transactions, or initiate administrative procedures online. KeepSolid Sign, in turn, is an eSignature tool with lots of features for improving your business processes, such as data encryption. However, without a clear understanding of a tool's purpose and functionality, you are likely to end up hammering nails with an iPad.
Question #2. Why do you need an electronic signature solution?
This question was well answered by the AIIM. Researchers took a deeper look at the paper usage in offices and at the advantages of going paperless. Results show the main benefits that offices receive from using paper free tools, like KeepSolid Sign.
Unsurprisingly, faster customers response time and improved productivity are among them. The trick is that with such a tool document signing takes only a few minutes and the number of closed deals proportionally increases. As the icing on the cake, it also reduces your costs. You don't have to spend money on paper for printing, ink, toners, and enormous file cabinets.
Another benefit is cleaner audit trails for regulatory compliance. By this we mean streamlined presentation of all your documents, advanced search and convenient sorting by any category. Last but not the least, electronic signature keeps your documents secure and you don't have to be afraid that something happens to them. Thanks to encryption protocols, like PGP used in KeepSolid Sign, all your business data in the application is kept completely protected from any third parties or cyber criminals.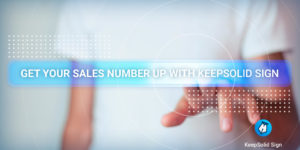 Question #3. How should you use KeepSolid Sign?
As mentioned before, KeepSolid Sign will serve you best if you use all of its capabilities, namely:
Track document status in real time.

Time moves on, and so should your company. In a fast-developing world you must monitor all your business processes, and do this effectively. Clear tracking of document status will help you to keep track of your contracts and remind other parties to sign them.

Add colleagues and team members.

Gathering all stakeholders in our app for initiating a deal will make your signing process more organized. Real-time collaboration with partners will definitely improve the

decision-making procedure.

Add observers and public annotations.

Having invited your colleagues and team members, you are free to add spaces for initials, date, notes, text, and check marks for them. You can also assign annotations for other users and choose the signing order.

Work offline.

Don't stop eSigning wherever you are. As your documents synchronize

across all your devices,

nothing can stay in your way to productive working. Signing on the go will become an important advantage when your time is limited, for instance, when you are on the plane.

Create templates.

Save your time and effort with custom templates. You don't need to upload any document more than once. If it is a basic contract, just add it to templates for later use.  
KeepSolid Sign is more than just a tool for signing. It is your partner and a business helper. Download the app and see how it improves your workflow for yourself!