Photo Transfer WiFi Application Features
Reading Time:
3
minutes
Why there was a need for Photo Transfer WiFi?
As more people need to share their photos between numerous devices including iPhones, iPads and computers, smartphones and tabs, the procedure of photo sharing looks more complex than ever. Apple released new technology AirDrop for these purposes. But you have to take into account that AirDrop support Apple compatible devices only. Aside from being limited to using Apple only, the devices for photo sharing should be located in one WiFi network.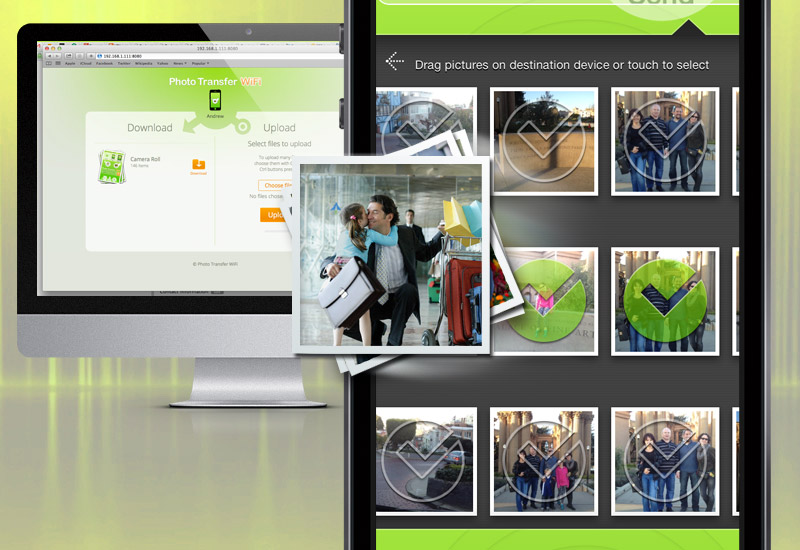 That's why Simplex Solutions Inc. has set up a goal in produce the most accessible application that will do easy photo sharing between multiple devices. And we have produced Photo Transfer WiFi that became popular with customers fast.
How does the Photo Transfer Technology works?
In order for devices to detect each other, our programmers have combined the elements of integrated iOS/Mac OS X protocol Bonjour (mDNS) with our proprietary protocol technology.
The use of the proprietary protocol allows us to have a reliable detection of devices to be located in one network, and to detect quickly their dismissal or disconnection.
Photo Transfer WiFi app can send a photo or video as well as the whole folder or album wherever you want it. It is important to mention that all photos are transferred with the essential photo quality and full resolution. It means that all photos and videos will not lose any of its quality during the transfer.
One of the greatest advantages of using the Photo Transfer WiFi is that you don't have to use any additional software, for instance iTunes to transfer photos. Just use the installed browser on your device and do the photo transfer. Photo Transfer WiFi supports all known browsers including: Safari, Mozilla Firefox, Google Chrome, Internet Explorer, Opera, etc. Based on the all browsers support feature, Photo Transfer WiFi offers a unique opportunity to share photos in all devices that have any sort of browsers, including smartphones and tabs. These devices may work with different operational systems including Windows 8 and Android and Photo Transfer WiFi will manage that as well.

Is it Easy to Use the Photo Transfer WiFi app?
Thanks to the unique yet simple interface design, Photo Transfer WiFi is very easy use. Actually, photo sharing procedures are done in just one tap. Thanks to the easy-to-use software interface features, we receive hundreds of positive feedback.
Today, more than 40 thousand users are using the Photo Transfer WiFi worldwide and it is ranked in the top 10 Photo&Video apps in 55 countries. We are confident that more users will get acquainted with Photo Transfer WiFi and benefit from using it globally.
To summarize, I would like to tell you that leading expert online observers have given their positive reviews on the use of Photo Transfer WiFi app that are listed below.
1. "Photo Transfer WiFi is a well-thought-out app and easy to use."
http://www.tuaw.com/2013/09/17/photo-transfer-wifi-is-an-easy-way-to-move-photos-and-videos-bet/
2. "This is a nice little app to have in your arsenal, especially when returning home from a trip with lots of snapshots."
http://www.mymac.com/2013/08/photo-transfer-wifi-app-review/
3. "Simplex Solutions Inc. released an awesome new app – Photo Transfer WiFi that is exactly what I was looking for!"
http://andrewdouch.wordpress.com/2013/08/14/three-solutions-for-combining-videos-from-multiple-ipads/
4. "If simplicity and speed are your aim, when transferring items residing in Photos, and your WiFi network is robust, then this app could be money well spent."
http://www.macprovideo.com/hub/review-2/review-photo-wifi-transfer-for-ios