Revolutionary Text Editor
Reading Time:
2
minutes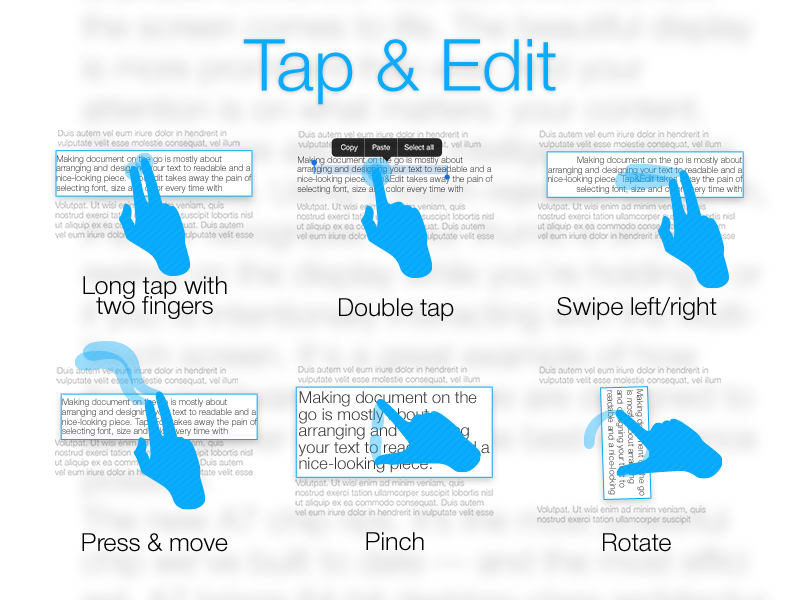 Let's accept the fact that millions of people worldwide move away from using their computer editing software and switch to their iPads and iPhones. Luckily, we live in the era of rapid technology changes, and adapting to the new changes becomes an interesting game for any user because it allows to increase productivity and save time. iPads continue to replace computers and laptops quickly and highly-mobile businesspeople and self-motivated users find iPads extremely fast and convenient.  Aside from the fact that a numerous text editing apps continues to grow, finding the best iPad text editing tool automatically becomes number one priority. But there is no need to go through hundreds of iPad text editors, unless you want to, because Simplex Solutions Inc. has Tap&Edit app for you.
Text Editor that Breaks the Rules
At first, Tap & Edit app may seem like another editing tool, but if you look closely, you will find a whole number of features that will make your writing more joyous and fun. We may get used to the regular editors such as MS Word, and we may sometimes not think creatively because we are very much used to restrictions that were put in our minds. Tap & Edit app is about innovative approach to average text editor, and the use of your iPad writing soon becomes like breathing. If you have never rotated a paragraph before, well, you may start now. Another great aspect about Tap & Edit is gesture based interface and we now give you a chance to explore why.
Basic Gesture-Actions to Perform
The simple easiness about Tap&Edit is obvious. Simplex Solutions Inc. was inspired by the idea of intuitive visual and gesture moving interface. That is why you will learn simple gesture-based actions fast, adapt quickly and benefit from using the app, allowing you to become a daily use tool.
Simple gestures allow you to format the document and build a necessary layout of the document.
Perform a long tap with two fingers to select the whole paragraph or text block.
Then perform pressing with two fingers to move the selected text block.
Swipe left or swipe right with two fingers to change text justification.
Perform double tapping with one finger to select 1 text line.
Pinch the screen to increase the size of the text block or inserted picture.
Pinch the screen to decrease the text block's size or picture.
Do rotation of a text or a picture with two fingers.
Get your copy of Tap & Edit