The Tale of KeepSolid Sign Development: Challenges, Lessons, and Determination
Reading Time:
6
minutes
Upon the start of a public beta test of our newest product KeepSolid Sign, we decided to tell you the story of its creation. For those of you not familiar with this product, it's a highly tailored electronic signature app. We believe that this tale should be interesting both for our users, who will get to know us better, and for our colleagues and entrepreneurs, as a source of inspiration and insight.
The whats and the whys
The main goal that we've set for ourselves with KeepSolid Sign development was to make a mundane task of document signing convenient and swift. Also, our experience with previous products taught us the importance of customer centricity. After all, it doesn't matter if you've invented the most effective solution in the world if no one adopts it.
"The value of an idea lies in the using of it." – Thomas Edison
The greatest benefit of our app for users is the ability to go paperless and wave off the old-fashioned "print-sign-scan-send" routine. Digitizing all your document flow means spared time, unlimited availability, convenient signing process, and other handy benefits.
In general, we consider the mission of our company to boost people's productivity. We strive to put businesses and individuals at the top of their effectiveness. Upon this, we ensure the highest quality of life for both our clients and our employees who contribute to the society welfare.
With that in mind, you will probably not be too surprised to learn that KeepSolid Sign is merely one of the first solutions from our projected product line. So far, the list also includes another of our released products – top-tier strategic planning tool Roadmap Planner. The core philosophy of our Office Product Line is to unite all aspects of a company management (e.g., long-range planning and document signing) into a single package provided by a single company. Think about this as Google Services or Microsoft Office, but featuring various business management tools.
Bumps on the road
KeepSolid Sign has undergone a long development process starting in the summer of 2014, and frankly, it wasn't the smoothest one. In three years, the project has seen its share of team reshuffles. Even its name changed twice, from CoreSign to Hanko (the Japanese word for a stamp, which they use instead of signatures) to, finally, KeepSolid Sign.
We also had to overcome numerous obstacles on our path. Some of them arose from our lack of understanding of the project. At times, we had to tap our way through the development process, learning from mistakes and adjusting our plans on-the-go. By the way, this is when we fathomed the importance of strategic planning, and thus, the idea of Roadmap Planner was born!
We faced certain organizational challenges too. For example, some of our project managers weren't too tech savvy. As a result, we oftentimes had to make an almost functional presentation version of the product or a feature before they could look at it and decide if everything is correct, or if we have to make it over. This situation is pretty common when developing a product without an existing successful competitor to take cues from.
What we've learned
Now that KeepSolid Sign has successfully gone public, we can analyze the aforementioned impediments and complications in retrospect. They were a great source of knowledge and experience! For instance, we realized how important it is to be realistic about a project's difficulty. Even a minimalistic solution such as eSign app is a complex system and requires proper specialists, effort, and funding.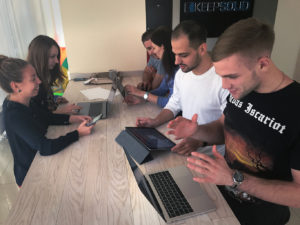 Another essential lesson we've learned is the significance of prototyping. Especially crucial when you don't have a clear vision of the final product, the prototype allows for experimenting and fine tuning without the need to start from scratch every time. Even though developing a proper mock-up takes some time, it is well rewarded in a long-term perspective.
Finally, one of the most valuable messages we can share with you is the importance of early release. The longer your development drags on, the worse it is for the team's morale. It is very easy to get into a vicious loop of trying to polish everything, so don't forget that less really is more. It's much better to release as soon as you can in order to start getting user feedback, see how your solution works, and maybe even find your product's niche. It is after that, knowing real-life data, you can keep on polishing and cultivating your brainchild.
Why choose KeepSolid Sign?
So, what makes our solution stand out from its competitors? Multiple features, actually.
The first aspect is

security, which we at KeepSolid are quite proficient with, considering one of our previous successful products is

VPN Unlimited

. Working with corporate documents, your top priority is their confidentiality and protection from unauthorized third parties. That's why KeepSolid Sign utilizes a high-level encryption for secure storage and synchronization of your documents.




Another benefit of our solution is the aforementioned integration within a

product line

(in the process of being implemented). It is highly convenient – you get numerous solutions in a single package which includes all sorts of handy tools and services at once. Plus, it is managed by one company, which makes communication and problem solving much easier for users.

Cross-platform availability is yet another advantage of KeepSolid Sign. Most other eSign solutions only support a couple platforms, whereas we are available on iOS, macOS, Windows, Android, and the web. Whatever the device you need to sign your documents on, we've got you covered!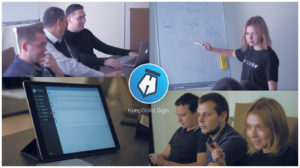 Additionally, our app's interface is super

convenient and user-friendly

. Here are some testimonials from clients supporting this:
"Once I have understood how to create my signature, it was easy to do it and the app is reliable. This product seems better than the others I have tried before."
Sylvaine Boussuard-Le Cren, lawyer, member of the Paris Bar

"First I love is the easy fingerprint sign in that makes life private and so simple. The way I can incorporate my contacts on the phone is great. And how I can incorporate the dropbox or google drive, or icloud as well as evernote are all nice simple functions. Having it like it is not overloading the app with pointless things makes it attractive to use."
Greg Dessar, Business Owner Grab
Last but not the least, our company has in years built a top-grade customer service able to support 7+ millions of our users. It resolves all questions swiftly and efficiently, leaving our clients satisfied and their problems solved. Now, this blue-chip customer service will serve KeepSolid Sign users!
What to expect in the future
Currently, KeepSolid Sign is in public beta (you can join it here while it's free, by the way). We expect to gather a lot of useful information and valuable user feedback, as well as statistics and reviews. All of these will surely help us bring our brainchild closer to perfection, and we already got a lot of insight and ideas from the beta.
For instance, we're going to implement some of the most requested features in our next update confined to the public release early in the new year. The features will include:
Ability to add documents via Box and Onedrive

Additional options for signature creation

Hotkeys for desktop versions

Teaching guide for new users, etc.
Our long-term plans include adding digital signature for our app, which will allow you to sign official documents for even the most captious authorities. We also aim to create a flexible subscription system to allow you benefit the most out of our services.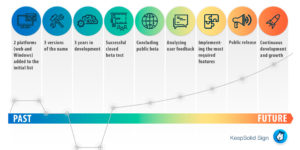 As you can see, KeepSolid Sign is up in arms, its team is full of dedication, and together we are ready to keep enhancing and upgrading it. We also deeply thank our incredible users for their help and support. Stay tuned!