How to Launch a New Business: Top 4 Steps to Success
Reading Time:
3
minutes
Updated on Feb. 07, 2020:  We've stopped support of Roadmap Planner but the Roadmap feature is now available in our new goal-oriented platform – Goals by KeepSolid. This business solution provides the same opportunities to plan and execute your strategies and even more. Check out Goals by KeepSolid and stay tuned for its updates!
When you want to launch your own business for the first time, you probably don't know where to start. There are hundreds of questions that come into your mind, and no answers. No wonder – running a business (or even planning its roadmap) is not an easy undertaking. In order to succeed, you have to learn all the pitfalls of your field and walk a thorny path full of business obstacles.
How to come up with a genius business idea? Do you need to create a business plan? How to get your business idea off the ground? Roadmap Planner team has learned all the details of this topic and prepared for you top 4 steps to launching your own business in a present-day reality. To top it off, we've also created a project in Roadmap Planner to visualize these steps for you. Let's check it out!
Launch your business with Roadmap Planner
Top 4 steps to building a business
In order to run your own startup, you should keep abreast of the latest business trends, e.g. by reading a lot of educational business articles. For one, our team highly recommends you the SmallBizTechnology blog and their article about 3 Resources to Make Your Small Business Grow. With that said, let's learn the main 4 steps to launch a business.
Conduct market research  
This step is about identifying your business idea and balancing it with reality. The moment you come up with a genius idea, you also have to check if it has the potential to succeed. To do your research properly, analyze the external and internal environment, your competitors, and target audience. At the end of this step you should get the answers to the following questions:
What is your unique selling proposition?

Who needs your product/service?

Who are your competitors and what marketing strategies do they use?

How your company will fit into this field?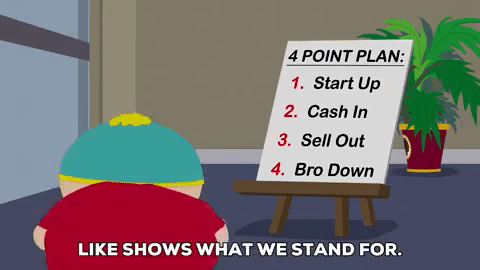 © GIPHY
Create a business plan
After conducting market analysis, you should create a detailed plan of how you will make your business idea a reality. This plan has to include administration, marketing, finances, and selling. And in a nutshell, this plan has to become your step-by-step guide. It should include the components like title page, executive summary, business description, market strategies, design and development plan, finance factors, each component occupying from 1 to 3 pages.
Start implementing
It's high time you put your plan into effect. On this step you should define your business structure, hire employees, register your business name, get all the needed licenses and permits, and set your office location (if you want to have one). Will your business be a corporation or a partnership? Have you finished all your paperwork? At the end of this step, don't forget to build a great website for your company.

Promote your business
So, when your business is finally up and running, you should promote it. At this step, you need to attract your clients with a marketing campaign. Remember that an effective campaign includes appealing, breathtaking content, SEO-optimization, landing pages, and data analytics. So, are you ready to start launching your own business?
How to launch a business with Roadmap Planner?
Here's a detailed business launch and development plan, drafted completely in Roadmap Planner: