Top 6 Reasons to Use Electronic Signatures in 2018
Reading Time:
2
minutes
E-Signature is a software that allows users to sign documents electronically. This eliminates the need for physical signatures and documents, allowing to completely digitize your paperwork. E-signing is legally viable in the majority of developed countries and its popularity is increasing day by day.
Why should you use e-Signature in 2018?
Just like your everyday physical signature, e-Sign services don't have any specific target audience. Everyone has a need to put their name on a document at some point in life. So we've picked out 6 general reasons to use electronic signatures in 2018.
Electronic workflow on the governmental and municipal levels
It's highly convenient and time-saving to use electronic signatures to submit taxes, applications, returns, appeals, and other documents that need to be directed to the state structures.
Digitize your document flow with KeepSolid Sign!
Secure online banking
With the high levels of security that e-Signatures provide, most banks nowadays recommend their usage. This electronic service eliminates the risk of signature manipulation or abuse, which even makes it a mandatory requirement for certain active operations, like online payments. Besides, it gets quite handy when a single e-Signature is used with multiple different payment systems.
3. Protecting communication
Signing your correspondence and sending it with an e-Signature solution like KeepSolid Sign will protect it from interception. Encryption algorithms used within such applications secure your contracts, ensuring that they remain confidential and intact.
4. Optimizing corporate workflow
Equipment maintenance, printing, and delivery of papers can add up quite sizeably when brought to a corporate scale. Using an e-sign solution reduces financial and time expenses substantially, liberating these resources for more important tasks. This includes:
Exchanging contracts with partners, contractors, and clients

Submitting tax, employment, and insurance documents

Registration of civil and labor contracts, VAT registers and VAT returns

Issuing electronic invoices, etc.
E-Signature technology is the perfect example of a small thing having a big impact.
Click To Tweet
5. Specialized signatures
Certain industries and companies utilize e-Signatures for different specific purposes like:
Server data authentication

E-mails protection

Data encryption/decryption

Authentication in VPNs (Virtual Private Networks)
6. Developing goodwill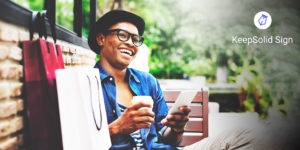 E-signature is a modern, fast, intuitive, and eco-friendly answer to the infamous problem of complex bureaucracy and time-consuming document filling in business. A company that can offer its clients such a convenient solution will immediately win a few points of approval and will increase their goodwill in general.
What characteristics should e-Signature service have?
Obviously, it takes more than just being able to put a picture of a signature to a form to qualify for being considered an e-Sign solution, like KeepSolid Sign. Such product must also:
Allow multiple users to work with the same contracts on various devices and platforms

Feature reliable security measures, e.g. data and traffic encryption

Track current status of the document and alert users when their action is required

Offer comprehensive role management for internal and external users (signees, spectators, etc.)

Feature robust document creation and storage options
All in all, electronic signature technology is the perfect example of a small thing having a big impact. It's not the kind of improvement that gets companies to the front pages, but once you try it – you will never want to go back to old-fashioned physical signing. And if you still have any questions about e-Signature software, check out our previous article.