Why You Should Start Using Electronic Signatures in Business by 2019 Already
Reading Time:
4
minutes
Ah, paperwork, this graveyard of free time and excitement! Its tedious nature and inefficiency are among the reasons why businesses employ all sorts of document-related innovations. One such (while not that novel actually) is the e-Signature technology. How to get an electronic signature? Why do companies use digital signatures? How to choose the best document signing app? This and much more in our today's piece. But first, a short story.
Getting set free by an electronic signature app
Meet Bobby. He is a manager in a large IT outsourcing company. It's Friday, and Bobby has great plans for the weekend. But before setting off on the intended adventures, he must complete his tasks, which includes signing numerous contracts and/or sending documents to clients. Last week it took Bobby more than two days to sort everything out – no way he'd have gotten over it in an evening!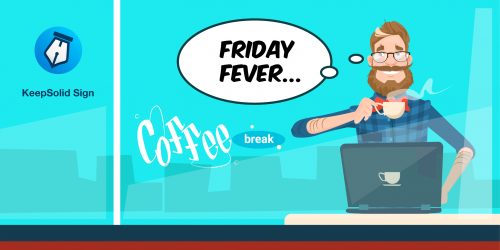 Luckily for Bobby, he's been told about a professional electronic signature app. It allows to review and sign documents in the digital form, send them to however-remote-clients in-app or via email, and get deals closed in literally minutes. Thus, Bobby wraps up the work in time and merrily sets off. That's what electronic signatures are best for – they save you time for more important and pleasant tasks.
So what is an electronic signature?
First of all, let's get over the basics, shall we? In a nutshell, electronic signature app is a software that allows to, well, sign documents in digital form – that is, right on your device. But to think of it as of a mere signing tool would be to oversimplify this technology.
See how a good e-Signature app can benefit your business
An e-Signature app worth its money is more like a personal assistant. It's all about streamlining the paperwork, making dealing with documents more convenient, time- and cost-efficient.
What's the difference between digital and electronic signature?
Before delving into the specifics, allow us to address one common misconception. This concerns the difference between digital and electronic signature (or lack thereof). A lot of online resources (even the specialized ones) seem to confuse the two, or use these terms interchangeably. THEY ARE WRONG! This mistake is somewhat understandable though, seeing how both the electronic and digital signatures are virtually digital per se.
E- and d-Signing have some distinctive differences – it actually took us a separate FAQ on digital VS electronic signature to cover them all. In short, however, the line goes through the legal status of the signatures. In most cases, it is identical, but sometimes you might need an additional evidence to support an e-Signature at court, whereas the digital ones don't have such requirement.
A lot of online resources (even the specialized ones) seem to confuse digital and electronic signatures, or use these terms interchangeably. THEY ARE WRONG!
Click To Tweet
Why do companies use digital signature technology?
Both businesses and individuals have started applying electronic signatures as of late. No wonder, really, considering the numerous benefits of this technology. Let's take a look at the list of universal features that are a must for any self-respecting e-Signature app.
Create and apply electronic signatures


The most basic, technology-defining, and self-explanatory feature. Any e-Signing service allows to create (sometimes – import from storages) a digital signature to the app and sign documents digitally with it.

Send contracts for signees and collect signatures


Collaboration is key to success nowadays, and a good e-Signature app facilitates it. This means not only being able to sign documents yourself, but also having the ability to send it to partners, teammates, and other stakeholders. Seeing how this is done in digital form, getting your papers signed this way can take mere minutes!

Paperwork-enhancing conveniences


Signing, sending, and collecting is nice and dandy, but wouldn't you welcome some extra flavor to e-Signature apps' capabilities? E-Sign service providers think you would, so they're always looking for additional features to implement. Among the common ones are document status notifications, templates for common forms, or various partnership options.
Why should you try KeepSolid Sign – our best document signing app?
From this piece so far, you could possibly fall under the impression that all electronic signature apps are somewhat similar. This couldn't be further from the truth! No two legitimate e-Signature services are identical (apart from downright clones) – their developers always strive to excel in their areas of proficiency.
No two legitimate e-Signature services are identical (apart from downright clones) - their developers always strive to excel in their areas of proficiency.
Click To Tweet
KeepSolid Sign is no exception. Seeing how KeepSolid is well-known for its security and productivity-boosting solutions, these two aspects are what we prioritized when developing our electronic signature app. As a result, it combined the best of the two worlds, acquiring certain unique features in the process.
This is what KeepSolid Sign can offer its users in addition to the aforementioned universal features:
SSL and AES-256 data encryption

Cross-platform app + web browser extensions

Account synchronization + Offline mode

Comprehensive Audit Trail

No limitation to the amount of signed documents

Documents received via email can be signed without downloading the app or even logging in

Full-featured FREE 14-day trial
So what say you, does this list look appealing enough? If so, why don't you try KeepSolid Sign today? You will soon see what a relief it is to not be bound to dusty paper stacks, massive filing cabinets, and excruciatingly slow printers. See you on the Light Side of paperwork!