How to Boost Your WiFi Router Manufacturing and Distribution Business
Reading Time:
3
minutes
Manufacturing and distributing WiFi routers is a profitable business. In today's world of digitization and internetization, the market is on the rise. Individuals need both routers for home and pocket solutions. Businesses need WiFi routers for corporate networks or to provide their clients free WiFi. And router manufacturers are more than happy to satisfy the needs of them all. 
This trend is likely to remain strong for years to come. However, WiFi router market is highly competitive. To stand out on it, your offer has to provide exclusive features that are in short supply in other routers, or be dirt cheap. Well, we can't help with the latter, it solely depends on the efficiency of your supply chain. The former, however, – providing exclusive features – is something totally achievable if you consider VPN Unlimited Router API.
How your clients will benefit from a VPN router 
So, what is so appealing about VPN-embedded routers for any potential user? This question is twofold. First, let's take a look at the benefits of a VPN itself (a.k.a. Virtual Private Network):
Data security

– VPNs protect any personal or sensitive information (credentials, passwords, geo-data, media, etc.) by encrypting the device's internet traffic.

Privacy and anonymity

– VPNs hide users' identities by masking their real IP addresses and substitute those with the IP of a selected VPN server.

Access to restricted / geo-blocked content

– Users can bypass location-based content restrictions by connecting to foreign VPN servers (works for streaming services, torrents, social media, etc.)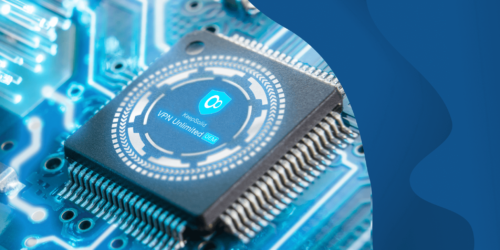 Now let's see the extra perks of a VPN+router bundle:
Claim all the aforementioned VPN benefits

without even noticing this

. Anybody connecting to a VPN router automatically gets their data secured, identity concealed, and geo-blocking bypassed.

Simple setup on the client's side

. With all the boring technical aspects already settled, the user will only have to connect their device to your WiFi router and merrily go about their everyday life.

Get VPN on each and every device

via a single account. A person with a bunch of gadgets; a young couple each with his/her own phones and computers; or a whole family with dozens of personal devices. Any amount of users can claim the benefits of VPN as long as they're connected to a VPN router.
How you will benefit from VPN Unlimited Router API
Be you a router manufacturer or distributor, our VPN API solution will create some tasty extra value to your proposition. 
Adding VPN Unlimited capabilities to your routers' list of features will

grant your company a remarkable competitive advantage

, whoever your clients are: 

Security-conscious netizens

will duly appreciate the data and privacy protection features 

Cinephiles and avid travelers

will enjoy the ability to access their favorite sites and streaming services from anywhere in the world

Organizations and companies

will celebrate the power to protect their whole network with a single device and no additional hassle

Off-the-shelf solution

– you won't have to spend a small fortune developing and honing your own VPN. Instead, you'll get a time-tested, highly-acclaimed VPN Unlimited service embedded in your router, with all its capabilities:

AES-256 encryption protocol

400+ VPN servers in over 80 locations all over the world

Dedicated servers for torrenting and streaming services

Advanced features, e.g. kill switch and various VPN protocols

Dedicated 24/7 support and professional assistance.

We'll get you through all the stages of integrating VPN Unlimited Router API into your products. We'll also appoint our own customer support agents to work with your clients' VPN-related requests. 
How to become our partners and get VPN Unlimited Router API
It's super-easy to get started with VPN Unlimited Router API. It only takes 3 simple steps:
Reach us

via the

contact form

or any other method convenient to you. 

We will discuss your needs,

settle on the terms

(commission per subscription sale), and pen the contract.  

Implement VPN Unlimited Router API

into your devices or

include VPN Unlimited subscription codes

inside your router packages. In the former case we will provide you with a build, documentation, and assist to streamline the integration process and the reporting setup.
Don't hesitate – boost your router business with VPN Unlimited Router API today!