Major and Alternative Web Browsers: What Are They And Which Should You Choose?
Reading Time:
3
minutes
Diving into the sea of internet activities, netizens don't really think about choosing a proper web browser for their needs. They simply download one of the most popular browsers and start using it. Unfortunately, in the age of increased cyber crimes this can play a terrible trick like giving away your browser history and private data to hackers, as well as other types of scam. That's why we've come closer to the situation where people should start choosing their perfect web browser just like they choose an operating system.
The key obstacle on the way to choosing THE browser is the lack of knowledge about this topic. But since one of our brainchildren is Private Browser, you can be sure that our team is well-versed on it. That's why today we want to tell you everything about different web browsers and answer the most popular questions. What are they? What are the main types? Which of them should you choose? Let's check it out!
Private Browser
If security is your priority, try our alternative browser!
What is a web browser?
According to Techopedia, web browser is a software for locating, accessing, and displaying web pages. This application uses a protocol like HTTP (Hypertext Transfer Protocol) to translate web pages into a typical human-readable content.
Looking back in history, the first browser appeared on the market back in 1990. It was originally called World Wide Web and over time it was renamed into Nexus. Since then it's been almost 30 years, and today there is plenty of other fish (we mean browsers) in the sea. They can be conditionally divided into majors and alternatives.
What are the major web browsers?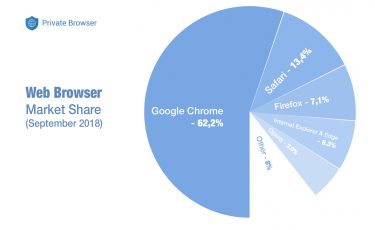 The major browsers are the big fishes with big names. You probably know all the them, as these web viewing apps are the most popular and widely-used ones. As W3Counter states, in September 2018 the web browser market share was as follows:
Google Chrome – 62,2%

Safari – 13,4%

Firefox – 7,1%

Internet Explorer & Edge – 6.3%

Opera – 3.0%

Other – 8%
The top 4 positions are also called the Big Four and we bet you have used at least one of them. But they are not the only options from which you can choose. Moreover, as mentioned before, the Big Four has a number of disadvantages such as security flaws, exposure to cyber attacks, and advertisement. This can become a sufficient reason to turn your attention to alternative browsers.
What are the alternative web browsers?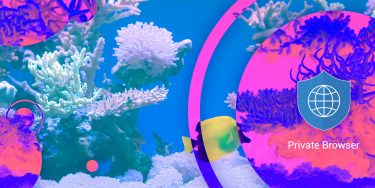 In a nutshell, these browsers are the small fishes. They are all web viewing software that consists in the Other, and it's highly probable that you won't be able to name at least five of them. And still, alternative browsers do not necessarily mean low quality. They basically have different areas of application and are desperately fighting for your attention using their innovative features.
Our own Private Browser can serve as a great example of an alternative browser that focuses on your online security. Our team has always taken your privacy as our number one priority, so we implemented an extremely secure AES-256 data encryption, more than 400 high-speed VPN servers, and other protection features. Of course, it's only up to you what browser to choose. And while you are making this decision, you can try our Private Browser with a 7-day free trial 😉
Alternative browsers are small fishes and we are quite sure that you won't be able to name at least five of them. Can you prove us wrong?
Click To Tweet