Marketer's Thoughts: What To Do When You've Got Nothing To Do
Reading Time:
4
minutes
Updated on Jan. 10, 2020
Marketers' career is extremely dynamic. To stay ahead of the game, they often have to make their job their life. A marketer must always be eager to learn new stuff, work irregular hours, be savvy in a lot of allied fields, and be ready to assume a lot of responsibility. But, considering all the numerous advantages of this career, it's no wonder people agree to accept these obligations.
However, the active nature of their lives also explains why marketers get so frustrated when some sort of a downtime occurs. This can happen due to an array of reasons. At times, someone's mistake is to be blamed for such intermissions, and sometimes, it's an objective result of how a business process is organized.
In our case, the downtime was caused by the development of the MVP for our latest product, e-signature app KeepSolid Sign. At this point, all the market research has already been concluded, yet it was too early to start working with the client base. This situation made us thinking, what useful tasks a marketing specialist can tackle during such a forced vacation? Eventually, these thoughts inspired us to write the following piece. We hope you'll enjoy it and will find our tips useful!
Marketing case study
In this article, we will specifically discuss the very situation that we have recently found ourselves in. You've done your market analysis, presented all the results to the sales department and the developers, and the MVP development has commenced. Now what? Well, actually there's still much work to be done!
1. Go by the rulebook
It's no secret that the pre-development research stage of any project is oftimes rushed. Managers and business owners usually want to see some sort of a palpable prototype as soon as possible. And to some extent, this is correct – the earlier you can test a product, the earlier you can spot its flaws. Alas, this frequently results in the marketer being unable to thoroughly examine every aspect of the project as intended.
Now, at last, you have enough time to search the relevant software company website templates & profoundly study the market and your competitors. For example, a detailed research of your competitors' products, keywords, features, and clients will simultaneously serve multiple purposes. The first and the most obvious, this will spare you some work in the future. But there are other possible implications.
For one, after a meticulous analysis of their products' quality, pros and cons, you might come across some sort of insight. Such as, spotting common patterns of their features and working around them to stand out of the pack. Or, vice versa, improve on the best practices and push those forward. You may even realize they aren't really your competitors at all! It's exactly what happened to us, by the way.
Important notice. Just don't forget to use a reliable VPN service when doing competitors analysis to avoid your investigation getting noticed by its target. This is some platitude here, but the less they know about a potential rival, the better for you. This is especially vital for small startups so as not to face suppression from large corporations.
Besides, a VPN software grants you access to geo-restricted content. So, if you cannot access your competitors' websites or any sources required for your market research study, connect to the relevant VPN server and proceed with your marketing research. As easy as that!
2. Explore uncharted lands of market needs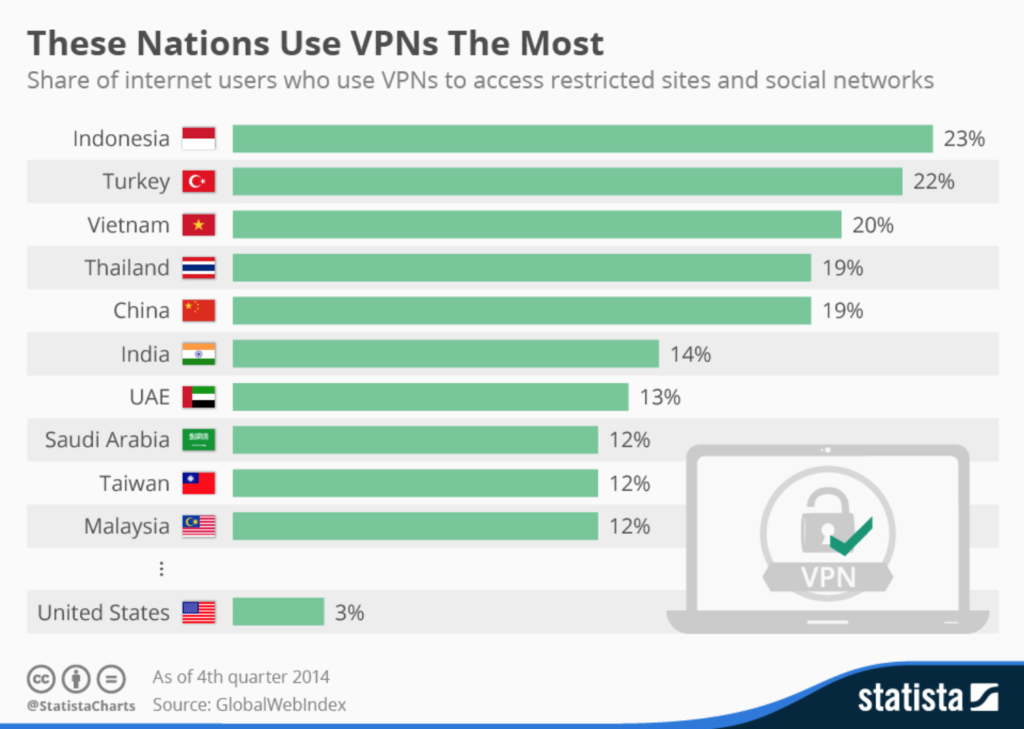 Source: statista
Above are the statistics that we've discovered as part of our mid-MVP-downtime conducted research. It showed us that a huge portion of the demand for VPN services exists in the countries that we've never considered as potential target markets, such as Indonesia, Vietnam or Taiwan. By the way, you can also launch your own VPN app for these countries with our VPN Unlimited White Label. It is these interesting opportunities that you are looking forward to stumble upon. You might notice new markets, new users, new techniques, or even new competitors – and then properly examine them!
3. Prepare for your marketing campaigns in advance

This advice concerns many aspects. It includes marketing materials, survey scripts, letters, texts for store pages and LP, etc. It also involves building communication with other departments such as sales or customer support and ensuring that you all are on the same page. Finally, you can use this spare time for more specific professional tasks – testing your paid promotion channels, defining CPC and lead generation stats, elaborating additional user Personas, etc.

In our case, this allowed us to realize that one of our latest solutions, VPN Unlimited Team, actually has two definitive types of Personas – the Buyer and the User. Obviously, understanding this detail will be of great use in our future marketing activities. We also used this free time to delve deeper into our product ecosystem and present to our users some of the interesting prototypes.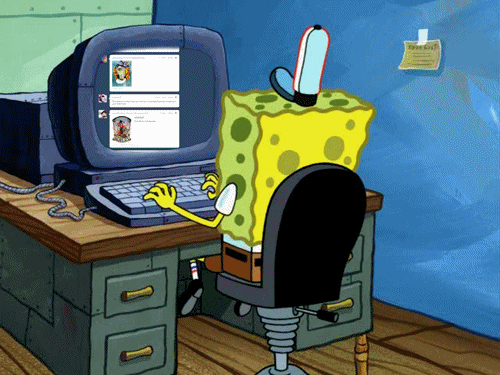 © GIPHY
4. Test experimental ideas to improve your marketing strategy
Perhaps, you are at a young market with no defined leaders, meaning that potential customers will inevitably be comparing you and your competitors. So, to win clients' favor, you are thinking of helping them spare their time by featuring an honest comparison chart on your website. Or, you know from surveys that users want exactly the product you're developing, but you would also like to conduct a research to find out their reasons.
We all have these would-be-cool-if kind of ideas. Downtime provides a chance for you to test them! And don't be afraid that these studies might go to waste. They are the backbone and the basis that will be of great use for you later.
Forced breaks might seem like a burden and a hindrance at first. But by the end of the day, it is what you do with the emerged free time that really matters. With a thorough planning and a bit of flexibility, you can turn downtimes into a goldmine of productivity. As always, "the bad news is time flies; the good news is you're the pilot."
Share your thoughts
We hope you'll find these tips useful and they will help you make the most of your next downtime. Have you had any experience similar to ours? How did you resolve the problem of downtime? Tell us in the comments below.