VPN Market Report: Trends, Usage, Major Players, and How to Get Into It
Reading Time:
6
minutes
For a couple decades, VPN industry has been steadily, if slowly, growing. Steadily – because the number of netizens is constantly increasing, not to mention that more and more of them are becoming concerned about their online privacy and data protection. Slowly – because of technical difficulties related to entering this market that potential developers would face.
Luckily, VPN market trends didn't go unnoticed to its participants. With customer demand  (and thus the usage) ever growing, major virtual private network developers began offering their services to businesses aspiring to join in the fun. A bright example of such is KeepSolid VPN Unlimited with its OEM solutions package.
But are the VPN market trends really THAT appealing? What does the VPN usage picture look by country? What gains can a business expect from selling VPN as part of their solution, or from joining a VPN reseller program? Check out our VPN market report and find out!
VPN Market Report: Growth and Usage Statistics 
Nowadays, as many as 25% of global internet users access the web via virtual private network at least once per month. Worth $15.46 billion in 2016, the VPN global market amounted to about $18 billion in the following year. In 2018 this trend showed no signs of reversal, with the figure reaching $20.60 billion. Analysts are predicting the VPN usage growth to continue, reaching $35.73 billion by 2022.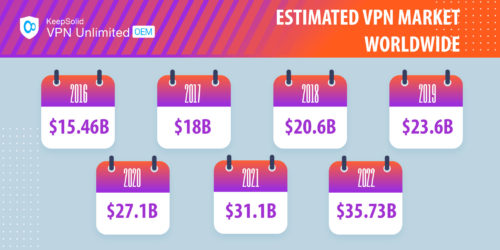 The number of VPN users has been growing throughout the last decade as well. In 2017 compared to 2016, it increased by 185%. From 2017 to 2018, this figure grew by 165% more. 17% of people are using VPN on desktop devices, with mobile VPN market size following not far behind at 15%, and tablets usage rounding up with only 7%.
Reasons to Use VPN
We will discuss general drivers of the VPN market growth in a moment, but first let's take a look at the major one – data privacy. Netizens are becoming more informed, and thus – concerned about their data privacy. This happens in the light of an increase in cyber crime, but there's more to this:
95% of Americans express concerns about how companies use their personal data

More than 80% claim to feel more concerned today than they were a year ago

More than 50% of them are actively looking for new ways to secure their data
Other than that, netizens have the following top motivations to use VPN:
Access best entertainment content: 50%

Unblock social networks and news services: 34%

Stay anonymous while browsing: 31%

Access restricted sites / files / services at work: 30%

Get access to blocked download / torrent sites: 27%

Freely communicate with family and friends abroad: 25%

Hide web browsing from observers, e.g. the government: 18%

Get access to Tor browser: 17%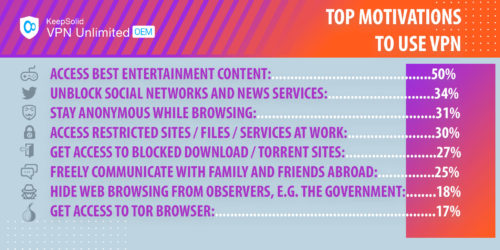 Do VPN Users Pay for Content?
Despite what one may think from looking at the stats above, virtual private network users are not all just pirates looking to access or download illegal content. Data shows that they regularly pay for digital content, including the premium one, at least once per month:
Music download: 33%

Music streaming service: 27%

Movie or TV streaming service: 27%

Mobile app: 27%

Movie or TV download: 26%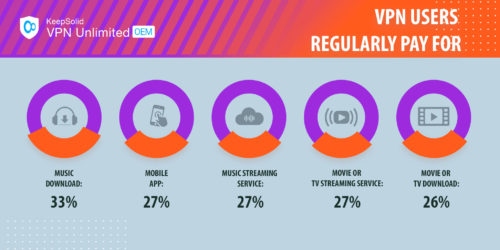 VPN Usage by Country and Region
The growth of VPN market size by region is notable all across the world. The leader in the percentage of virtual private network users is the Asia & Pacific region, but other locations show significant figures as well:
Asia & Pacific – 30%

Latin America – 23%

Middle East & Africa – 20%

North America – 18%

Europe – 18%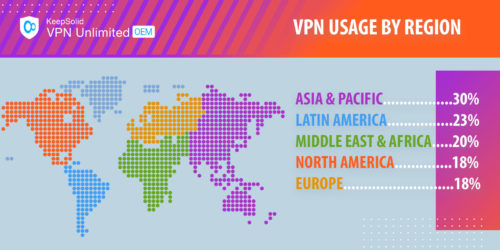 The following VPN markets look especially appealing to any aspiring virtual private network businesses due to high percentage of VPN users per capita:
Indonesia: 38% 

India: 38%

Turkey: 32%

China: 31%

Malaysia: 29%

Saudi Arabia: 29%

Brazil: 26%

Vietnam: 25%

The United Arab Emirates: 25% 

The Philippines: 25%
On the other hand, here's a number of countries with personal VPN usage so abysmal that you'd do yourself a favor by avoiding these markets:
Australia: 4%

The United States: 5% 

The United Kingdom: 5%

Germany: 6%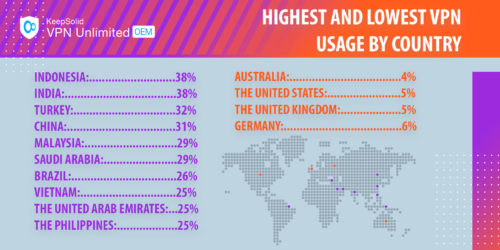 Companies That Are Buying VPNs and VPN Resellers
All the stats seem to be enough to convince some major players to enter the market. Usually, they either appeal to virtual private network developers that offer white label/SDK/OEM services (see KeepSolid VPN Unlimited OEM), or just outright buy smaller virtual private networks. Such acquisitions rarely gain much publicity for a number of reasons, one being privacy concerns they would have otherwise stirred in the services' clients. Still, we've managed to scrape up a few examples!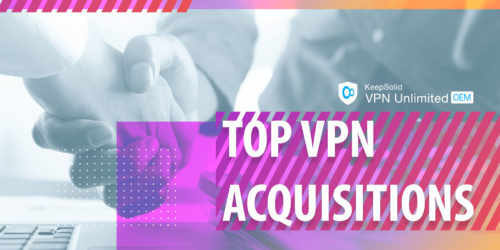 J2 Global buying up to 10 VPNs
Recently, J2 Global has acquired the StackPath company. StackPath had a portfolio of VPN-related products, including Encrypt.me, IPVanish, StrongVPN, and their own VPN white label solution, with clients like Namecheap VPN and Pornhub's VPNHub. This means that J2 Global now owns about 10 virtual private network brands.
AnchorFree owning 9 VPNs
Until recently, AnchorFree was mainly associated with its three VPN products – HotSpot Shield VPN, TouchVPN, and JustVPN. But after they've bought Betternet (VPN provider), AnchorFree now has a number of other VPN products for sale and in development, including three mobile VPNs.
Kape Technologies acquiring 2 major VPN brands
First brand Kape Technologies bought was CyberGhost, one of the biggest VPNs on the global market. Later, they added ZenMate with its 45 million user base to their portfolio.
Why Do Companies Buy VPNs?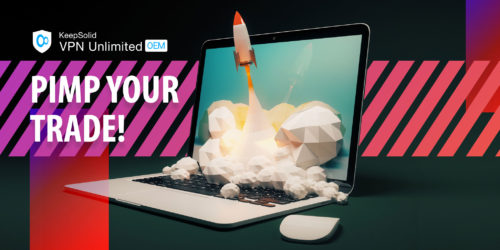 There is a number of benefits a business receives the moment it buys a VPN (or has it developed for them, or implements an existing VPN in their own products). 
To instantly enter the booming VPN market
Virtual private network software is a complex technology, so developing your own VPN app takes a lot of resources and expertise. And even then success is not guaranteed! So securing assistance from professional virtual private network providers is a highly appealing option, especially for SMBs. 
To create plenty of goodwill for your business 
It's hard to sell a VPN on this market if customers don't know you or don't trust your brand. That's why claiming other VPN's good reputation is the fast and effective way to gain a foothold in the market.
To enhance your existing products and services
Already have a running IT solution? Augmenting it with VPN capabilities, such as security, privacy, and anonymity, is a great way to satisfy your current users and attract new ones! This also grants you access to the virtual private network provider's infrastructure and know-how, which can easily become your key competitive advantage.
How to Get Into VPN Market with KeepSolid VPN Unlimited OEM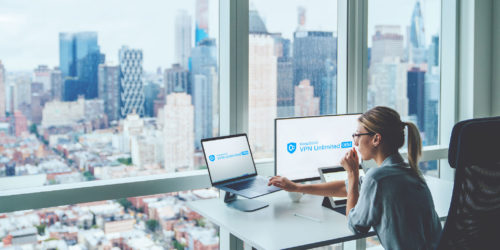 KeepSolid VPN Unlimited OEM package offers you quick and cheap entry into the market of virtual private networks. We have 3 solutions for you to choose from:
VPN Unlimited SDK

– improve your existing application or service by integrating VPN Unlimited in it. 

VPN Unlimited White Label

– start your own VPN business by having us develop you a full-fledged VPN application.

VPN Unlimited Router API

– embed VPN Unlimited to your WiFi routers so that anyone connecting to their network will get all the benefits of our VPN service.
Why Choose KeepSolid VPN Unlimited OEM?
VPN Unlimited offers you a number of features and compelling benefits:
Cross-platform Solution


Our services are available on: macOS, iOS, Android, and Windows

SDK documentation


Launch your app in the shortest term with well-organized documentation

Application Development


Create your own VPN app or add VPN features to your existing apps

Selection of VPN protocols


Our solutions work with OpenVPN, IKEv2/IPsec, and a few other protocols

Total protection for your users


Top-tier encryption will secure your users' sensitive data and online activities

Proprietary security


KeepSolid Wise is a unique protocol that will grant your clients extended access to any website or app
Enter VPN market with VPN Unlimited OEM