Why Use Private Browser for iPhone
Lightning-fast VPN
Thanks to our security browser, you can easily hide your real IP address and make your online traffic untraceable.
Servers in 80+ locations all over the world
You can also access any geo-restricted content. Just connect to one of our VPN servers and enjoy your online freedom.
Highly-secure AES-256 traffic encryption
With Private Browser, your online traffic is completely protected - no third-party will be able to access it.
Private Browser for iOS vs Regular Browsers
If you wonder why you should choose Private Browser by KeepSolid over regular browsers, here is our answer:
AES-256 traffic encryption
VPN servers in 80+ locations
Local security (touch ID, pattern, password, passcode)
Top 3 Popular Questions about Private Browsing on iOS
What is the most private browser?
In a present-day reality, people mistakenly think that using any popular browser automatically means that their online traffic is protected. However, even if you surf the web in an Incognito Window, this does not guarantees that no cyber criminal will access your private data. Only alternative browser with the enhanced level of security (like Private Browser) protects your online traffic and make it unreadable to any third-parties
How to go on private browser?
Oh, that's easy. Just go to App Store -> download Private Browser by KeepSolid -> create your KeepSolid ID (if you still don't have one) -> install it on your iOS device -> get your 7-day free trial. After that, you will be ready to go on your security journey
How to use Private Browser?
Our team does our best to make the application intuitive and easy-to-use for everyone. In order to use our security service properly, run the app, sign in to Private Browser, select a VPN server and your local protection, and start anonymous browsing on your iPhone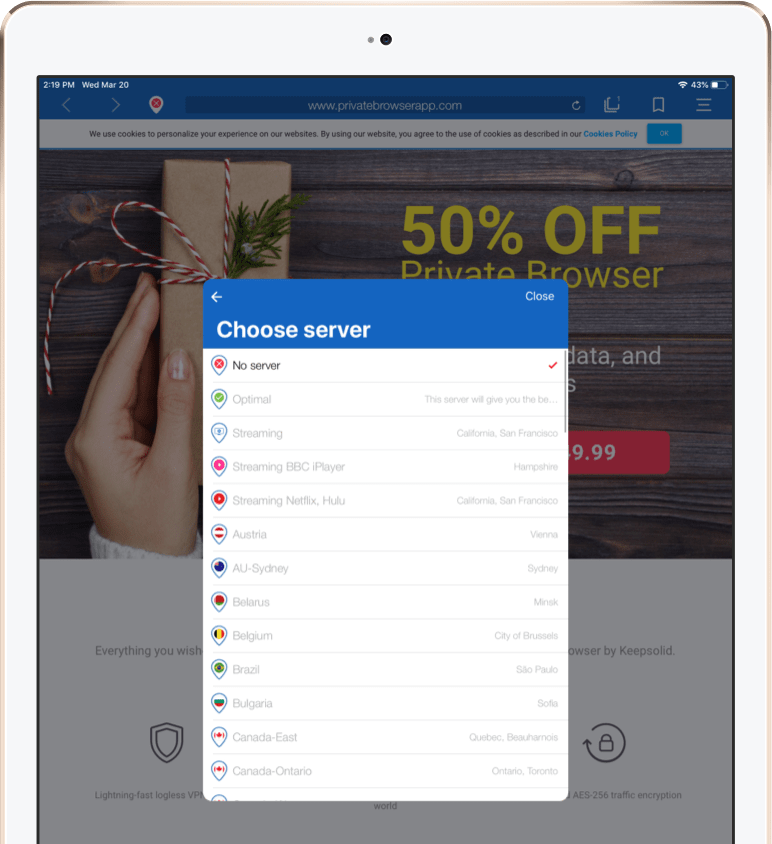 Best Secure Browser for iPad
While browsing on your iPad, you definitely want to stay private and keep your data safe. And that's exactly what Private Browser by KeepSolid offers. Caring for your online privacy, our team with 5+ years of experience in the security field enhances our application on a daily basis. Our app ensures that you are completely incognito during web surfing and helps you to feel safe online. Entrust your privacy to professionals!
Benefits of Private Browser for iPad by KeepSolid
Complete data security
Invisible online browsing
Online freedom
Unmatched performance
Unlimited connection speed
Hiding of your real IP
No-log policy
24/7 customer support