What is Incognito App and How to Browse Incognito
This is a type of application that provides users with complete privacy and anonymity on the internet. Incognito app is obliged to protect your private data and not to let third-parties to track your online activity. Such a service has to secure your sensitive information and make you feel safe online. Some of the apps automatically clear your browsing history and some of them use the VPN feature. The key goal of incognito apps is to make your online activity completely untraceable for hackers.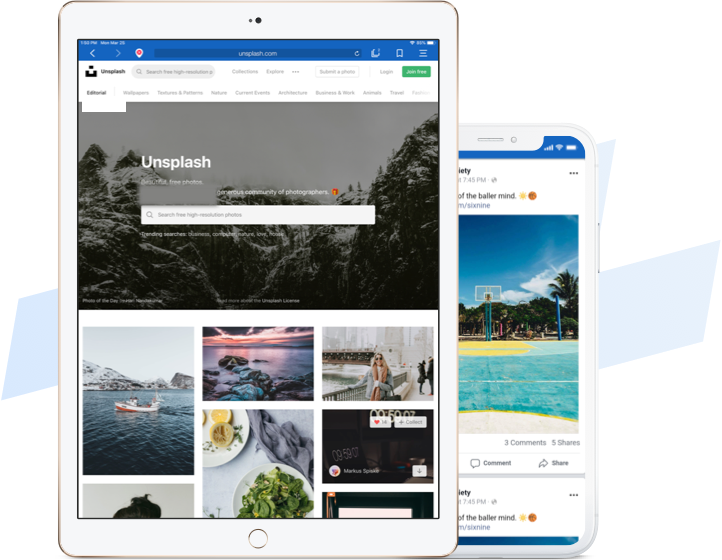 The most common incognito apps can be as follows:
Private web browser
This is a type of alternative browser with a bunch of privacy and security features. Private Browser by KeepSolid can serve as a bright example of such a browser. The VPN feature included.
VPN
This is security software that secures your traffic over a public network. Such applications use VPN servers, various protocols, and encryption. For instance, KeepSolid VPN Unlimited is a well-trusted VPN application with more than 20 million satisfied users.
Download Incognito App and Go Private Now
Private Browser - the app that protects your identity from cyber criminals
BE INVISIBLE
What is the Best Incognito Browser App
We strongly believe that it is Private Browser by KeepSolid. Our incognito browser application has a huge variety of privacy features that make your online surfing completely invisible and untrackable. During the development of new features, our team of cyber security professionals does our best to make your browsing safe. Using our incognito app, the ordinary netizens benefits from unlimited speed, rock-solid data protection, and absolute anonymity.
What Makes Private Browser by KeepSolid an Incognito App
Highly secure VPN feature
The ability to encrypt your real IP address is the most important feature for an incognito app and that's exactly what Private Browser offers. Our incognito app allows netizen to hide their real IP address and use a virtual one. As a result, their online traffic can't be tracked by any hacker.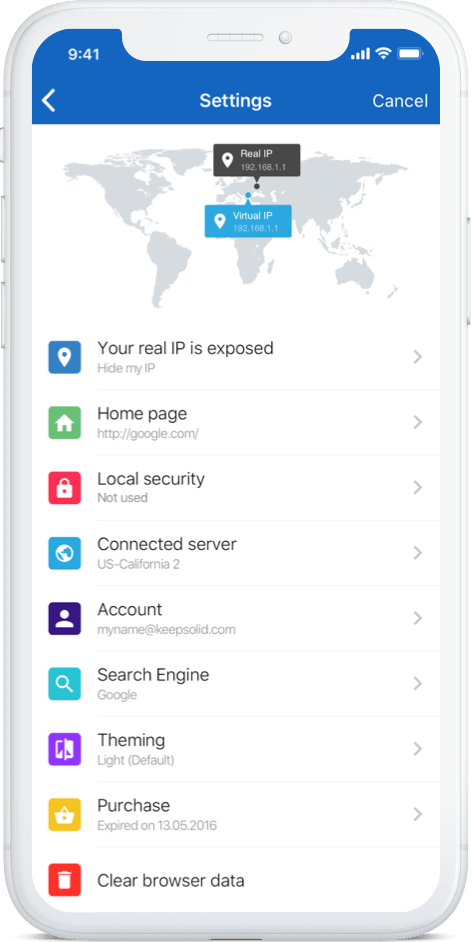 Super fast VPN servers in 80+ locations
In order to stay incognito on the internet, you can easily connect to the needed server location from our list. Go on virtual trips, bypass geo-restrictions, and become invisible from anywhere in the world.
Rock-solid AES-256 encryption
To protect your online activity from cyber criminals, our incognito application uses an extremely secure encryption method. Encrypting your online traffic, Private Browser doesn't let any hackers steal your identity.
What Makes KeepSolid VPN Unlimited an Incognito App
Bullet-proof VPN protocols
To establish the most secure connection between a user and a public network, VPN developers have implemented various VPN tunneling protocols. Each of them has its own purpose. For instance, KeepSolid Wise is your perfect option if you'd like to stay completely invisible on the web.
Firewall-based Kill Switch
This is a vital feature when your VPN connection is suddenly interrupted for any reason. In order to keep on being anonymous on the internet, Kill Switch disables your internet connection if your VPN connection is off.
Helpful DNS leak test
Thanks to this feature, you can easily check if your internet connection is secure or it leaks your physical IP address. A highly important feature for incognito apps to always be aware of your VPN protection.