Keep up your connection speed
Trial or paid, your bandwidth is fully sustained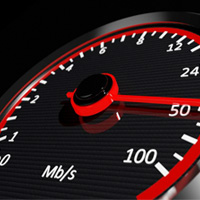 There is a common misconception that VPN service slows down the connection speed dramatically. On the contrary, VPN Unlimited service is enabled to sustain fully the existing Internet connection speed and bandwidth. Aside from offering incredibly affordable prices for VPN service, KeepSolid Inc. offers all paid and trial users to experience the unlimited bandwidth and fast connection speed. It is worth to mention that VPN Unlimited servers are now located in more than 50 countries covering the whole planet with quality online security and anonymous Internet surfing at all times.
VPN Unlimited provides high speed on any servers globally
VPN service team performs regular checkups to ensure NO traffic overload
VPN Unlimited team introduces new global server every 7 days
With VPN service your Internet connection is guaranteed to be 100% secure and FAST!
In addition to using VPN Unlimited service, you can benefit from the 100% secured online surfing experience and use Private Browser that is available completely free of charge. Any issues that users may occasionally experience on their computers may have different origins. Our friendly Customer Support service is ready to solve any speed problems that you may experience. The common issues include: computer speed overload, slow Internet connection speed, or speed decreasing of the ISP router, yet we have practical tools to solve all of the mentioned above problems.
Just try it
VPN Unlimited available for your platform