How to Watch US Shows, Movies, and TV Abroad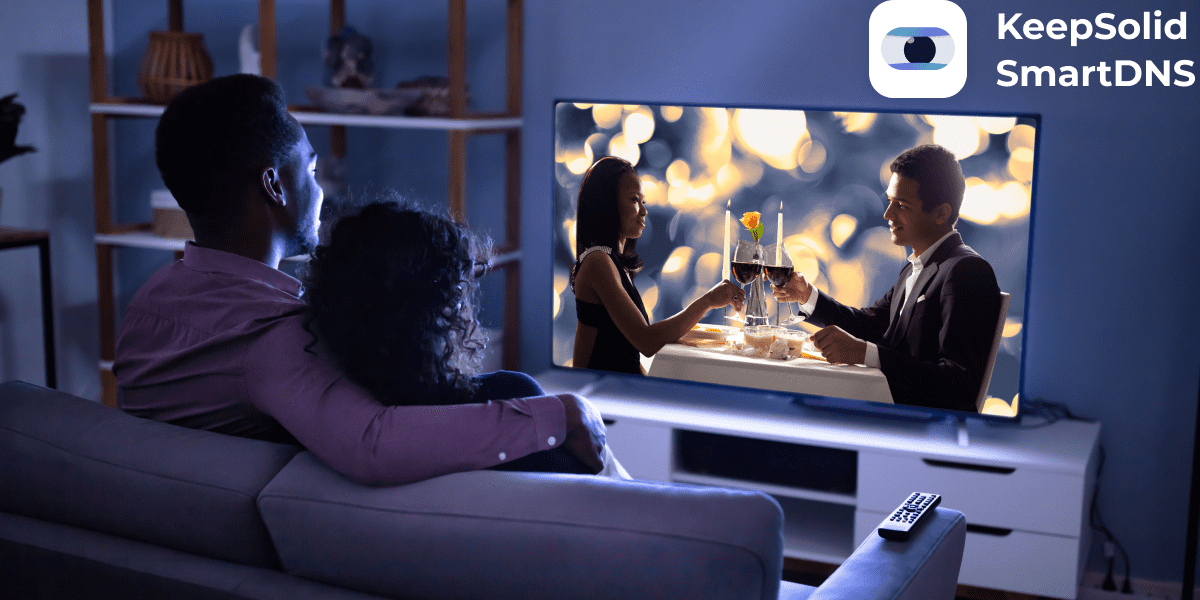 Do you travel overseas and wish to be able to stream your favorite American channels? Or do you reside abroad and wish to watch US TV? Then you will find all the information you need in this piece! You will learn why some American channels are unavailable abroad, how to watch US TV online, and how to access blocked websites with KeepSolid SmartDNS.
Access Blocked American TV and Channels!
Use SmartDNS to stream US TV overseas
Why You Can't Watch and Stream Certain American Channels Abroad
Have you ever tried to watch US TV series, films, or streaming channels overseas? Then you probably know that this may be harder than one would think. This is surprising in the modern world of ubiquitous internet and warm international relations - why wouldn't you be able to stream US TV from the UK or any other country? 
Why this happens is complicated. Most often, a foreign website can be blocked in a country for either of the two reasons:
The country itself blocks it. Governments can freely decide to ban any US TV streaming channel or content they want - for instance, to remove competition for local content providers or to lobby for their own interests.
The content provider restricts access to it. This usually stems from the content distribution rights and agreements, licensing, and copyrights. Also, US streaming providers are often reluctant to deliver their services to countries notorious for internet piracy.
So, to put it plainly, it's all about the money, like most questionable things in the world. For you to access a US TV streaming channel, they will first have to pay for delivering the service to you. More specifically, the channel will have to pay royalties to all the different actors, directors, and studios of all the TV series, movies, shows, etc. And even then the content may be blocked for reasons like region-specific release dates.
More about why countries block American TV and channels
To sum up, the reason why countries ban certain American TV channels is censorship. Some US TV series, movies, and streaming services are simply not allowed to cross borders. Many governments maintain a tight grip in regards to what content their citizens are allowed to access.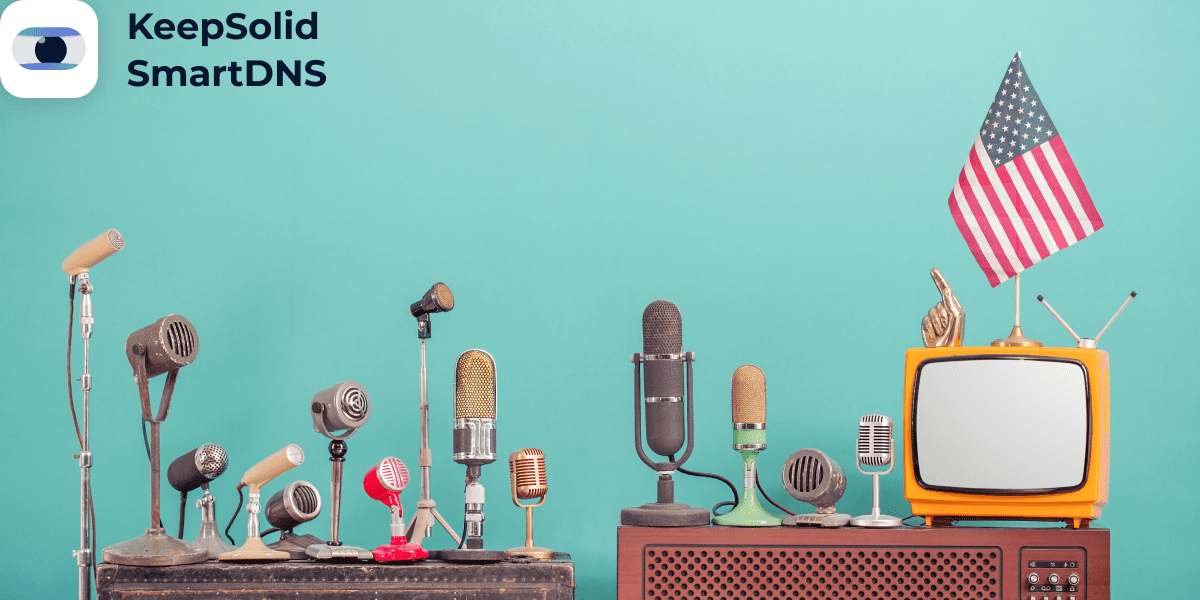 Not all restrictions are bad. Even the US has its list of content that's considered inappropriate and not allowed on most American channels. The issues begin when there is a full-fledged virtual black-out on what foreign TV streaming, shows, and films people can access. This gets especially problematic if you have to travel through such regions and wish to watch US TV online abroad. Then you're going to need a service like KeepSolid SmartDNS.
How to Watch US TV Shows and Streaming Channels Abroad
The good news is that it's pretty easy to bypass censorship of US TV and streaming. Using dedicated apps allows you to watch American TV series and movies abroad, wherever you are. One such app is KeepSolid SmartDNS. This technology allows you to access blocked streaming websites and channels. 
SmartDNS works by masking your device's DNS address and hiding your real location. This allows you to watch US TV and American channels overseas, regardless of any imposed geo-restrictions. With KeepSolid SmartDNS, you can easily access American channels, as well as US media libraries of international streaming services. 
US streaming libraries VS local streaming libraries
Why would you want to access the US media library of a streaming service as opposed to local ones? The immediately obvious answer is the language barrier. But there's also a more counterintuitive reason - because those libraries can differ dramatically. Due to the content distribution agreements we've mentioned earlier, familiar streaming services like Hulu may be present overseas but with a drastically limited selection of TV series and movies.
Watch American TV Online!
Use SmartDNS to stream US TV overseas
How to Set Up SmartDNS to Watch US TV Shows Abroad
Download KeepSolid SmartDNS. The app is available on macOS, Windows, iOS, and Android. Or, if you'd like to watch US TV online on a different platform, you can configure SmartDNS manually. 
Launch the app and sign in using your KeepSolid ID (or create a new one). New users get a free 7-day trial to check out what SmartDNS has to offer that will be automatically added to your account. 
Register your IP address. To do this, click Settings > Manage my IP in the app or open User Office and open the SmartDNS settings.

If you've done the manual SmartDNS setup, don't forget to replace your device's real DNS address with that of our servers.

Click the switch to enable the connection and enjoy American TV and channels without restrictions!
SmartDNS VS Proxy Servers VS VPN
How exactly does KeepSolid SmartDNS work? Our app routes your DNS queries via dedicated DNS servers instead of sending them out in the open as is usual. This hides your real location from websites and services you use, so they can't use this information to restrict you from accessing their content. How is SmartDNS different from proxy servers and VPNs, then?
The main difference is in the type of data obfuscation. Proxy servers simply mask your IP address behind a virtual IP. VPNs also do this but add an extra layer of protection by encrypting your web traffic. Of the two, VPNs are significantly better for your privacy. However, both are a significantly worse pick for overseas TV streaming than SmartDNS.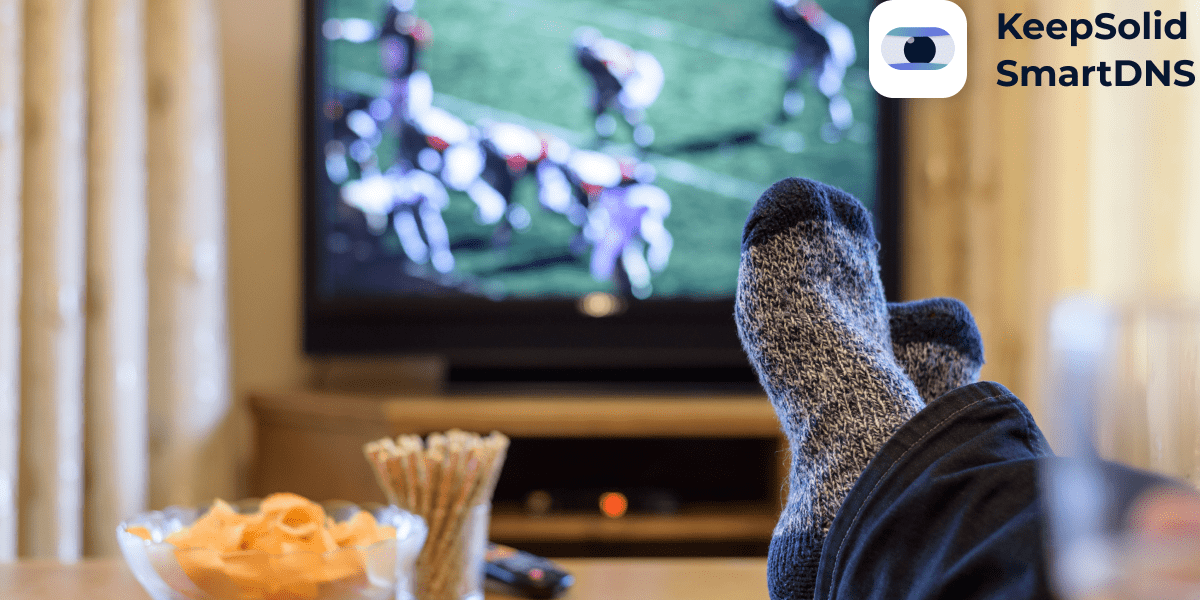 VPN encryption, while great for your security, slows down your internet connection, which negatively impacts the quality of online streaming. But even apart from that, many streaming services that enforce geo-restrictions have their ways to spot you using a virtual IP address and ban you for that. On the other hand, SmartDNS technology is nigh impossible to detect, guaranteeing you free access to US TV and streaming abroad at the best speed.
List of SmartDNS American and international channels
Here are some of the most popular streaming channels you can watch with our app (see the complete list):
BBC iPlayer
Amazon Prime
Hulu
Sony Crackle
RaiPlay
HBO Now
Disney Plus
ESPN+
Hotstar
Disney Now
Discovery+
Access American TV From Abroad with SmartDNS!