10 Steps to Help Your Organization Set and Meet Goals
Reading Time:
5
minutes
To start and own a successful business, goal setting is vital. Unless you have correct business goals, your organization might find itself floundering in the business landscape with no concrete direction. Luckily, business goals can help you establish where you want to be, keep you focused on your target, and create an actionable plan for getting there.
The Goals team presents you 10 goal setting steps. Use them once you're ready to get started with goal management. They will help you achieve your business goals, even the most ambitious ones.
Step 1. Break Down Your Organization's Goals
First and foremost, you need to break down your goals. Most often, they are long-term and require much work, effort, and time. But as you break down your goals in separate action steps, they become more manageable, it is easier to not get overwhelmed by the process and focus on what needs to be done right now.
A sound way to break down your company's business goals is by creating an action plan. It should be made up of individual tasks, each one taking a clearly defined action. By covering huge chunks of work in baby steps, you have small accomplishments every day and actually make progress.
Step 2. Track Your Goals' Progress
A huge part of successful goals management depends on tracking how far you've come. You need to find out what motivates you, acknowledge your drivers, and allow this help you plan your action steps and future goals.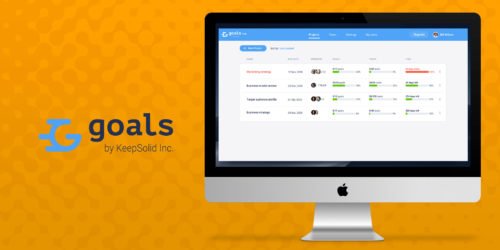 To track progress, you can conduct weekly / monthly check-ins. They will help you evaluate what you have accomplished on your path to your goals and where you need to focus your attention next. Creating milestones based on time and progress might also help you, so you can easily tell whether you're on track for reaching your business objectives or not.
Step 3. Commit to Your Organization's Goals
Effective goal management requires clarity about what the objective involves, knowledge of the specific effort required, and concrete reasons why it is important. It includes a plan with each step outlined, and arguably most importantly, commitment to actually completing the goal.
Now, to some it might seem like too much of a hassle. But if you are not ready to commit to the goal as little as taking the time to develop an action plan and scheduling some time to focus on the key steps that will bring you closer to your objective… Let's just say, you might be facing an unnecessarily difficult challenge.
Step 4. Build Your Organization's Support System
A support system can be seen as a tool that will help you reach your goals. It's useful in a number of ways:
Your team might provide a perspective that's different from your own

Your team may inspire you on when you face challenges

You are held accountable for the team's well-being

Your team will help you celebrate your joint successes

You can learn from the backgrounds and experiences of your team

Knowing that you have a solid team behind you is a powerful motivation
Your support system can be comprised of colleagues, mentors, friends, family, or pretty much anyone who wants to see you succeed and supports you. Also, be proactive by hiring the right employees to suit your current colleagues and team composition.
Step 5. Stay Flexible With Your Organization's Goals
Things rarely happen exactly as we anticipate, which is true both in business and life. It's crucial to be agile, ready to adjust to the business landscape changes, and modify your plan on-the-fly if needed. Only then will you be able to take your organization to the next level.
Don't get us wrong, it is important to have a defined plan for achieving your goals, but only as long as you can avoid narrow-minded thinking and rigidity. The more flexible you are and the faster you can correct the course when you need to, the more likely it will be that you keep the steady progress even in the face of the unexpected.
Step 6. Keep an Eye on Your Organization's End Goal
When working toward an ambitious, long-term goal, as mentioned before, you should break it down into manageable, smaller steps that you can take every day. But even as you're taking it one step at a time, make sure you don't lose sight of what you are working toward.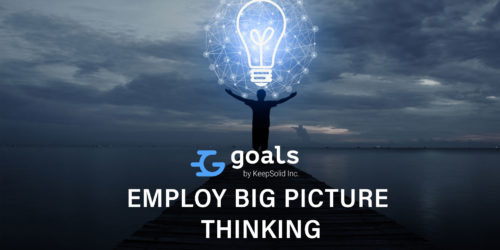 Employing big picture thinking is important to keep focus on your global target and not lose motivation half-way through. Take enough time to envision what the end result will look like, imagine how it will feel like to having finally met your goal. Return to that vision every once in a while during the work process to remind yourself why your targets are so important.
Step 7. Accept that Your Organization is Not Perfect
Many managers and business owners desire everything to be done correctly, at each step. The fear of failure and the idea of perfection prevents them from taking chances and making progress, holds them back.
The secret about goals management is that forward-moving progress oftentimes trumps mistakes. Keeping the process moving can be more important than waiting for the perfect situation and environment in order to proceed. Also, don't forget that mistakes provide a vital learning experience, the kind of which you wouldn't be able to get otherwise. A misstep can reveal new potential, open your eyes up to new approaches and ideas you may not otherwise see.
Step 8. Keep Adjusting Your Organization's Goals
Previously, we've outlined the importance of remaining flexible, accept imperfection, and being able to correct directions. It's crucial to keep moving forward, even if the situation turns out not what you expected it to be.
Even if your plans change and your progress might seem minimal, keep taking it step-by-step and piece-by-piece.  Every time you complete a baby step, you are getting closer to achieving your goal, and as long as you continue to move forward, you are on the path to success. It's the only reliable way to reach your goals.
Step 9. Think Positively About Your Organization's Goals
You should be confident in your ability to meet goals, as this can play an important role in your success. Believing in yourself and your cause goes a long way towards achieving your goals.
Think positively, encourage yourself, and allow yourself to be encouraged by your support system is key. Positive thoughts (in conjunction with actions!) will carry you through unexpected challenges, tough changes, and any other tests of your will.
Step 10. Celebrate Your Goals' Success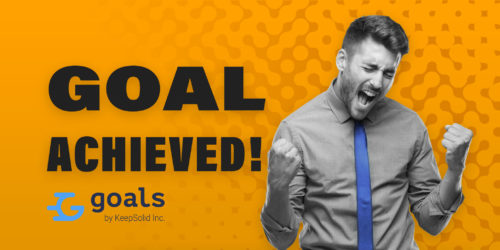 Although some may find this self-explanatory, celebrating your successes in your goal setting and achievement process is quite important. By celebrating even the small wins, you recognize the effort that went into this achievement and motivate yourself to keep moving through to the next stage of your goal management.
Success celebration is also a great way to honor a closure on each stage of the goal achievement process. You come back refocused on your continued progress and refreshed.
Following these simple yet important goal setting steps, you will know how to break down your overarching goals and take small steps each day to get closer and closer to your success.