2017: Year in Review and Look Ahead by KeepSolid
Reading Time:
3
minutes
Updated on Jan. 10, 2020:  We've stopped support of Business VPN. The team that developed this app is now entirely focused on VPN Unlimited Team and other online security products and bundles. Check out what's already available here and stay tuned for our new solutions! 
2018 is just around the corner, and all over the world people are busy with various pleasant New Year preparations. What better time to reflect on the year gone by and summon memories of its most important moments and accomplishments? So catch a small break from your holiday buzz, get yourself a cup of your favorite drink, and join us in our journey through time. In this piece, we would like to recall and appreciate what has been done and achieved by KeepSolid throughout 2017.
VPN Unlimited
Our flagship project VPN Unlimited has grown a lot this year. We managed to reach a number of big milestones and are extremely proud that so many users entrust their security and online experience to us.
One of the largest technological improvements of the year for our VPN service was the implementation of IKEv2 protocol. We have covered this in depth in another article, so you can get the details there. In short – it's a combination of technologies that enhance almost all aspects of VPN Unlimited. With IKEv2-improved security, speed, and reliability, our app has been able to score new heights of efficiency.
We are particularly happy about the developments of the macOS version of VPN Unlimited. Due to a number of organizational issues that our CEO, Vasiliy Ivanov, discussed in the Trust or Verify topic, at the beginning of the year it was in a somewhat bad shape. Fortunately, through a set of timely and precise measures we improved our app a lot and managed to turn our App Store rating from very low to 4.
Our latest big innovation of the departing year was the development of the KillSwitch update for our product. Currently, it is in beta for macOS (standalone) and Android. This is a neat feature that disables your internet connection if VPN connection is lost, preventing any privacy leaks from even the smallest disruptions in the VPN network.
KeepSolid Sign
Our new eSignature solution went a long road. Development of KeepSolid Sign began long ago, but it was not until the second half of this year that it received a huge boost and finally headed towards the release. During this time, we have conducted a two-stage beta test (closed and public), implemented numerous features based on the user feedback, and reaped a number of professional awards. More about that – in our History of KeepSolid Sign.
KeepSolid Sign has been live for a couple months now. However, as a little holiday gift, we decided to prolong our beta offer and extended free use of this service. Seize the day and give it a try!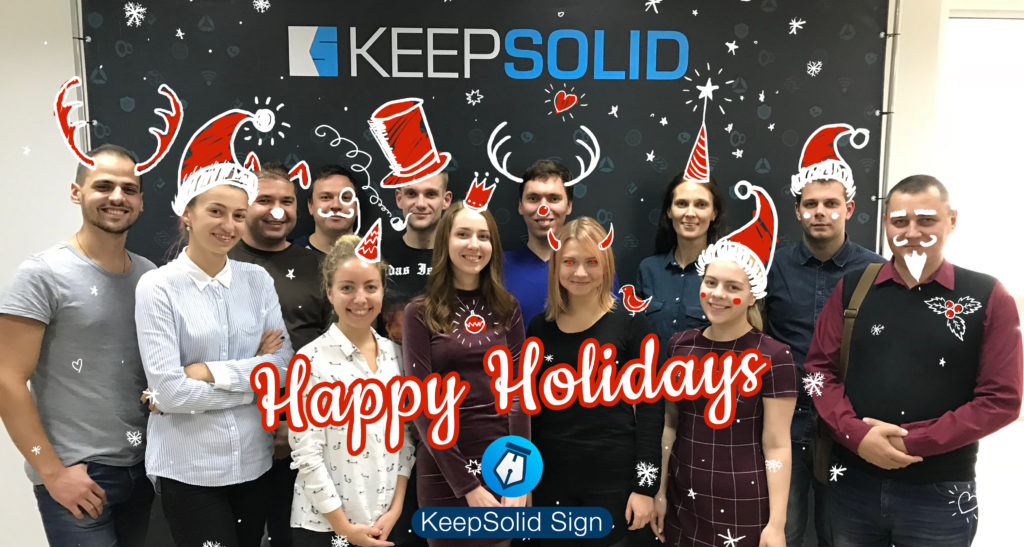 Business VPN by KeepSolid
Our latest brainchild, Business VPN is currently deep in development. If you are curious about the ins and outs of this new solution, we have recently talked about them in a piece about business-oriented VPNs. In general, though, Business VPN offers a hand-picked set of features designed specifically to satisfy all manner of business needs. We are planning a lot of interesting events related to this service in the upcoming year, so stay tuned!
Roundup
As you can see, this has been an active and exciting year for us. It was a delight to develop top-tier solutions for our awesome users, and we are committed to keep up with that in 2018. And of course, we will continue shedding light on the news, updates, and other interesting info on our blogs dedicated to VPN Unlimited and other KeepSolid products.
We wish you the merriest holidays and a lot of joy and awesomeness in 2018. Happy New Year!