5 Tips on How to Successfully Conquer Your First Marathon
Reading Time:
4
minutes
The International Day of Sport for Peace and Development is already here. What does this day mean for you? Does it remind you of your great achievements, tough competition, or whitewashes? Either way, it is an undeniable fact that sport (together with common sense) is an indispensable part of our life. It helps us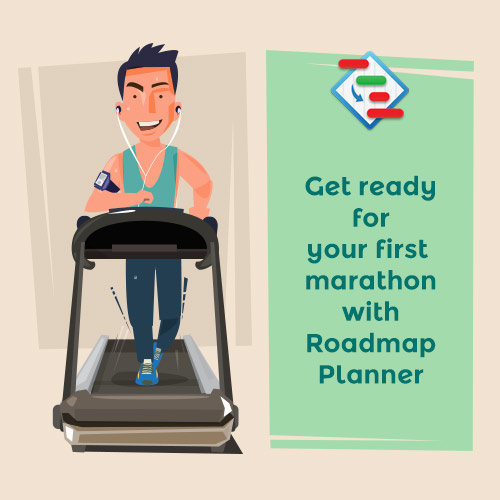 to improve health in many ways as well as our self-discipline, create friendships, and build leadership skills.
We at KeepSolid are proud that we can be art and part in this event. Our team offers the Roadmap Planner app. This smart utility is a great assistant to plan your trainings, structure your way of life, and track results.
26.2 miles – sound like mission impossible?
Usually, to celebrate this holiday, a great number of sport activities with hundreds of participants are organized around the world. Charity Marathons are the most popular ones. By the way, have you already registered for one of them? Or, you are not ready to challenge yourself? Actually, you don't need to be a professional sportsman for this. Here are a few tips on how to prepare yourself for a first race. We hope, this information will be useful, and help you to take the first step in getting ready for a marathon next year.
1. Structure your training plan
In spite of the fact that you don't need to be a sportsman to conquer 26.2 miles, it doesn't mean you don't need a comprehensive preparation well in advance. Roadmap Planner provides you with a unique opportunity to develop your optimal training plan that will perfectly suit your fitness, experience, and goals. With this tool, you can view the whole picture of your program, including the types of training exercises, how many miles you want to do per week,  Also, you can set milestones to mark the key stages to monitor your progress.
2. Adjust your nutrition
Not only your regular running routine, but also your lifestyle should be changed, especially the nutrition. It is recommended to test a couple of diet plans to find out which one works for you better. But, the main point is to adjust your diet to include 60-65% of carbohydrates. They will help your body to produce energy for long runs. Considering that your normal diet should consist of 2000-2500 calories, professional runners suggest to add 100 calories for every mile that you run. Protein should make not less than 15-20% of your daily calories to repair your muscles after workouts.
3. Train regularly
Do not underestimate the importance of regular trainings. Your schedule for a week should include short, medium, and long runs. Short runs (up to 5 miles) will improve your cardiovascular function. Medium runs (more than 5 miles) will help you to build confidence in your strengths, and get ready for a long run. Long runs are good to prepare your musculoskeletal system for the forthcoming marathon. Try to schedule extra miles every week. Do stretches every day to avoid accumulation of lactic acid in your body, and decrease chances of getting hurt.
4. Have a rest from running
However, running too hard and without breaks can actually hurt your ability to perform in the marathon. Give yourself time to rest, and spend some of your training days doing Yoga or Pilates. It is recommended to plan 2 days per week for these activities. Moreover, to give your body enough time to recover, your longest run should be around one week before the race.
5. Involve your friends

The beginning is always the hardest part. To make it less stressful and more effective, you can share your marathon roadmap with people who are on the same way. You will go through the same (or nearly) routine, so you can discuss your success and failures, and instantly amend your plan if necessary. Overcoming all possible difficulties, you know that you're not alone. This makes your preparations easier, at least on a psychological level, as you will motivate each other to continue your way to the finish line.
Keep calm, and stay focused on your goals
Don't expect instant results. In spite of your strong preparation, you can never be sure about the final success. A marathon is still a marathon, and it is a challenge that will teach you a lot about yourself along the way. Nevertheless, after the completion of the marathon, regardless of its result, you can easily get back to your training plan and update it according to your future goals. It is very likely that this marathon was the first, but not the last.
Roadmap Planner is here and ready to guide you through your future training plans. Download the app to your macOS or iOS device right away.