Celebrating 4.04? Enjoy Your Secure and Colorful Party with Private Browser!
Reading Time:
2
minutes
Today we are celebrating the day of St. Isidore of Seville, a patron saint of the internet and its users. You may think "How this person is connected to the internet if he was living far back in the 7th century?"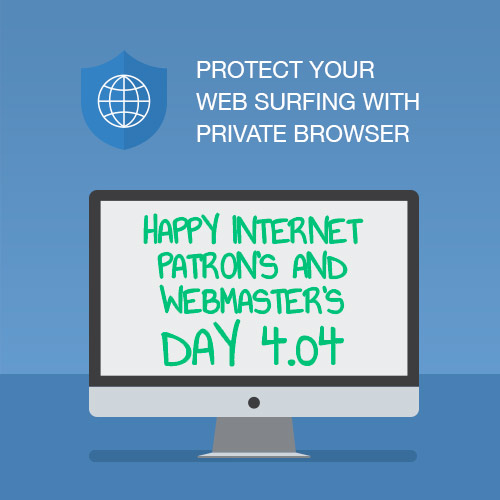 Well, he tried to record everything that was known by that time. As a result, St. Isidore wrote a 20 book opus "Etymologies" that was considered "the encyclopedia of all human knowledge" for the next thousand years. More than 50% of the world's population now consider the internet to be the same.
Want more reasons to organize a party? There is one. As you have probably noticed, the date 4.04 is very similar to one of the most recognizable errors in the internet, 404 or "Page not found." That is why it was decided to celebrate the Webmaster's day today as well.
To bring more fun, entertainment, and security to your celebration, we offer you Private Browser. The app will greatly contribute to the protection of your privacy, while surfing the web, and grant you a brighter feeling of online freedom!
A powerful tool of St. Isidore
Our Private Browser is a perfect weapon in the hands of St. Isidore. This security app protects your traffic from all prying eyes, ensuring a safe browsing on the internet. It is based on the top-notch VPN technology, creating an unbreakable tunnel with the highest-level of encryption to securely share any information. Now you can rest assured that your personal data will never be intercepted by third parties.
This can be important not only for those, who deliver some top-secret information, but also for usual users. Since adversaries can grab your sensitive information, while you are doing online banking, or simply shopping, Private Browser allows you to easily evade all these security threats.
No limitations!
Have issues watching your favorite shows, or listening to brand-new tracks? Our perfect solution can help you out even in this tricky situation. Private Browser will seamlessly bypass any internet restrictions, such as "This content is not available in your region," letting you enjoy a festive evening with your friends or family. Everything you need is to choose a VPN server that suits you best, and start your party without any further delay.
With Private Browser, you will stay protected from all odds, which the internet may bring. Get the app for absolutely FREE right away, and try out all its advantages for yourself.
Happy holiday to all the internet users and webmasters out there!