Get More Opportunities and Flexibility with a New Update for Roadmap Planner
Reading Time:
2
minutes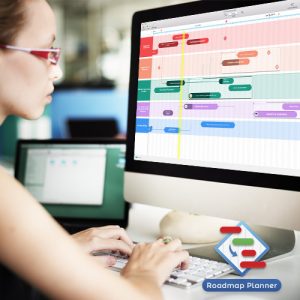 Releasing new features for an existing and successful application is always a risk – what if users won't enjoy them? However, such doubts are not stopping us from working day and night to please our priceless clients. Meet the Roadmap Planner 2.6 update! Now it becomes even easier to organize your roadmap with scopes, custom icons, and other features you've asked for.
Scopes
It's okay for a thriving business to have tens to hundreds of tasks in their roadmaps. So much work to do, so many ideas to test, so many goals to reach. However, if you are the one to manage such a packed roadmap, you'll find it quite overwhelming. Losing track of small tasks, confusing which works affect which goals – it's all an often case in such situations.
Worry no more, as Roadmap Planner offers you the Scope feature, an intuitive and helpful way to manage your tasks. Combine works into a single scope, assign them to a certain milestone, and you're ready to go. Now you will always be able to distinguish each task that's crucial for a specific part of your project in a blink of an eye.
Custom icons synchronization
Roadmap Planner is a great tool to visualize your strategy in an appealing way, and share your vision of a project just the way you want it. However, with this update, you can make it even more engaging as your team will now be able to see your custom icons. This is a great way to add a bit of visual context to important tasks, or to express the weight behind certain works. Using this new opportunity, you will easily make each project unique.
Other useful features
With the version 2.6, you will also discover a number of smaller, yet nonetheless useful features. They include:
Document info.

View creation date, team members, and other useful information in a convenient way in the Documents tab.

Unsubscribe option.

Have you completed every task you had within certain roadmaps?

Now you won't have to wait for each document's owner to properly manage its participants. Select the roadmaps you want to leave and unsubscribe from them all by yourself.

Multiselect in the Documents tab.

Participating in too many teams to unsubscribe or delete each one by one? With the Multiselect feature, it becomes easier than ever to manage as many documents as you need – in a single click!
Be among the first to upgrade your Roadmap Planner and check all these neat features for yourself!