Step by Step Walkthrough of a Planning Process (with Marketing Strategy as an Example)
Reading Time:
3
minutes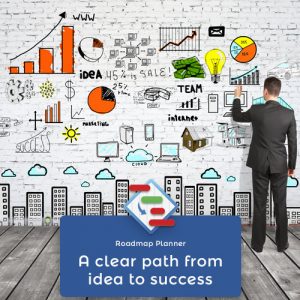 Building a strategic roadmap, however important, is a step that sometimes gets skipped, especially by new businesses. Our research shows that a frequent reason for this is the fact that planning a long-term strategy from the scratch feels overwhelming, particularly if that's your first time writing it. People will often prefer to start small and solve problems as they arrive. Alas, as our readers may have already learned, this seemingly easy path leads only to problems. In today's article we will give you some hints on how to start building your very own strategy, with a marketing plan as an example.
First of all, you have to understand that the most important thing about any strategy is its practical utility. There is no point in trying to jump above your head and build a detailed tactical plan from the beginning, nor should you worry about including every great idea to your strategy. Make it simple and clear.
Steps towards building a useful roadmap for marketing strategy
Step 1: Brand and positioning
The initial point of building a solid strategy is knowing yourself as a company. Define your positioning, who you are and what you do. Building a vision for your brand is important for both your clients to be able to distinguish you from others, and for your stakeholders, especially as a reference point to keep everyone on the same page.
Step 2: Researching the market
Sun Tzu, the author of the ancient Chinese military treatise The Art of War, said: "If you know yourself but not the enemy, for every victory gained you will also suffer a defeat". Applied to business, this means that when you don't know the current market conditions, you have to act blindfolded. In such situation, even if you happen to make a successful move, there will be no way to tell where exactly did you go right. To avoid this, you have to know three crucial aspects: what is your audience, who are your competitors, and who are the influencers in your market, in other words, conduct a good overall market research. Check out some tips in our article about marketing activities during project downtime.
Step 3: Marketing audits
Having gathered some general knowledge about the market, it's time to dig deeper. If you already have a website and/or some marketing activities, the first step should be to audit your analytics and tracking tools. You need to decide whether they are reliable and representative enough. After that, or if you do not have any activities running, you should analyze marketing tools essential for your business. These may include customer relationship management (CRM), conversion rate optimization (CRO), pay per click advertising (PPC), search engine optimization (SEO), etc.
Step 4: Marketing plan
At last, this is the step where you put everything together, a result of your research and audits. That's where the Roadmap Planner will come in handy, allowing you build a roadmap that includes every aspect of your marketing strategy. You can either create a whole document for it, with each marketing activity shown as a separate project, or add "Marketing" project to an existing roadmap of your business. The choice depends on your needs – former for internal use or explaining your vision to the marketing team, latter for demonstrations or to keep yourself updated on the global picture.
Step 5: Month 1 plan
After setting a strategic vision of your project, it's useful to build a tactical plan for your marketing activities. However, there is no need to plan further than one month. After you start receiving actual data on what works and what doesn't, you will have to make a lot of adjustments to your tactical plan. You should expect as much as 80% of your marketing experiments to fail, that's okay and is the only way to figure out what works best for you. This is also the reason why you should review your marketing activities strategy at least monthly and implement proper changes to it. Marketing is often the most volatile part of your business roadmap.
Easier than you've thought, isn't it?
Hope this short guide shows you how simple it is to build a helpful strategic roadmap. Check it yourself! Download Roadmap Planner and see how impactful a proper strategy is for your business and your life!