Sharing Media is Easier than You Think with Photo Transfer WiFi
Reading Time:
2
minutes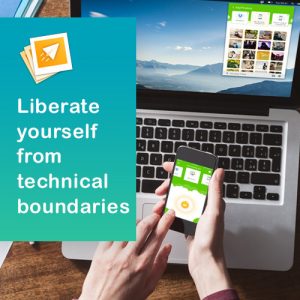 Technology is constantly developing, and Apple is usually ahead of the rest of the world when it comes to innovations. As an example of such, iPhone's camera becomes better with each iteration, now allowing to take HD pictures and 4K video. Unfortunately, everything comes with the price, and innovations are no exception. All this high-quality media has to take a lot of space in your phone's memory, resulting in it quickly getting depleted. Due to this, more and more users are facing a common issue – how to transfer photo and video from Apple devices in a fast and convenient way? Well, we just happen to know the answer!
Existing problems…
Let's say you are a professional photographer with a lot of appointments and very little time to transfer footage to your desktop PC or Mac. Or maybe you're a reporter and have to take long 4K videos, which usually take dozens of gigabytes on your phone's hard drive. These (and many other) situations demand a way to relocate your media files quickly and wherever you are.
Most of the time, you'd have to either plug your device to a PC or Mac via cable, or use slow and unreliable tools like email or cloud services. Besides, transferring to different devices would require different apps, like iTunes for iOS and iCloud for Mac. Which usually brings up compatibility issues and other problems. Not to mention that most of such solutions only allow to transfer a limited amount of files for free, and will ask you to pay to use them after that.
…And how to solve them
Luckily, with Photo Transfer WiFi, you won't ever have to worry about transferring your pics and vids to other devices. This app allows you to share your media files to any device within the same WiFi connection, be it an iPhone, iPad, or Mac. If you wish to send the files to PC or Android, all you have to do is visit a link to the files (the app generates it automatically). And if you happen to be in a place without WiFi, simply activate your device's WiFi hotspot and share it with whichever device you need. It's that simple! Use a single application for every gadget and forget about the need to carry a cable everywhere or waiting for hours for the download to complete.
Photo Transfer WiFi is a great aid for travelers, people who need to use a camera as a part of their job, students with lots of visual educational material, and anyone who loves to take pictures and would like to have a convenient way to share them.