How to Set Business Goals in 2020 so as to Actually Reach Them
Reading Time:
6
minutes
2020 will offer numerous new challenges and pitfalls for companies aiming to achieve their goals. The business landscape is evershifting, for your organization to succeed you must be ready to adapt and overcome. In this piece, we will explain what to expect from 2020, how to prepare for that, and how to set and meet business goals.
Here are some business trends and forecasts for 2020:
Data flows will continue to grow rapidly, allowing (and demanding) businesses to shift towards

data-driven

strategies

Greatest challenges

will include business digitization, lack of specialized skills, and implementing automation, causing skill and occupational shifts

Small business

will be on the rise, with average amount needed to start a small business reaching new lows – from $15,000 for entrepreneurial to $2,000 for home-based franchises

Importance of

inclusivity

in business and society will grow

9-5 jobs business practice phasing out in favor of

outsourcing and gig workers
Setting up your business for success
To increase your chances to reach your business objectives, it's vital to start strong. Here are a few preparatory steps to consider.
Performance management logic
The first concept is performance management. This process ensures that activities that an organization performs to achieve its goals are efficient and sufficient. Performance management techniques are aplenty, each one fit for specific types of objectives, businesses, and markets. 
Some performance management approaches are process-oriented, focusing more on the means to achieve business goals than the goals themselves. Others are goal-oriented, considering properly determined and flexible global objectives to be the key success factor. We at KeepSolid strongly believe the latter school to be more adequate in the modern VUCA world.
External opportunities and internal capabilities
The second key element of preparation is twofold. It takes identifying opportunities that exist beyond the bounds of your organization, and capabilities that lie within it. The former involves external environment analysis and keeping up to speed with industry trends, while the latter requires a measured approach to goal alignment along with utilizing relevant tools. 
External opportunities
Within external environment analysis, we examine the competitive structure and position, history, and dynamics. It focuses on the macro scale, looking into global, demographic, social, and technological factors. The goal of the research is locating external aspects that will drive corporate growth, profits, or volatility.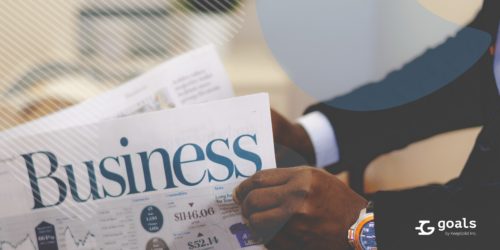 Internal capabilities
To ensure that the set objective ends up completed, goal alignment is in order. First, explore your organization's previous objectives, activities, and results as part of retrospective analysis. 
For this, Balanced ScoreCard (BSC) approach can be used (look at your business' BSC, or create one retroactively). Then, use its data to create a personal scorecard for employees responsible for your objective. It should include the overarching objective, targets and initiatives that are to help reach the objective, info on how you will measure if you're reaching it. All that, broken down into the following perspectives:
Financial 

Customer

Internal process

Learning and growth
Once you've done that, and you understand your employees' capabilities, you can translate them into business goals. Alternatively, you can use a tool like Goals by KeepSolid for aligning your employees' personal goals with business objectives. 
Strategy stages
To act strategically is to know the path to your goal and keep the balance between capabilities and opportunities. Strategic behavior is focused on efficiently achieving goals that would take either a considerable period of time or complex combinations of actions.
Strategic behavior involves going through several stages:
| | | |
| --- | --- | --- |
| Subject | Action | Result |
| Market | Analysis | Opportunities |
| Opportunities | Goal setting | Tree of goals |
| Tree of goals | Plan development | Action plan |
| Action plan | Plan implementation | Outcomes |
Now, there is a rub. Modern business conditions change rapidly. This situation was named VUCA (Volatility, Uncertainty, Complexity, Ambiguity). It is no longer enough to just set long-term goals or have a plan. 
What is VUCA?
VUCA is a concept that describes the current state of the global business environment. According to it, a number of new factors impact business landscape in ways that didn't exist before. Companies should take into account these changes and VUCA in order to withstand the challenges.
An important premise of the VUCA world is that a failure isn't necessarily a bad thing, as long as you learn something from it. This principle is vital to any organization's endeavor, especially for something as global and consequential as business goals. But what if you don't want to wait till your long-term goals fail to learn a lesson? 
In this case, you should establish an elaborated feedback loop at every stage of your business planning process: from the current situation to the original action plan, from the plan to goals, from the goals to the market analysis. Feedback loop allows you to make timely changes to your original objectives and goals, keeps your business outlook updated and relevant.
How to negate VUCA
Because of VUCA, a lion's share of plans does not achieve the set goals. For a business to survive in the VUCA world, its CEOs / strategists / managers must possess a number of key abilities:
Frustration tolerance
Balancing resources and opportunities
Attention to detail
Proficiency with KPIs
Know the bad scenarios
Planning the strategy
It's time to get started with the actual strategic planning. To do this, we'll go over two consecutive scopes of planning: 
Strategic plan

Operational plan
Notice that planning the strategy can quickly get out of hand and overwhelm you with the amount of work if done in an unorganized way. To avoid this, we recommend you perform all the planning using dedicated tools, such as Goals by KeepSolid.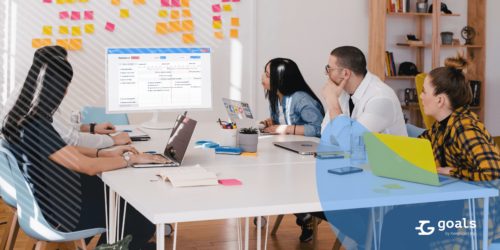 Strategic plan
This is the global, distant scope. At this level, you take a look at your business or project as a whole and identify its core priorities. This includes 3 stages:
Go through the preliminaries

– before you decide on your global objectives and goals, figure out the project management framework you're going to use (e.g. Agile management). It will shape and direct all further stages and the selection of tools.

Set an overarching Objective

– figuratively speaking, the Objective is the gap between where you are and where you want to be. It is the primary aim of your organization's activities, the single direction in which you will focus your actions and resources.

Define Goals (Key Results)

– these are the answers to the

hows

of your Objective. Properly set Key Results will facilitate reaching your business targets: 
Operational plan
This is the grounded, concrete scope. It's about figuring out the minutiae of your Objective and Goals. This level also includes 3 stages:
Set tasks

– series of actions that are to help your business meet your Key Results. 

Plan sprints

– sets of tasks united by the single time framework. This helps streamline and coordinate task completion; also, backlogging tasks in sprints is a great way to ensure you never miss an idea with great potential.

Build a roadmap

– a document with sequences of tasks, and with goals as milestones. It provides you with a helicopter view of your whole project, binds your activities to a single timeline, and helps figure out an optimal order of tasks completion.
Reaching goals
At last, we've reached the focal point of all our preparation, learning, and planning. It's time to execute! The plan, that is, so that you can finally meet the goals you've long yearned for. Let's see what goes into bringing your strategy to fruition.
N.B. The guideline below is applicable regardless of the planning / management tools you're using, but it's best used with Goals by KeepSolid. This web-based app combines all the capabilities required for plan execution. 
Strategy execution:
Enter your Key Results and tasks into

Kanban boards

. This makes it easy to manage them, track their progress, and stay in the loop of all the works on your project.

Create a

Roadmap

of your project and allocate tasks, important milestones, and ongoing activities. This binds your actions to a concrete timeline, allowing you to manage resource workload and make further project decisions based on your team's capabilities and goals.

Analyze your movement

towards your goals. For instance, in the Objectives screen of the Goals app, you can get live, up-to-date information about the status of your Key Results, objectives, tasks, and overall time consumption. You can also use the Reports screen to get detailed data of the status of the key elements of the process, e.g. Objective Implementation status, OKR status, or Overdue tasks.
Strategy retrospective
Your job is not finished when you successfully reach your Objective! After that, it's time for a retrospective. Analyzing your previous experience and achievements is the basis for continuous improvement.
At this point, you want to take a look at your initial plan and compare it with the results you've actually got. 
Which of your Key Results were met? 

Which of your strategic assumptions proved right or wrong? 

Which aspects of your business facilitated movement towards the Objective, and which actually hindered?