Top 10 Movies and Shows to Watch in 2020, How and Where to Watch Them
Reading Time:
8
minutes
The year 2020 promises to be quite a fruitful one for all us cinephiles. Suffice it to say that the internet is already bursting with top 20s-30s-40s of the most anticipated movies and / or TV shows for 2020, and they all differ quite a lot, surprisingly. 
In this piece, SmartDNS team offers you our top 10 films and TV series. Additionally, you will learn how to watch them, and what to do if you find Hulu / Disney Plus / Netflix not working. Enjoy!
Top 10 movies to watch in 2020
1. Black Widow

At birth Natasha Romanova (a.k.a. the Black Widow) is given to the KGB to turn her into an ultimate operative. After the dissolution of the Soviet Union, the government decides to kill her. The action takes place in a modern-day New York, where the Black Widow is a freelance operative.
Yet another one of the Marvel Cinematic Universe movies. For most viewers, that alone would be enough to get excited. AND it's also the first solo movie of one of the MCU's favorite and most intriguing characters. Color us hooked!
2. Birds of Prey



Harley Quinn splits with the Joker and joins superheroes Black Canary, Renee Montoya, and Huntress. They set out to save a young girl from one of Gotham City's evil crime lords, the Black Mask.
3. Wonder Woman 1984



What can we say, KeepSolid loves superhero movies:) In 1984, Wonder Woman Diana Prince comes into conflict with dangerous villains: the Cheetah and Maxwell Lord. She also reunites with Steve Trevor, her past love. It is a prequel to 2017's Wonder Woman, which is still the most critically acclaimed of the movies in the DC Extended Universe.
4. No Time to Die



What can we say, KeepSolid loves superhero movies:) Globe-trotting spy James Bond gets recruited to rescue a kidnapped scientist. Soon enough he finds himself hot on the trail of a smart and mysterious villain, who's armed with a deadly new technology. The last of the Daniel Craig's Bond movies, we can expect him to go out with a bang.
5. Onward


Ian and Barley Lightfoot, two teenage elf brothers, go on a quest to discover whatever little magic left out there in the world. They do this to spend one last day with their father, who died when they were too young to remember him. Pixar movies have been a mixed bag quality-wise recently, but with such an interesting premise and unique world, it's hard not to get at least a bit curious.
6. Ghostbusters: Afterlife



A single mother and her two children move to a new town. Little do they know that they're about to discover their connection to the original Ghostbusters, as well as their grandfather's secret legacy. 
7. Tenet



Little is known about the Tenet's plot so far, except that it's going to be an "action epic revolving around the world of international espionage". An upcoming action thriller film by Christopher Nolan, Tenet stars Robert Pattinson, Michael Caine, John David Washington, Elizabeth Debicki, Dimple Kapadia, and Kenneth Branagh.
8. Dune

Most of us are familiar with the Dune universe thanks to F. Gerbert's 1965 novel. For others, the access point might have been the D. Lynch's 1984 blockbuster version. And now, we're about to be introduced to another reimagining by D. Villeneuve, the director of Arrival and Blade Runner 2049. To avoid confusion, the film will focus on only the first half of the original novel.
9. A Quiet Place: Part II



The Abbott family had to get through a lot in Part I. Now, they must face the terrors of the outside world. Forced to venture into the unknown as they fight for survival in silence, they realize that beyond the sand path lurk threats more dangerous than just the creatures that hunt by sound.
10. The Gentlemen



American expatriate Mickey Pearson became rich by building a marijuana empire in London. The word gets out that he's looking to cash out of the business, triggering those who want his fortune to launch an array of plots and schemes.
Top 10 shows to watch in 2020
1. Star Trek: Picard



Jean-Luc Picard is a renowned, yet retired admiral. He is still deeply affected by the destruction of Romulus and the loss of Lieutenant Commander Data. Now, it's time for him to step into the new chapter of his life.
2. The Falcon and the Winter Soldier



All right, let's mention superheroes in this list one last time:) The Falcon and the Winter Soldier is an upcoming Disney Plus miniseries by Malcolm Spellman. We follow the Marvel Comics characters Sam Wilson a.k.a. Falcon and Bucky Barnes a.k.a. Winter Soldier. Set in the Marvel Cinematic Universe, the show will share continuity with the films of the franchise.
3. Sex Education



Otis, a socially awkward high school student, does not necessarily have much experience in the lovemaking department. Luckily, he gets good guidance on the topic in the form of his personal sex ed course by his mom Jean, who is a sex therapist. He has become a reluctant expert on the subject and eventually sets up an underground sex therapy clinic for his classmates. Not to mention that Otis may still need some therapy himself.
4. The New Pope



Pope Pius XIII, also known as Lenny Belardo, hangs between life and death in a coma. Meanwhile, Sir John Brannox, a charming and sophisticated English aristocrat, is placed on the papal throne by the name of John Paul III. As he takes up the post, and the Cardinals finally anticipate a more pious lifestyle, Lenny comes round. Whoops!
5. Stephen King's The Outsider



Detective Ralph Anderson is given the case of Terry Maitland, a suburban parent who is accused of a grisly murder, yet seems genuinely shocked by this. As Ralph tries to understand the bizarre case, he finds more and more conflicting clues.
6. Avenue 5



Distant future. Malfunction crisis is flaring up on the space cruise ship Avenue 5. Captain Ryan Clark (Hugh Laurie) and his crew have to deal with it, but are revealed to be unprepared for this.
7. Locke and Key



As three siblings are investigating their father's murder, they move into a weird house. It's filled with reality-bending keys and visited by a malicious demon. Horror story based on the comics by Joe Hill and Gabriel Rodriguez.
8. Kidding



The show follows Jeff Pickles, a person iconic in children's television. Jeff, also known as Mr. Pickles, is an embodiment of wisdom and kindness to America's youth and to their parents. But as his life starts to take a downward spiral, Mr. Pickles has to put the puppets and fables aside to get through this crisis. Will the cruel world break his heart?
9. Devs



A young software engineer for a cutting-edge tech company suspects foul play after her boyfriend's apparent suicide. She begins her own investigation and uncovers something that could change the world – a technology-based conspiracy.
10. BoJack Horseman



BoJack Horseman is a self-loathing and alcoholic humanoid horse. Once the star of a '90s sitcom, he decides it's time for a comeback. His show was the hottest thing around, until it suddenly was canceled. 18 years later, BoJack wants to regain his dignity. But Hollywood is vastly different from the ol' days. The series is certainly not for kids, considering plenty of references to sex, alcohol, and drugs.
Where to watch all the best 2020 movies and shows?
The best place to watch these great films and series online is their respective streaming platforms. Netflix, Disney Plus, Hulu, Amazon Prime, HBO Now, BBC iPlayer, etc. is a convenient way to indulge in the joys of binge-watching a bunch of great shows and movies. 
One thing to keep in mind, though. Let's say you are looking for films to watch this year on Netflix. You might stumble upon a problem – Netflix not working! Why does this happen? What to do if you can't watch Netflix / Hulu / Disney+ / other streaming channels? Let's dig into it.
What causes problems with Netflix and other streaming services?
If you can't watch Netflix (Hulu, Disney Plus, etc.), it's most likely that you fell victim to geo-blocking. This happens when a piece of content, such as a movie or show, is restricted to a specifiс region or country. 
The reasons may vary: distribution rights restrictions, streaming service's policy, censorship by local government. But the result is the same – you pay for the service only to find yourself restricted from part of its content. How fair is that!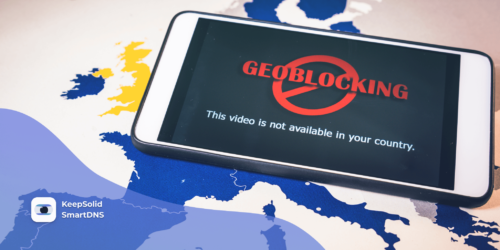 How to watch best movies and shows 2020 despite content restrictions?
One way to bypass geo-blocking is by using a VPN. Unfortunately, streaming services like Netflix put a lot of effort, time, and money into blocking VPN traffic. Besides, you might find configuring a VPN a hassle, not to mention that these services can negatively impact your internet speed and video streaming quality. This makes using a VPN solely for the purpose of solving the "Netflix not working" problem a suboptimal solution. 
Luckily, there are solutions designed specifically for when you can't watch Netflix, Hulu, or Disney Plus due to geo-blocking, namely the SmartDNS technology. One of the best such services is KeepSolid SmartDNS. In short, it is a technology that can grant you access to otherwise blocked streaming services in full-HD without lags and delays, from anywhere in the world. With this app, you won't miss any of 2020 best movies and TV series!
KeepSolid SmartDNS
Our SmartDNS solution offers you unmatched capabilities and access to geo-blocked video content. With KeepSolid SmartDNS, you can watch:
Netflix US

Hulu US

Amazon Prime US

HBO Now US

Sony Crackle US

Disney+ US

BBC iPlayer UK

iTV UK

RaiTV Italy
Using KeepSolid SmartDNS manuals, you can set up this solution to stream top 2020 movies and shows on an unlimited amount of devices:
Desktops and laptops (Windows, macOS, Linux, Kindle Fire)

Smartphones and tablets (Android, iOS, Windows Phone)

Routers (Airport Express, Airport Extreme, Asus, TP-link, Belkin, Cisco, D-Link, DD-WRT, Fritz Box, Huawei, Linksys, Netgear, Tomato, Open-WRT)

Streaming media players (Apple TV, Roku TV, ChromeCast, Amazon Fire TV, WD TV play, Boxee Box)

Gaming consoles (Xbox 360, Xbox One, PS3, PS4, PS Vita, Nintendo Wii, Wii U, Nvidia Shield)

Smart TVs
Get KeepSolid SmartDNS right now for free for 7 days, or select a subscription plan (7-day, 1-month, 1-year, 3-year). No geo-restrictions, fastest video streaming, best video quality, unlimited number of devices – this, and much more, is what you get with KeepSolid SmartDNS.