How to Start VPN Business Using White Label VPN
Reading Time:
4
minutes
VPN (Virtual Private Network) market is rapidly growing. Studies show that VPN usage has been steadily increasing throughout the past years, and are expected to retain this trend for years to come. The reasons for this growth are manifold, as VPN users want to:
Bypass content geo-blocking, namely for entertainment content, torrent sites, social networks, news services, etc.

Access services that are restricted at work

Stay anonymous while browsing and hide from online surveillance and spying

Be able to communicate with friends and family from abroad
Contents
How to benefit from White Label VPN
How to start VPN business
The VPN market size is expected to grow to $35.73 billion by 2022. It's no wonder that more and more companies that have no experience nor knowledge of this sphere are nonetheless attracted to it. From affiliates to game publishers and IT developers, they are looking for ways to penetrate the VPN market. 
Demand is creating its own supply, so nowadays one can easily find VPN providers and resellers offering their services and expertise for sale to any organization striving to start VPN business. VPN Unlimited OEM is one such service, or more precisely, a bundle of solutions:
White Label VPN

– you get an off-the-shelf VPN solution and dedicated managers to help you figure it out, along with our customer support agents to answer your clients' requests. This means that you can start selling the solution right away under your own brand name and as a part of your product portfolio, without any additional hassle such as development, maintenance, or infrastructure. White Label VPN is the part of the bundle we'll focus on in today's piece.

VPN SDK

– you get a toolset to implement our VPN technologies into a digital solution of yours. This allows to boost the security and privacy protection of your product, making it much more appealing to savvy customers.

VPN for Routers

– selling WiFi routers? Or wish to protect your corporate network with a VPN? Install VPN Unlimited to your WiFi routers using this part of the VPN Unlimited OEM bundle.
How to benefit from White Label VPN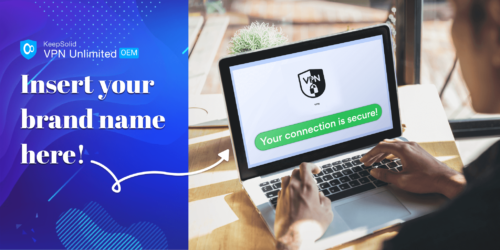 A number of business types can utilize White Label VPN to start a VPN business with great efficiency. In this article, we will focus on the three most common ones: affiliates, game publishers, and IT developers.
How affiliates benefit from White Label VPN
Affiliates who are worth their money are experts of directing proper traffic towards required products, services, websites, etc. Unfortunately, even the best affiliates are not immune from failing to bring the results their clients expected – often because of the issues on the client's side. In this case, despite deciding on the best CPI, CPA, or CPC model, their traffic will essentially go in vain due to a poorly coded landing page or half-baked untested product. 
This maddening situation is easy to avoid. All you have to do as an affiliate is get your own product to sell! For instance, our White Label VPN solution. This way you get a high-quality product in the rapidly-growing VPN market, and leave management of all technical matters, from full maintenance to customer support, to experts from KeepSolid.
Another benefit of White Label VPN for affiliates is the opportunity for additional monetization. Got great web or mobile traffic and brought it to a product? Regardless of whether traffic conversion occurs or not, why stop there? Get yourself another product (such as, you guessed it, White Label VPN), and lead your clients there too, thus potentially doubling user acquisition of the same traffic. Besides, you will get all the profits from such traffic, not mere percentages that advertisers would normally pay affiliates.
How game publishers benefit from White Label VPN
Game publishers usually operate under one of the two procedures: either developing and publishing their own products, or partnering with independent developers, publishing their products, and sharing the profit. Either way, game publishers normally are experts in marketing – they boast considerable experience, well-developed marketing practices, and time-tested user acquisition channels.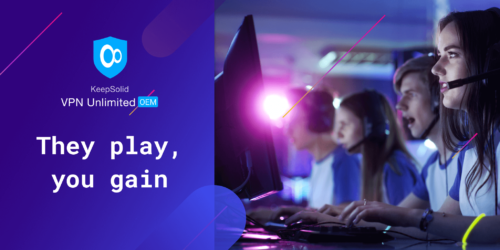 In addition to that, and arguably most importantly, they have a popular and well-known name. To maintain it, they must be in constant search of new quality solutions to add to their broad product portfolio. Coincidentally, this allows game publishers to use cross-promotion to a great effect, showing ads for some of their products within the other ones. A highly profitable traffic conversion technique!
The only problem – such a publisher's portfolio is often overspecialized, only publishing games. Putting all eggs in one basket is problematic for many reasons that are surely obvious to you. If you are such an overspecialized publisher and wish to penetrate a new, rapidly-developing market, White Label VPN might just be what you're looking for. With it, you will get an off-the-shelf VPN product to market using your inventory and user acquisition experience.
How IT developers benefit from White Label VPN
IT developers' case is somewhat similar to that of game publishers, so you can reread the previous section for the general information on the benefits. However, when it comes to IT developers, there's a bit of a twist – they always have their own product portfolio. This means that White Label VPN can be useful to them in the following ways:
Marketing it using their experience and tried practices and channels

Bundling the VPN app with their other products to boost the average ticket

Increasing user acquisition and traffic conversion by implementing the VPN app to their existing purchase funnel
How to get White Label VPN
It's super-easy to start VPN business using White Label VPN:
Go to

White Label VPN page

Leave your request there via a short fill-out form

Alternatively, you can get in touch with us for any additional requests or questions via the contact information at the bottom of the White Label VPN page