How to Watch College Basketball Online Wherever You Are
Reading Time:
4
minutes
Rejoice, NCAA college basketball fans! November is already here, which means you can now watch hundreds of exclusive games from a variety of conferences this season right up through to March Madness and the National Championship. However, if you're a US expat or happen to be travelling, you'll find that channels broadcasting NCAA games aren't available outside the US. 
There is a workaround, though, that won't let you miss a single game of your favorite school or any team in the 32 NCAA conferences this season. KeepSolid VPN Lite team has prepared a comprehensive guide on how to live stream college basketball games from wherever you are. Be sure to check it out!  
How to watch NCAA college basketball on TV in the US
To watch 2019-20 college basketball season on TV, you need either a cable package or a streaming service that provides access to TBS, CBS, ESPN, CBS Sports Network, FS1, TNT, and TruTV. NCAA games are also broadcast by regional sports networks like Stadium and Fox Sports Networks, but their coverage may be limited to specific regions.
Where can you stream NCAA basketball 
In case you know which conference your favorite team belongs to, just ensure that your cable package includes the network showing their game. For example, CBS Sports Network will show games from the Big East, A10, Mac, NEC, Patriot League, and Mountain West conferences, while CBS will broadcast games from the ACC, AAC, Big East, Big 10, Big 12, SEC, and Pac-12 conferences.
In addition, certain conferences have their own networks. Here are some examples: ACC, Big Ten, and the Pac-12 conferences have the ACC Network, the Big Ten Network, and the Pac-12 Network correspondingly. 
This may be quite confusing, but, in a nutshell, as long as you have access to TBS, CBS, CBS Sports Network, TruTV, TNT, and FS1, you'll be able to watch the majority of the college basketball games played this season. 
How to watch NCAA basketball live outside the US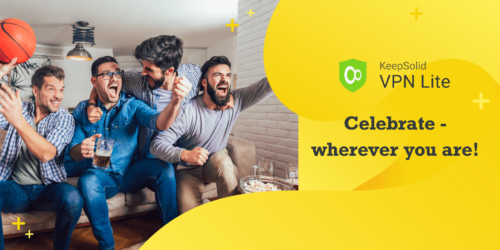 In case you are in a country with no official broadcast of college basketball or a particular game isn't available due to regional restrictions, the best way to live stream NCAA basketball is to use a VPN service with US-based VPN servers, like KeepSolid VPN Lite. 
Why use VPN for NCAA basketball streams
How does VPN solve this task? It lets you change your IP address and make it seem like you're in a different location. Say you're in Europe, choose a server in the US that is within NCAA games live coverage. And Presto! Watch any NCAA games you want.
Basketball is quite a dynamic game and VPN needs to be able to keep the pace. KeepSolid VPN Lite is good for NCAA basketball streams due to its speed and high performance. Besides, it doesn't have traffic or bandwidth limitations, so you can keep up with the basketball game and see all the action on the court, without missing any details. 
How to watch college basketball online with KeepSolid VPN Lite
Using KeepSolid VPN Lite to stream NCAA basketball without geo-blocks is as easy as 1-2-3.

First, download the relevant version of

VPN Lite

on your device. The VPN client is available for Windows, Mac, iOS, and Android. 

Launch VPN Lite and tap the big round button in the middle to connect to a VPN server.



In the free version of KeepSolid VPN Lite, you get access to 1 VPN server located in California, San Francisco. And if you unblock VPN Lite Turbo or Turbo Stream plan, you'll get a bigger choice of VPN servers in 80+ locations worldwide, including more US-based ones.



Wait a few seconds till the status changes to

Connected

. Now, your real location is hidden and you have a US IP address. Any website you visit can see only the VPN server's IP address, so it will seem like you're physically located in the US.  



Watch NCAA basketball season games as well as March Madness without restrictions and root for your favorite teams with KeepSolid VPN Lite! 
Bottom line on watching college basketball live online
NCAA basketball season has already begun and will surely bring lots of spectacular games. If you're an American expat or a traveller who wants to watch the games of your favorite team, the task can be solved once and for all.
Enable KeepSolid VPN Lite, get a US IP in a matter of a few clicks, and let no geo-restrictions stop you any more!