The New, Revamped Goals by KeepSolid – Now Officially Released
Reading Time:
4
minutes
Hooray! Our goal-oriented solution for project managers, Goals by KeepSolid is finally moving out of beta! The beta version of our brainchild was released this August to help businesses transform the way of managing projects and reach the objectives set. 
Since then, we've been gathering your feedback and improving the app to meet all your needs and expectations. Today we're thrilled to announce the official launch of our product – new, revamped Goals. What is Goals by KeepSolid, how has it improved since its beta launch? Read on and find it out below!
What changes to expect with the official launch of Goals 
What is Goals by KeepSolid 
The core idea behind the Goals app is that whatever activities you do within your project should be aimed at achieving the same specific objectives. This approach helps to minimize the non-efficient work that consumes time, doesn't yield much result, or even worse, distracts from the main target. Using Goals, you always stay focused on what's most important, and have much more chances to successfully achieve your company's goals and objectives.
Goals is a great asset in the toolkit of project and product managers, business owners, software developers, marketers, and anyone looking for efficient ways of leading projects to the desired outcome. 
Want to learn more? Check this article about beta launch where we've covered the Goals' history, the problems it solves, the app's prominent features, and ways of using it.  
What changes to expect with the official launch of Goals 
Getting started with Goals is now as easy as 1-2-3  
Oftentimes, using a new app is like navigating in an unknown city. You don't know what's where and how to get to your destination. Unless you use Google Maps or a similar service:) From now on, each new Goals user gets a map of sorts –  the demo target with an onboarding tour and tooltips that will show you around. 
With the demo and tooltips, you'll quickly learn the ropes of how to reach your objectives with Goals and will have an easy time adapting to it.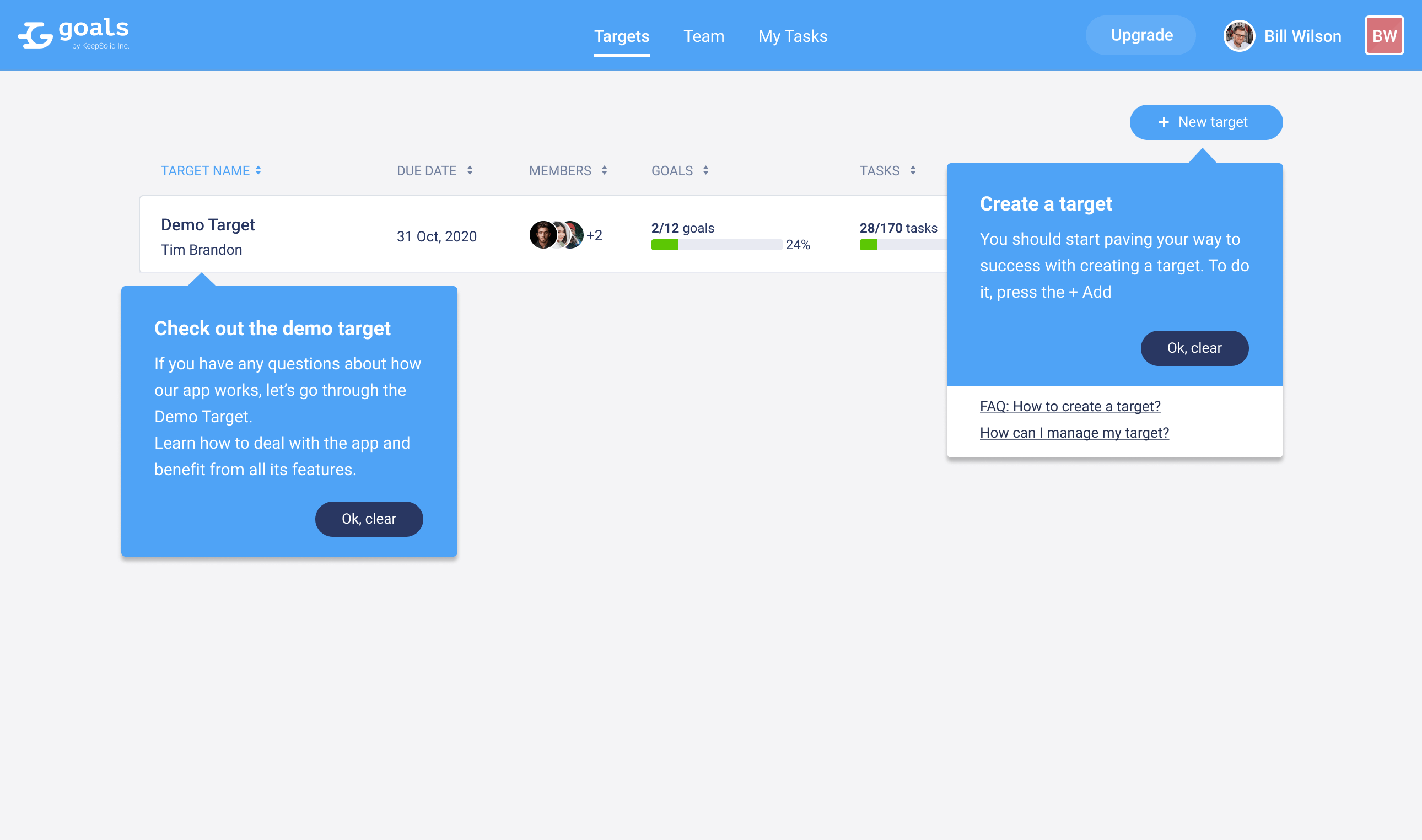 Besides, we've prepared Goals demo video, which is available on our website. It will help you learn the basics of how to work with the app. 
And to make the process of learning Goals even smoother and cover any questions that may be left, we've also prepared a comprehensive FAQ page. How to create a target, how to set goals, how to manage tasks, how to invite team members, and much more – all can be found in the FAQ. Be sure to check it out! 
Goals no longer requires you to practice agile project management approach. From now on, when creating a target (called project in beta version), you can choose if you want to use sprints or not. What does it mean? If you didn't have the opportunity to try Goals in beta version, let us explain its original workflow:
Set your primary objective

Create a mind map of goals

Break down your goals into tasks

Schedule tasks

in sprints

Manage sprints via Kanban board 
This was the only way to work on your tasks. In the new Goals, you can still stick to this method of course. Or, if you're not that committed to the sprints approach, just turn off the Use Sprints toggle when creating your target.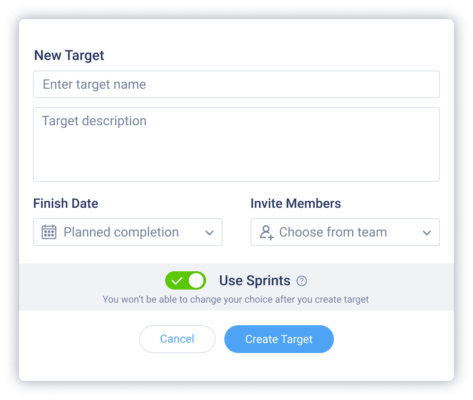 Here's what your workflow looks like without sprints:
You set your primary objective

Create a mind map of goals

Break your goals down into tasks

Manage tasks via Kanban board 
Quite similar actually. So, to use or not to use the sprints? It's up to you. But be sure to make up your mind at the beginning, when you create a target, as you can't change this setting later for this target. 
More compelling visualization of your goals
We've improved the interface to make working with your goals more convenient. The color you choose for your goal now is used not for the goal name, but as the goal background. A picture's worth a thousand words, so here's the screenshot: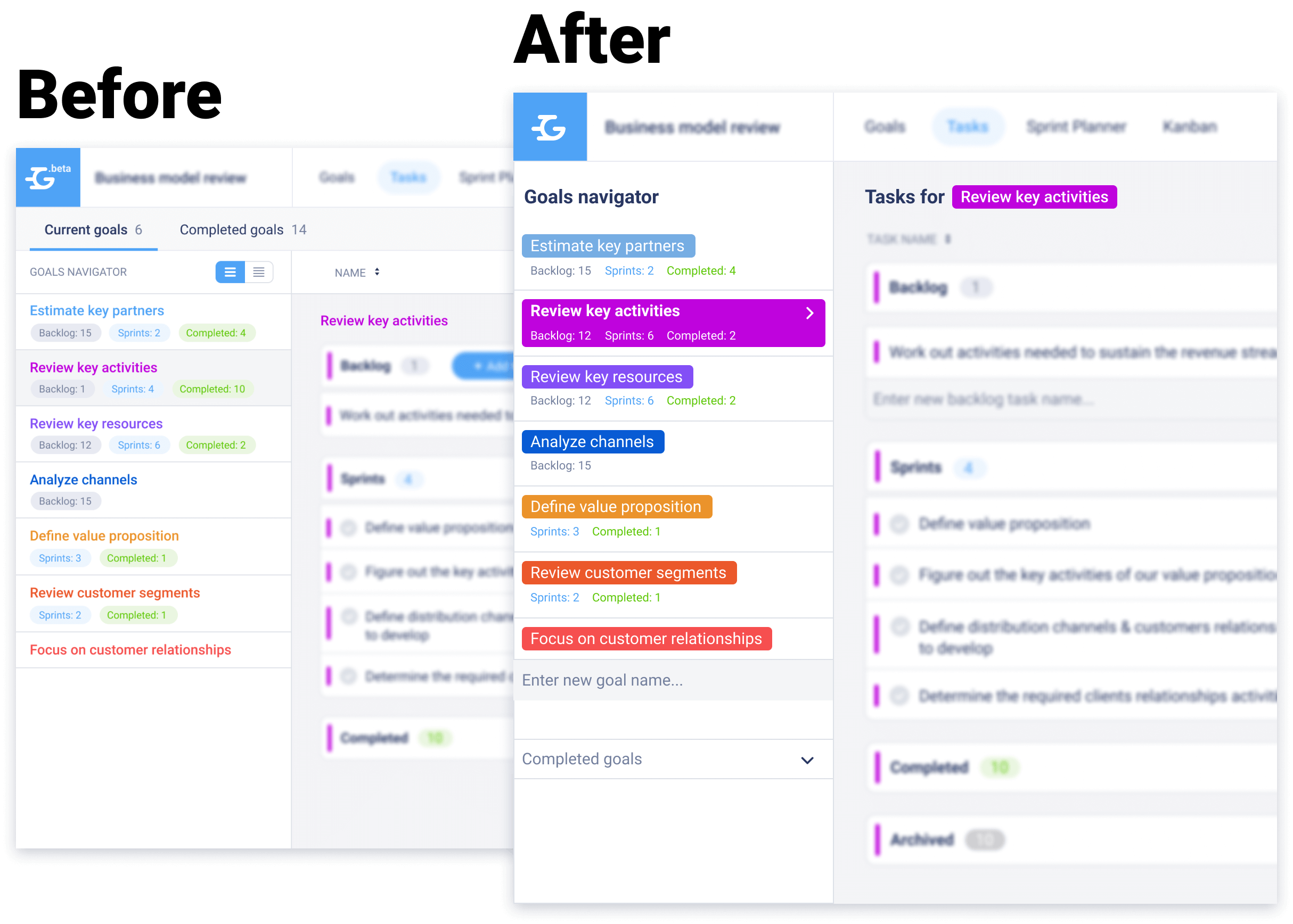 The benefits? With the clearer visualization, it's easier to navigate between your goals, especially when there are dozens of them. 
Bottom line on the launch of the goal-oriented tool by KeepSolid 
The official launch of our goal management app Goals brings many improvements, but it's just the beginning. We continue to develop the service and work on new features to help you achieve all desired business goals even more efficiently. Want to know what's already under way? Find it out on the Updates page. 
Start using Goals now, easily reach your objectives, and drive your business to success!