KeepSolid SmartDNS: What's the Difference Between SmartDNS and VPN Unlimited?
Reading Time:
4
minutes
In October 2019, the wide range of KeepSolid services was expanded by yet another brand-new product – KeepSolid SmartDNS. It's your best choice to unblock the most popular streaming services from anywhere in the world. Being relatively young, this freedomizer tool has already gained positive feedbacks from our users, like the one below:     
What is SmartDNS? How does it work? What is the difference between SmartDNS and a VPN? Should you use SmartDNS or VPN for Netflix? Which is better to unblock other streaming services – KeepSolid SmartDNS or VPN Unlimited? Let's answer all the whats and whys!
What is SmartDNS technology and how KeepSolid SmartDNS works
In a nutshell, SmartDNS is a brand-new technology that allows users all over the world access such streaming services as American Netflix, Hulu, Amazon Prime, etc., even if these websites are blocked in the users' locations. KeepSolid SmartDNS offers clients the US and EU DNS servers that allow them to unblock their favorite movies and TV shows, and never miss the latest episodes.
Our SmartDNS technology re-routes users' DNS queries through our US or EU servers. As a result, our users can easily watch their favorite movies and TV shows in full-HD, from anywhere. 
Why choose KeepSolid SmartDNS app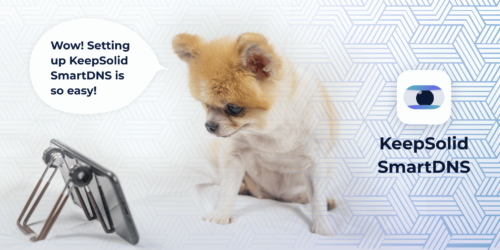 To watch your favorite video content wherever you are
Regardless of where you live or travel to, with our SmartDNS application you can enjoy any movies you like, wherever you are. Our freedomizer app helps you unblock such services as the US Netflix, Amazon Prime, HBO Now, Disney+, ITV, Sony Crackle, Rai.TV, BBC iPlayer, and Hulu. Besides, KeepSolid SmartDNS lets you unblock ESPN+ on smart TVs, media players, and web browsers.
To unblock vids on any number of internet-capable devices
This covers two important aspects of KeepSolid SmartDNS. Firstly, it is compatible with a great variety of internet-capable devices. This includes the most popular OS platforms, routers, gaming consoles, media streaming players, and smart TVs. Secondly, you can use a single SmartDNS account on any number of devices. Quite convenient, isn't it?
To enjoy full-HD video content without lags
SmartDNS allows to unblock restricted content without hurting your internet speed. KeepSolid SmartDNS is just faster than any similar tool, such as VPN apps, so that you could enjoy TV shows and movies without lags and at the highest quality. To top it off, no installation is required either. Just register on our website and configure DNS settings manually.
What devices are compatible with KeepSolid SmartDNS
Another great benefit of KeepSolid SmartDNS is its multi-device capability. Since you aren't required to install anything on your device, you can manually configure DNS settings on a huge variety of internet-connected devices.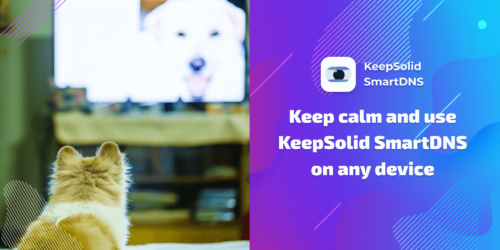 You can use our SmartDNS app on:
OS Platforms (Windows, Windows Phone, macOS, iOS, Android, Linux, Kindle Fire)

Streaming Media Players (Apple TV, Roku TV, ChromeCast, Amazon Fire TV, WD TV play, Boxee Box)

Smart TVs

Gaming Consoles (Xbox 360, Xbox One, PS3, PS4, PS Vita, Nintendo Wii, Wii U, Nvidia Shield)

Routers (Airport Express, Airport Extreme, Asus, TP-link, Belkin, Cisco, D-Link, DD-WRT, Fritz Box, Huawei, Linksys, Netgear, Tomato, Open-WRT).
You can check out our helpful manuals and learn more on how to setup KeepSolid SmartDNS on your device. 
What's the difference between SmartDNS and VPN Unlimited
If you are even slightly familiar with VPN applications, you probably know that they also allow you to bypass blocking and watch geo-restricted video content. What's the difference then? Why choose SmartDNS over a VPN app? The answer is simple, as it all depends on your needs. These applications are helpful in their own situations, as the whole bunch of their features are not similar at all. Let's have a closer look at their features, taking VPN Unlimited and KeepSolid SmartDNS as an example.
VPN app is a security and privacy solution first, video-unblocking second. VPN Unlimited, for instance, uses highly secure encryption methods to protect your private data and keep your online traffic untraceable for unauthorized third parties. SmartDNS doesn't hide your IP address nor protect your sensitive info. Also, you can use VPN for torrenting. 

SmartDNS app, in turn, has been created especially for video streaming. This freedomizer tool is faster than VPN Unlimited. Since VPN encrypts your online traffic and routes it through secure VPN servers, it slows your speed a little – a small price to pay for your security. But when it comes to enjoying TV shows on your Apple TV, you're probably only interested in watching them at the best possible connection speed. 
To learn more about the differences between these applications, take a look at this comparative table of KeepSolid SmartDNS vs VPN Unlimited app: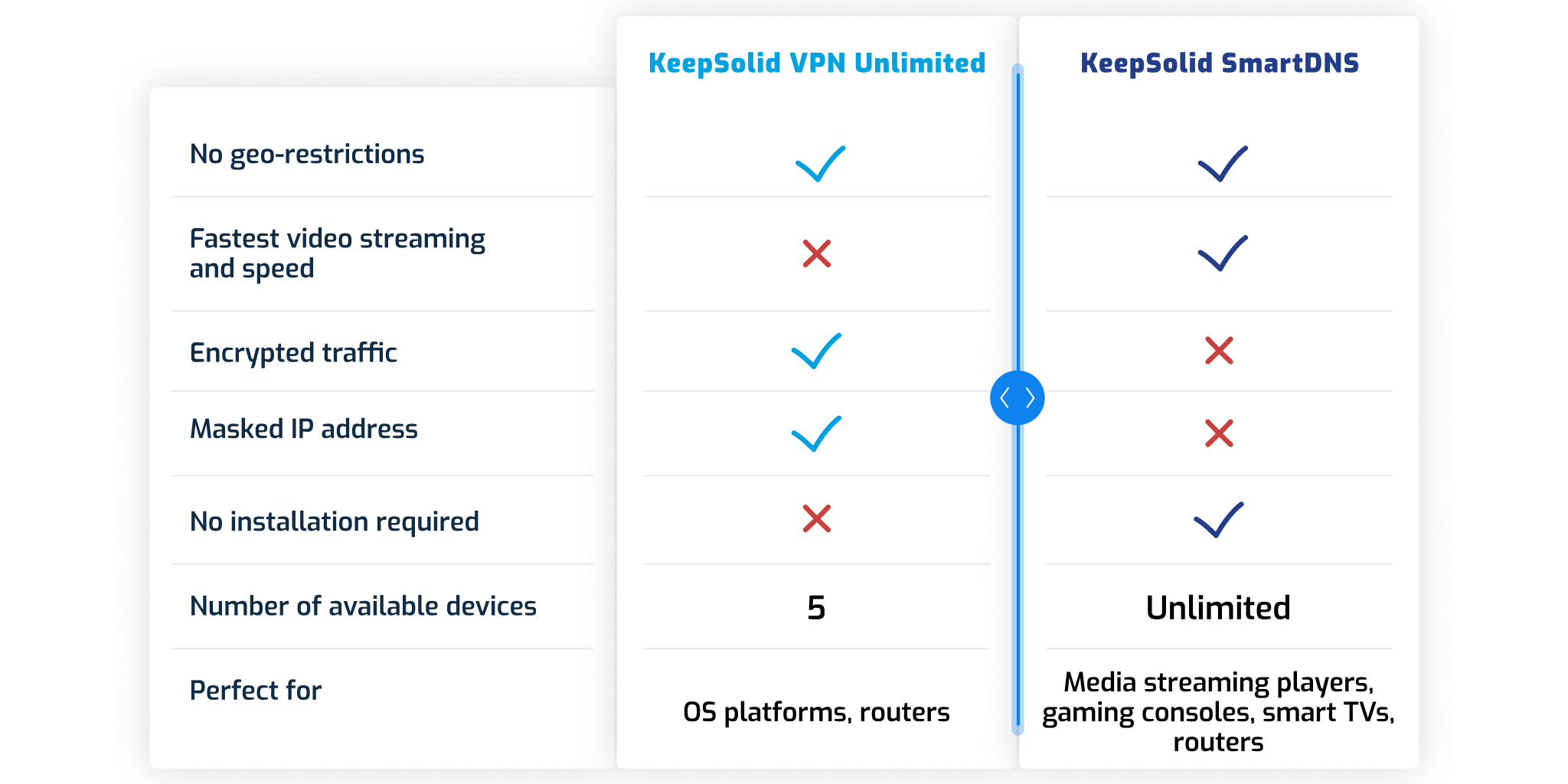 Bottom line on KeepSolid SmartDNS vs VPN Unlimited
So, should you choose VPN Unlimited or KeepSolid SmartDNS? It solely depends on your personal needs. If you only want to stream videos without lags, choose KeepSolid SmartDNS. It perfectly copes with this task and ensures that your leisure won't be spoiled. Alternatively, if your prime concern is your privacy, you should definitely turn your attention to KeepSolid VPN Unlimited. This is the best security solution that encrypts your private data and makes you completely anonymous online.