Private Browser Update: More Secure and Private Online Browsing
Reading Time:
4
minutes
Great news! We've rolled out a new version of Private Browser – updated, revamped, and more secure. This means even more private web browsing, better protection of your data, as well as more convenient web surfing.  
What changed in Private Browser? What makes it one of the most private browsers? How does it ensure your private online browsing? What potential intruders does Private Browser secure your data from? We've prepared all the answers below 😉 Let's dive in right now! 
Changes in the new Private Browser by KeepSolid 
Private Browser now comes with a built-in VPN profile, which encrypts your browsing traffic using the uncrackable AES-256 algorithm. The encryption ensures unmatched protection of your data on any network, including unsecured public WiFi hotspots in cafes, hotels, and airports. 
The built-in VPN feature also renders your web surfing completely anonymous. This goal is reached by disguising your real IP address, so the websites you visit can't trace your online activities back to your identity. 
The same goes even for your ISP. It can no longer peer into your browsing history. This said, Private Browser provides the kind of anonymity no other browser's Private / Incognito mode can guarantee you (where your IP stays exposed).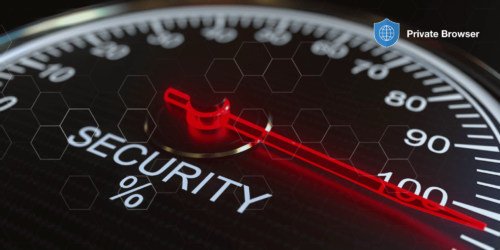 Improved speed and performance
There are also some under-the-hood improvements to let you have a truly private and protected browsing without any hiccups. With the lightning-fast speeds and dazzling performance of the updated Private Browser, web pages load much faster now. All to let you enjoy not only secure, but also a smooth and delightful internet journey.    
Top benefits of the secure Private Browser by KeepSolid 
Private Browser has plenty of use cases. It lets you securely browse the web from office or home, it protects your privacy and anonymity from adversaries, helps to avoid ads and malicious tracking cookies. Let's break down some top benefits of our private internet browser below. 
Saving your time and sensitive data
Surfing the web on untrusted public WiFi hotspots with Private Browser, you can be sure that all your sensitive data is safe. Once you connect to a VPN server, all traffic within Private Browser gets encrypted. Even if hackers manage to intercept it, it will look gibberish, not giving away your private info and combating the risk of identity thefts.  
Our secure Private Browser cares not only for your identity online, but also of your time. You don't need to install any additional apps to protect your browser's traffic from eavesdropping. No extra taps. Just open Private Browser, and you're all set to enjoy private and secure web surfing.  
Providing access to geo-restricted content
Say goodbye to messages like Content unavailable in your region. Private Browser makes all doors on the internet open for you 😉 With its wide selection of VPN servers you'll easily find the location where the desired website is accessible.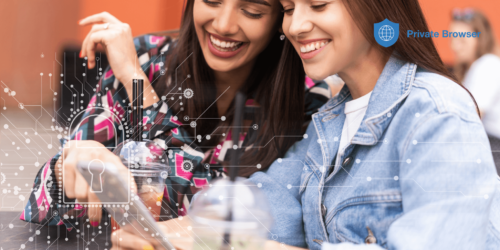 Connect to the necessary server and easily combat the restrictive internet censorship with our private web browser!  
Making you truly private online 
Private Browser is your best bet if you want to make browsing on your Android or iOS device truly anonymous. This highest level of anonymity is provided by the built-in VPN with a rich choice of VPN server locations. Connecting to any of them, you disguise your real IP address with a virtual one of the selected server. 
What's the result? Not only Google, but any third parties, and even your internet service provider can't track you anymore. This said, with Private Browser you opt out of any kind of online surveillance and keep whatever you search or do online uniquely to yourself.
An alternative to Google Chrome and other browsers 
Privacy-focused Private Browser is a great alternative if you decide to ditch the mainstream Google Chrome, Safari, Firefox, and the like. With it, you stop giving so much of your information to such giants as Google. 
Besides features of a standard browser it offers much more – truly anonymous and secure web surfing. To top it off, Private Browser also allows to set up local protection like a pattern lock, password, touch ID, etc.
How to start secure and private browsing 
It's as easy as 1-2-3! Follow just a few easy steps below:
Download Private Browser

for your iOS or Android device.

Create your KeepSolid ID or sign in with an existing one. 
Bottom line on protected browsing
With the latest update and all the improvements it brings, our secure Private Browser lets you enjoy even more private and protected browsing. Get it now and see for yourself!