Meet Private Browser on Android for Secure and Unlimited Browsing Experience
Reading Time:
2
minutes
We are thrilled to announce the launch of Private Browser on the Android platform. The iOS version of this full-functional security browser has already won hearts of hundreds of thousands users. Now Android users can enjoy secure and safe web browsing on their devices.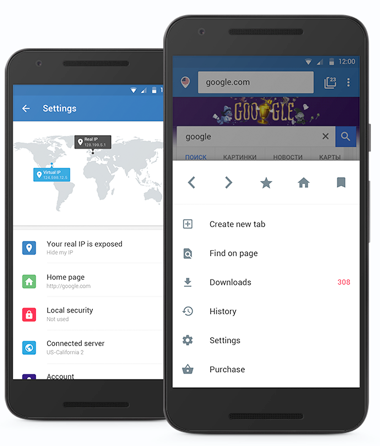 Uncompromised security and protection
Private Browser uses powerful encryption methods, ensuring a high-grade security for your web activities. No matter what you are up to, downloading books for your study, or enjoying a new movie online, all your actions will be absolutely safe from eavesdropping. Set up pattern lock, pass code or password to add even more protection for your privacy and anonymity.
Web content without restrictions
Our top-notch app is a browser to use not only when you are concerned about keeping the information private, but also when you need to access some territory-restricted content. Using a proxy technology over VPN servers, the app opens a door to any blocked website you want to visit.
The Private Browser key features include bookmarks menu, user-friendly design, high connection speed, and simultaneous access to more than 25 tabs.
Still more news
Along with a new platform support, we launch an update for iOS version that contains new features and improvements for better usability and safety. It includes:
– New design of user interface for better user experience
– All registered users are granted with 1 more additional month of the trial period to connect to the servers
– Performance improvements and bug fixes 
Private Browser is available for free download on the App Store and Google Play. Get the app right now, and start your new improved online experience. By default, you'll be connected to the Optimal server. However, if you want to choose a server you are connecting to, use the IAPs offering.
Your secure and smooth web browsing starts with Private Browser. Try it now!