Network Tools Make IT Admins' Life Easier
Reading Time:
3
minutes
Updated on Jan. 09, 2020:  We've stopped support of Network Tools. The team that developed the app is now entirely focused on KeepSolid VPN Unlimited and other online security products and bundles. Check out what's already available here and stay tuned for our new solutions! 
Today, we will continue to talk about the features of Network Tools, our new solution for analyzing the network, and will cover one more use case for this utility – system administrators. Below we have specified the ways our productivity tool helps IT administrators in their daily work.
Network Tools is a handy utility for troubleshooting network problems. Using the tools like DNS resolve, ping, server check, and traceroute, it allows you to check your settings, detect packet loss, determine non-optimal routes and more. Now let's look closely at each one of these tools.
DNS resolve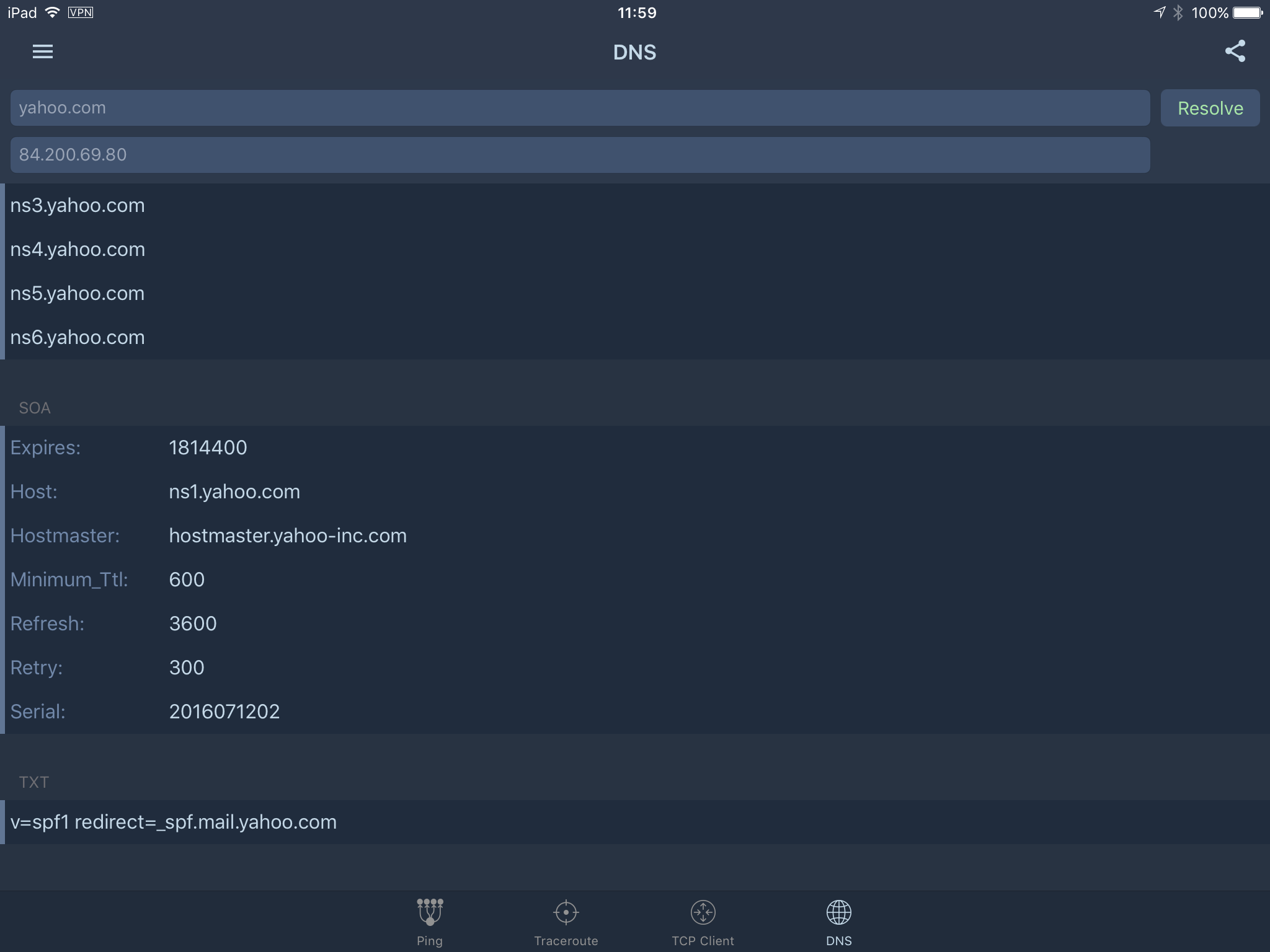 In case you are setting up a website, and almost ready to make it live, you need to be sure that all data in your settings were made in a proper way and your domain name points to the correct server IP address. Using a DNS resolve tool, it is very easy to check whether it is so, or whether there are any discrepancies. DNS resolve supports both IPv4 (A) and IPv6 (AAAA) field types and offers you fast and accurate data with copiable results.
With this tool, you can choose a DNS server from the list of predefined ones, or you may leave the bar empty (on the picture this bar shows 84.200.69.80). In this case, the tool will use a system configured name server. Moreover, if you click on the bar with a website name, you will see the history of the used IP addresses and domain names.
Ping
Use ping to confirm that a specific domain or IP address on the Internet is up and available. This tool allows you detecting a packet loss and network problems, as well as checking the latency. On the main screen, you will see all the available settings, like interval, timeout, and data size.
On the picture below, you can see that 5 ping packets were sent, and all of them show positive result that means there was no packet loss. Under the ping tests, there is a statistic that shows the number of ping requests, latency, and the loss rate.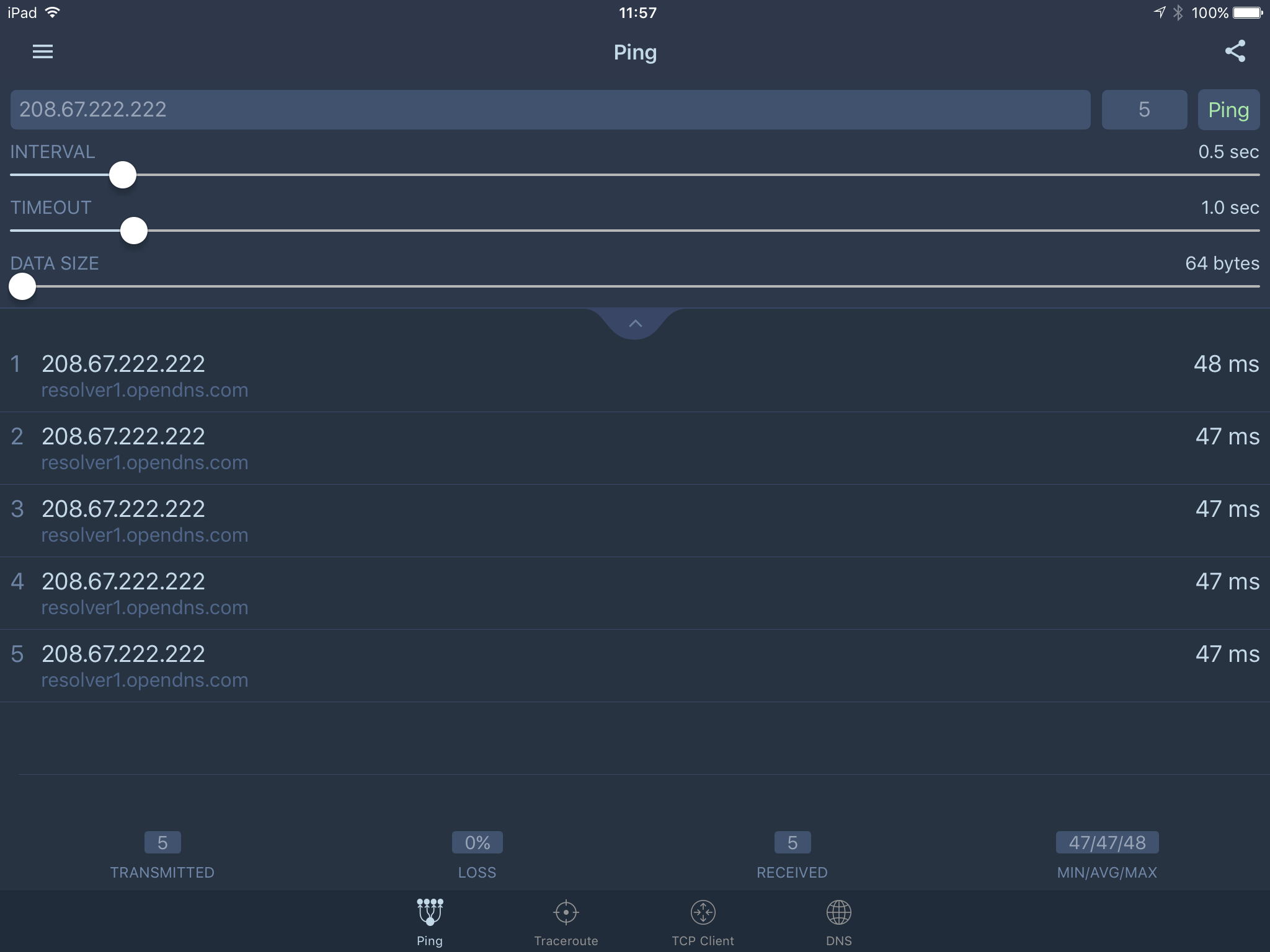 Note: The bar that now shows "5" indicates the number of ping packets that are to be sent. "0" means here an unlimited number of round-trip ping tests, the process will continue until you click Stop.
Server check
Server check reads the server's response headers and detects any potential blocks. This tool allows you to input your domain name (the tab shows mydomain.com on the picture below) as well as a text line that should be found in the content of the web page. Press "+" and the address will appear in the main list below. Your domain name will be saved in the list for further checks if needed.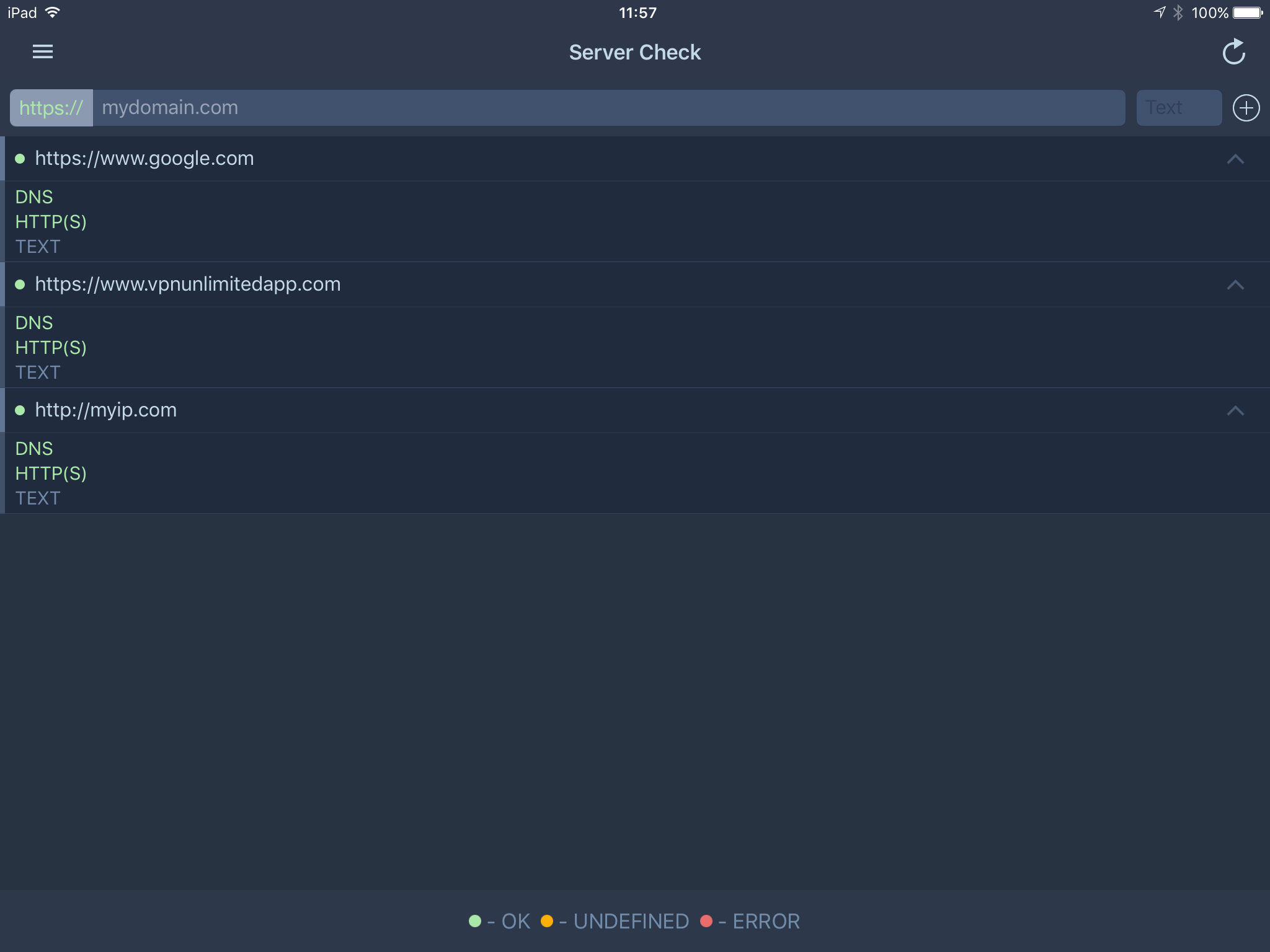 According to the check we have performed on the picture, all three servers are available. This method of analysis shows results regarding following data:
– If the domain name resolves via the system DNS server
– If there is a connection when sending GET request to HTTP(S)
– If the text line was found in the content
Traceroute
To determine non-optimal routes, traceroute tool is exactly what you need here. It checks the route packets across an IP network, helping you understand existing connections to a given server. The tool will display the latency, domain names and IP addresses for each hop (please see the picture). Having the traceroute information, you can easily find out why your connections to a given server might be poor.
As per the example below, there are 17 hops recognized between the original server and the final destination server. The picture shows a smooth connection through all the hops.
Network Tools is a powerful network monitoring tool that will help you to ensure that your critical system, applications, and services are always up and running.