Top 4 Must-Have Sales Software For Effective Work That You Could Miss
Reading Time:
3
minutes
Every result-oriented business strives to increase their sales and maximize their profit. In order to achieve this, companies have to create a strong sales department, consisting of highly motivated professionals. In present-day reality, professional salespeople are experts on the company's products, masters of multitasking, and dedicated on-the-go workers. To retain such staff and make them more productive in working with customers, you also need to provide your team with the best sales software.
These must-have IT sales solutions for businesses are e-Commerce applications that optimize work of sales teams, make it more effective, and speed up the sales process in general. KeepSolid Sign team has made an extended research on such tools and prepared for you top 4 sales software that you could miss but definitely shouldn't. Let's check them out!
Being a professional salesperson means being an expert on the company's products, a master of multitasking, and a dedicated on-the-go worker.
Click To Tweet
Top best software for sales teams
KeepSolid Sign
This is an electronic signature solution that helps your sales department to speed up the deal closing process and convert your leads into sales. KeepSolid Sign is a must-have software when your customers are ready to purchase your product and you have to sign the contract as fast as possible. This e-Signature software helps your sales team save their time and avoid the old-fashioned print-sign-scan-send routine.
All they have to do is add a contract to the Documents tab, annotate signers, and click the Send button. Thanks to clear document status tracking, your salespeople will always know when the document is signed. To top it off, the app's highly secure AES encryption protects your business data from any cybercriminals, so you can be sure that all your documents are completely secure.
Freshsales
This is an easy-to-use CRM software that handles various aspects of the sales process. Freshsales allows your team to keep track of leads, get a full customer view, and optimize sales. Your professionals will be able to categorize customers by their online activity on the frequent websites, score leads, and rank them.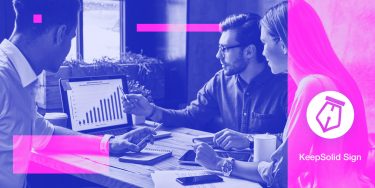 The software also includes built-in phone and email that allow to initiate personalized contacts with your target list. With Freshsales your team can also prioritize messages from the most important customers and always know who opened your emails and clicked your links. At the end of a particular period, you'll be able to analyze your sales with extended reports.
VPN Unlimited Team 
Along with KeepSolid Sign, this is another sales-boosting software by our team. First thing first, business security solution by KeepSolid helps your sales professionals to make a good first impression on the partners from different countries. Thanks to premium VPN server list, your sales rep can connect to the needed server location and send offers from IP addresses of countries that are familiar to your clients. This can become essential, since some picky customers tend to trust fellow salespeople more than the foreign ones.
Also, your sales employees will be completely protected while staying away from your office. During their teleworking or business trips, your sales professionals can turn on VPN Unlimited Team and protect their personal and your corporate data.
Calendly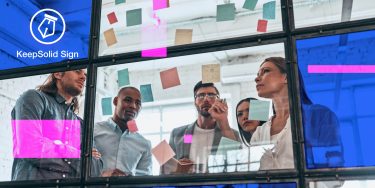 This small but highly useful solution for sales team will help schedule all necessary tasks and meetings with your customers. The key goal of this software is to develop positive relationships with your clients while closing more deals. Also, your sales reps will be able to work together on the same client. Calendly allows to collaborate within the Team page to schedule with the relevant person, topic or event. As a bonus that overworked managers are likely to appreciate, it's possible to set the cap for the number of meetings per day.