Back To University Gift: Roadmap Planner Is Absolutely Free For A Limited Time
Reading Time:
1
minute
It's this time of the year when you go back to studying and plan your academic year. Just in time for the back to university season, we are giving away Roadmap Planner for students to thoroughly plan the whole educational process. Starting today, August 31st through September 7th, Roadmap Planner is available for absolutely FREE on the Mac App Store.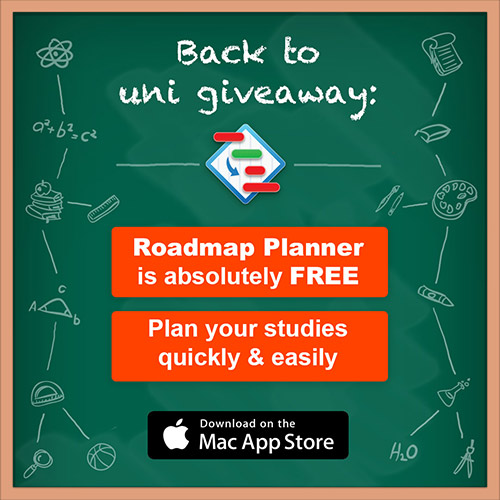 With this easy-to-use software, you can put together a plan for your studying and see where to next in 1-2-3. The app will help you to visualise the timetable of classes, tests, exams, additional trainings, and keep everything in order on your desktops. No internet connection is needed so even if there are any limits to its usage in your college, you'll be able to check and edit your roadmap at any time. Hurry to get it at no cost to you!
Well, even if you are not a student, it is free for you too. Go grab this awesome app for strategic planning and develop a roadmap for the success of your product and business.
Still hesitating? Find out more about this planning software on our site or watch this video.