How to Develop and Acquire a Budget for Your Project
Reading Time:
4
minutes
Let's say, you come up with an idea of a product or a game. Your company is happy with your initiative, and they are ready to start. For this, you will need a strategy that should be properly visualized to help anyone involved understand the required steps to release your product. Next, to make your app "alive", you will need a team of developers and designers, QA and DevOps engineers, technical writing and customer support technicians. These are the well-known statements, right?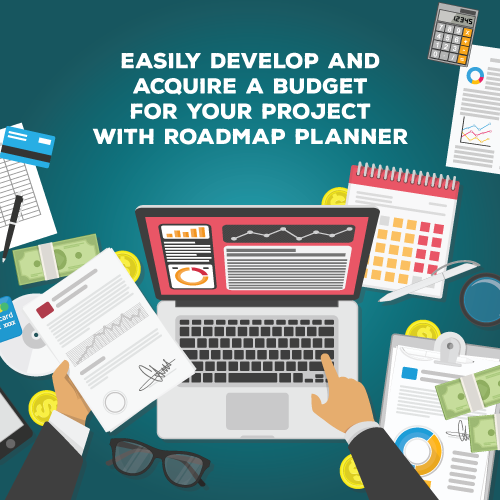 However, there is one point in this process that is sometimes treated too casually. It is a budget that is in fact a critical component of your project as it determines the boundaries of your project. By all means, without the approved budget, you won't be able to move further than just dreaming of the product.
Here is one more thing to remember. Before giving you money, C-level executives and stakeholders will definitely request a plan that clearly describes how your product will give the company a competitive advantage. Well, this is not an easy task, is it? Particularly in our agile market conditions when changes occur frequently and unexpectedly.
This is where a high-quality planning tool, like Roadmap Planner, will be of great service to you. It will help you to create an actionable agile roadmap that will become your powerful tool to get the budget for developing your product approved. Here are some practical advices to build an effective roadmap.
Focus on goals and make them measurable
When you focus on goals, like acquiring customers or expanding into a new market, and develop a corresponding goal-oriented roadmap, it is much easier to steadily keep your course in an agile and dynamic environment. It doesn't mean that features become inconsiderable, absolutely not. They are just viewed as one of the main resource to reach your goals.
To know whether you've hit your target or not, every goal that you state must be measurable. For instance, you are going to acquire more customers. In this case, you have to define how many new customers should be acquired in a certain time period. Make sure, though, that you state a realistic target.
Present a coherent storyboard
Develop your roadmap in such a way so that it will visualize a step-by-step story on how your product will grow. Each new release should be based on the previous one, and approach you to your goals. This step will help you to shape up your concept, and will greatly assist to receive approval from your executives.
Note: Don't oversell your product. Just be honest and realistic.
Keep your roadmap simple
One of the most common mistakes of product managers is that they try to add too many details to their plans. But quantity does not always mean quality. When your roadmap is overloaded with a large number of details that are not essential at this stage, it will be difficult for the executives to understand your main idea, and may become a subject of much controversy or long approving process.
Keep your roadmap simple and capture what really matters, by focusing on the goals. In case you worry that you can miss some information, such as user stories, features, or details of the UI design, just keep it in a backlog.
Cooperate, but have the courage to say "No"
The best way to gain the understanding and support among all parties involved is to closely collaborate with C-level executives, stakeholders, and developers while creating and updating the product roadmap. This allows you to engage everyone, and get new ideas for your product.
However, you don't need to accept every idea and request. Otherwise, this will make your roadmap overloaded and measureless. "Innovation is not about saying "Yes" to everything. It's about saying "No" to all but the most crucial features," said Steve Jobs. Have the courage to say "No," and remember that collaboration requires leadership.
Contingency plan                                                                    
Studies say that up to half of IT projects overrun their budgets, which can jeopardize not only the very existence of the project but even the company. So getting your budget right from the get-go is crucial. This means you need a contingency plan. It allows you to see one step ahead, and be ready in case things go a bit chaotic. Being ready does not only mean you should be aware that things can stray from the plan, but that you need to have a contingency budget to cover up the unexpected costs.
Note: With Roadmap Planner you can develop a single document where you are able to Introduce both your idea of the product growth and a contingency plan. Just add one more project, and point out the stages where unexpected costs will most probably appear. Moreover, you may even set some dependencies between tasks in different projects for a clearer understanding of the process.
Bottom line
When you finish laying out a budget, you should feel like you've walked through the entire lifecycle of your product. You also may think that the plan you arrived at is the final version of your product roadmap. But we have to disillusion you. If the environment you're in is agile, then changes are likely to occur. Therefore, we recommend you to regularly (at least every 4 weeks) review and update your roadmap.
This is easy to implement with Roadmap Planner. It is one of the best planning solutions on the market that allows you to see exactly where your project stands, monitor how much time and money has been spent, and to forecast the cost and duration for the entire project.
Download Roadmap Planner for absolutely FREE now.