Going to College? Take To Do Checklist with You!
Reading Time:
2
minutes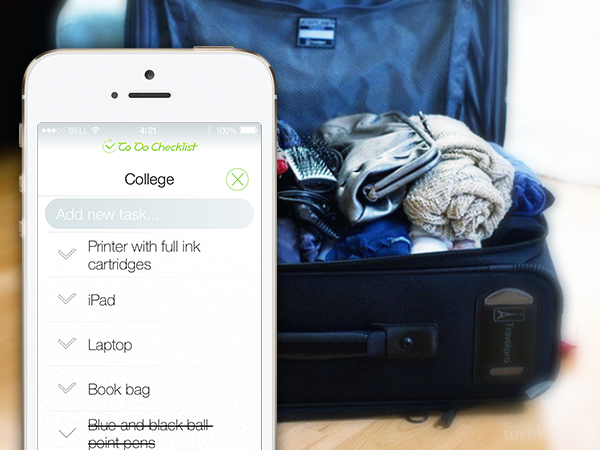 Getting ready to leave for college may seem as a lot of trouble to go through, yet breaking down the whole 'leaving home matter' to the smallest details will simplify the departure. As it may get out of hand, it is wise to keep the matters simple and clean. And with the help of To Do Checklist, you will easily solve the problem.
Academic Supplies
Loose-leaf paper or spiral notebooks
Three-ring binder
Three-hole-punch that fits in binder
Flash drive or Flash drive case with lanyard
Dictionary and Thesaurus
Personal organizer/calendar
Calculator
Subject dividers
Blue or black ball-point pens
Mechanical pencils / White-Out
Permanent markers/ highlighters
Combination lock
Book bag
Computer, Laptop, Tablet, iPad (Computer paper)
Printer with full ink cartridges
Cleaning Supplies
While keeping your studies up to date, it is also important to keep your clothes intact, meaning nice and clean.
Laundry detergent & fabric softener
Clorox disinfectant wipes & Swiffer
Collapsible laundry basket
Dorm Furnishings & Supplies
Leaving at campus may feel as bit strange or alienating, but if you gather all the necessary things from home, you will get comfortable in not time.
Full-length mirror
Egg carton mattress pad
Alarm clock
Pillowcases & twin extra-long sheets
Twin extra-long blanket and comforter
Desk and floor lamp
Plastic storage bins
Toiletries
Buildable racks and shelving
Shower caddy
Flip-flops or shower shoes
Hangers
Bulletin board
Dry-erase message board & pens
Mini fridge
Microwave
Coffeemaker
Utensils
Surviving the Roommate
While college is a lot of fun, there are some stuff you want to get prepared ahead. The same is applicable to surviving another student you are about to live with for a whole year. Get these items in tact and you never know how quickly you will make new good friends for life.
Earplugs
Eye mask
Noise-canceling headphones
As you can see, going to college is not a hassle after all because you know how to keep all things straight and get ready with the help of To Do Checklist before you arrive on campus.