Heading Back To School? Take Tap and Edit With You!
Reading Time:
2
minutes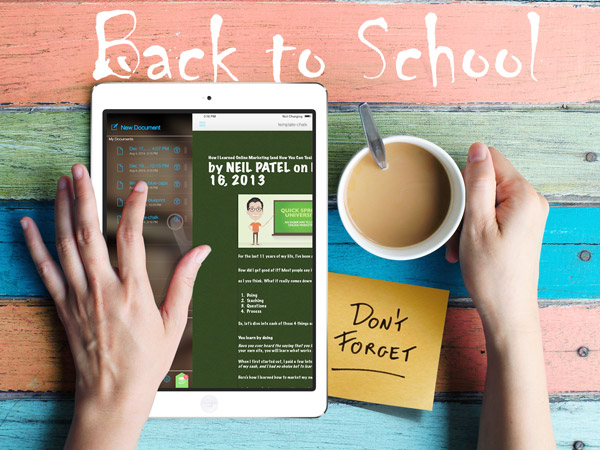 Going back to school is exciting yet it comes with a chunk of responsibility. When you head back to college or university campus, it is better to prepare in advance. As you still have a whole month of August ahead of you, figuring out what you need the most will help you with your preparation. Aside from listing and packing all the essential things you are about to need during the school year, including the notebooks and pens, think about how your electronic devices can be of help as well. For example, the use of Tap and Edit app will help you take notes during the lectures. And now you have a chance to get the app at extremely low price. We offer 50% discount on all line of products from Simplex Solutions Inc. available August 9-16, 2014.
What Can Tap and Edit Do for You?
Aside from the fact that the app is extremely simple in use, it offers a number of advanced options.  While there are dozens of typing applications for iOS devices available on the market, the customers choose Tap and Edit for a number or reasons.
Choose any colorful template;
Create a plan;
Do a list or bulleted list;
Insert some attractive images or pictures with one easy tap;
Email as PDF or HTML;
Put in Dropbox;
Send files to another device using WiFi.
Perform Any Action in One Easy Tap!
There is a great variety of ways how Tap and Edit can be beneficial for you. If your roommate misses out a lecture, you can provide him with your notes that you made during the class. At the same time, you are not limited to sending your files with iOS extension only as you can send the files both in PDF and HTML format. This option is extremely useful.
Another great option is inserting the pictures that you like the most that will help you link the lecture's information with your imagination. As soon as you would look at the pictures, you will recall the materials in seconds.
As majority of iOS devices do not offer a great storage space, it is extremely convenient to upload the files to Dropbox. If you need to share the Dropbox files with your acquaintances, it is very easy to do as you just provide them with necessary access. Another way to do it is to share one WiFi connection and send the files to the selected electronic device.
As you can see there is a great number of options how Tap and Edit can be used. At the same time, you can get the app at extremely affordable price with 50% discount during our "Back To School" program.