KeepSolid Phones is a breakthrough app for your world over interaction
Reading Time:
2
minutes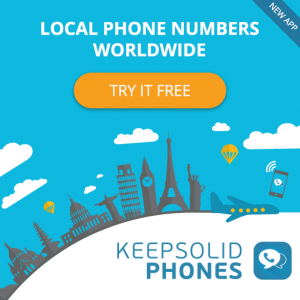 Today our team is happy to announce the introduction of a new application called KeepSolid Phones. The app allows you to get a secure local number in many countries without an additional SIM card, signing a contract or hidden fees. KeepSolid Phones is based on the VoIP technology, and available for iPhone and iPad.
The KeepSolid Phones app is the best alternative to a mobile roaming. You can save up to 90% on the long-distance calls by using the app. To learn more about the rates, please visit our site. 
If you need different phone numbers for your business contacts, family, friends, traveling or even to fill out forms or questionnaires for the companies you don't want to receive spam or cold calls from, you can well afford this with the KeepSolid Phones app. The app offers you an unlimited amount of telephone lines for any purpose you have. Choose a phone number in a suitable destination like the USA, the UK, France, Canada, China or Australia, and start communications.
Moreover, KeepSolid Phones features to support the Apple Watch. This allows you to receive missed calls notifications and read SMS messages right on your wrist. You do not need to take your iPhone out of your pocket or bag for these purposes any more.
Download the KeepSolid Phones app now and get a 7-day free trial. It includes a personal phone number and $1 on your account (that is 20 minutes of conversations around the USA) to test the quality of the app.
Get started with the app right away!