KeepSolid Phones – first two weeks overview
Reading Time:
2
minutes
Almost two weeks passed since we have released our new VoIP-based app, KeepSolid Phones. During this time, we've made sure that this service is in demand with the iOS device users as we received a good few gratitude expressions, comments, and questions. We would like to thank you for the valuable feedback, as you know that even a little thanks goes a long way.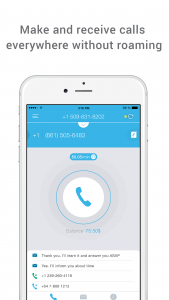 Today we will answer the most frequently asked question, "What about the additional expenses for the mobile internet (roaming) when you are away from your country?"
When abroad
Well, while travelling abroad, you have a wide selection of absolutely free Wi-Fi networks, like in airports, hotels, coffee shops, restaurants, malls, and even in parks. It means you won't suffer extra costs when using our app. All you need is just to connect to an appropriate hotspot and you can start your communications.
A hint: to protect all your personal data and online activity, we recommend you to enable a VPN service prior to connecting to any of the public or open Wi-Fi networks. Our VPN Unlimited app will ensure privacy and security of your conversations as well. Turn it on and your personal and business communications will be virtually untraceable.
In your home country
Meanwhile, you can connect to a mobile internet, if you are using KeepSolid Phones in your local area for one-time calls in order to hire a flat or a car, to fill out forms or questionnaires, to contact with people or companies you don't want to receive more calls or spam from.
In the near future, we will extend a basic function of our service with new security and productivity features, which will be determined according to all desires of users of the current version. Don't miss the updates.