Are You Ready for the Release of iOS 8?
Reading Time:
4
minutes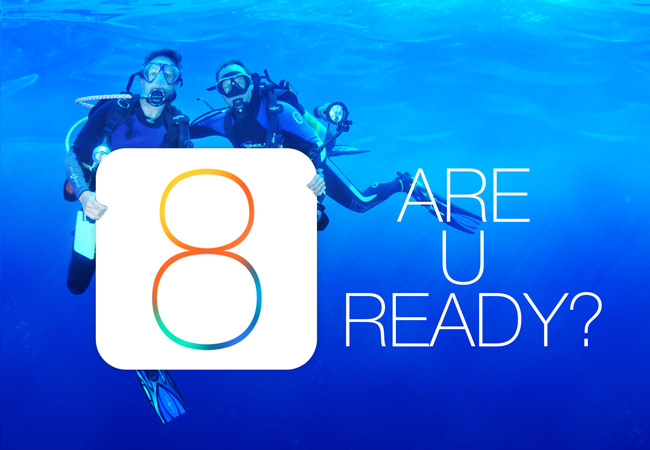 With the release of new iOS 8, a lot is expected. A brand new OS will have a completely new look that is rather fashionable and a great spectrum of features is expected that will be a perfect fit for iPhone and iPad. Apple Corporation claims that the users will definitely enjoy it!
Our Opinion VS Experts Opinion
While some experts believe that a new iOS 8 is a catch up to Android OS, the main focus of it is going to be around easier communication between Mac, iPhone and iPad. It will allow much easier access to apps, texts, files, phone calls and other devices. Nevertheless, we rave about the upcoming release if the new accessory, the iWatch, and a completely new health app, HealthBook. According to the latest leaks, the initial design is going to undergo minor changes, but everyone should expect better messaging system. We believe that the design is going to keep its clean lines, yet a whole concept is going to be kept as elegant and classy as ever.
What to Expect?
Built on the design of iOS 7, upcoming release of the iOS 8 will offer a whole set of the newest features. To start with, the Apple will introduce new interactive notifications allowing to reply wherever and it is not even close to any other apps you are using right now. The focus of the iOS 8 is around three basic parameters such as:
Security;
Productivity;
Management.
Why Choose iOS 8?
Keeping the focus on the innovations, the iOS 8 is made to be the greatest and the most advanced OS with attention to details, complete interactive experience and organization. It allows instantly see, edit and organize messages, photos, threads, etc. You can now add voice to your text message too. The biggest impact is made with health and fitness apps. They allow to have a straightforward communication with the such specialists as your doctor and personal trainer.
It is worth mentioning that the iOS 8 is absolutely great for developers as it allows a deeper access with a whole variety of tools. With new keyboard options, developers have plenty of ways to share their content. Also, the new OS is equipped with direct use of the iCloud and Touch ID.
With its release in the Fall, let's review the most outstanding iOS 8 capabilities.
Photos
From now on, all taken photos are instantly shared between your Apple devices such iPhone, iPad and Mac OS X. There are numerous options for photos to be edited. Stored in iCloud Photo Library, they are instantly viewable on all your devices. Also the search for the photos is simplified and you can find photos by entering a year or location; the search will be done by the system automatically.
Messages
With the new iOS 8 message system, it is easy to connect to your family members, friends and acquaintances. You can also add voice to your conversation thread by performing a simple tap. Sending videos is an option as well. You can share your location and selected people will always know where you are.
Brilliant Design
With extra attention to details, iOS 8 delivers unforgettable user experience. You can instantly respond to all notifications by using keyboard or voice, manage your emails and send instant replies, address calendar invitations, get reminders and messages from your major apps such as Facebook. All notifications are send in a form of upper banners and this way you don't have to quit the app you currently work with. Quickly send respond to important messages and focus on the activities that you were performing earlier.
Instantly get access to:
a)     Shortcuts to the people that you consider to be important;
b)     Time-saving mail features;
c)     Calendar events;
d)     View the same tabs in Safari on your iPhone or iPad (all webpages open automatically).
The Smartest Keyboard
The iOS 8 makes typing simpler by adding suggestions while you type. It is incredibly smart so it offers contextually appropriate words and it completes sentences for you with the following options:
1)     It recognizes whom you are typing (both email and Messages);
2)     It identifies your tone and copies it with suggestions;
3)     It predicts what you are likely to say next;
4)     It identifies the topic of the conversation;
5)     All typing is now performed in a few taps;
6)     It offers a more laid back tone of communication with your life-partner, yet more formal with your boss or employees.
7)     It keeps all communication 100% private.
8)     It allows new third-party keyboard experiences.
Family Sharing Options
The iOS 8 offers a wide range of the family sharing options and allows to communicate with up to 6 family members simultaneously. Now, you will know when your spouse purchases a new movie, song, app, game, etc. Also, it allows to see all linked to one credit card expenses, yet your kids will need to obtain your permission to get new games, apps or upgrades.
Any Kind of Files
The iOS 8 identifies and reads all kinds of files, storing them on iCloud.
Health App
It allows to use both health and fitness information in a completely new format. The Health app is your ultimate activity tracker as well as heart rate and blood pressure monitor. It can communicate with other popular fitness and health apps too, based on the accessible and the latest information.
To Summarize
In the previous iOS 7, you have used double tap to gain quick access to all apps and now you will be able to communicate with your favorites as well. In Safari, you used to have the 'birds view' of all opened up tabs and fast use of the side-bar. Managing the emails became easy as well as. Performed with one gesture – the swipe, you will be able to manage all emails. Play music on iTunes. With new communicative system, there is quick access to the people that you communicate the most with the options of calling them, message them or 'face time' them. SpotLight is the most convenient way to activate your current searches and also do a search for friends, needed email, apps and so on. It can also do a search for new apps in App Store, restaurants, map locations, the latest news, songs, movies, etc. (both the nearest movie theatres and options to stream them online).