How to transfer photos from iPhone/iPad to Dropbox in one Tap?
Reading Time:
3
minutes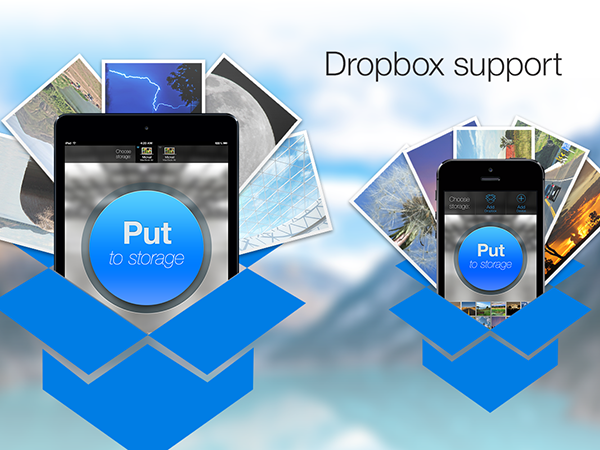 Updated on Jun. 24, 2019:  The Sync Photos To Storage app is currently not available for download. 
We are willing to share with you another essential feature of Sync Photos To Storage app, which is the use of Dropbox. As many users benefit from using Dropbox as their primary or secondary storage for photos and videos they currently use or work on, Sync Photos has the ability to connect directly to Dropbox. This extensive feature can be beneficial to use in many case scenarios, but before we proceed to actual steps you need to take on Sync Photos app, let's review basic benefits of using the cloud storage.
Why Dropbox is attractive to users?
When we say Dropbox, majority of users will associate this name with "a relief to overstressed computer". The Internet offers a number of storing options yet many believe that Dropbox beats the competitors by offering a number of valuable features that cannot be either underestimated or neglected. If we look back in 2007, the first time Dropbox appeared on a computing scene.
Is Dropbox a Groundbreaking Storage Performer?
By now you should recognize this motto "One place for all your stuff, wherever you are." And the Company, Dropbox Inc. does everything to support its advertising slogan by offering more valuable user options year after year. We always think of the Dropbox of ever-changing online file storage that takes care of a whole variety of files that a user has share between multiple computers, laptops and iDevices or simply saying the "magic pocket".
The Dropbox Mechanics Review
It's a virtual folder that seats in the cloud, the Internet, and is located somewhere on a server, you wouldn't need to know.
When you place your files into the cloud, it makes it available on your computer (Mac or PC). If somebody else is subscribed to the same folder, Dropbox copies it from the cloud and places on their computer in the Dropbox folder.
Main reasons why people would use Dropbox because they have multiple computers at home and offices. At this point, users wish to make sure they have the same files on their computers. For example, you are working on a file at work and you wish to work on the same file at home.
So, there is no need to drag around any USB stick. Just drop it in your Dropbox and the file will automatically sync to your machine at home and vice versa. The same is applicable to photos. If for example you wish to share photos with your friends, girlfriend, or mother, you simply sync photos to storage.
How to transfer photos to Dropbox with Sync Photos To Storage?
Open Sync Photos on your iPad/iPhone.
Tap on Choose storage, and select Dropbox from the Gallery bar.
In the right bar's corner, tap on Add Dropbox. Log in to your existing Dropbox account using your email and password. Otherwise, proceed and create new Dropbox account.
You will be redirected to browser page and you will see "Sync Photos to Storage would like access to its own folder, Apps > Sync Photos to Storage, inside your Dropbox" and press "Allow" button. On your computer, you will see that Sync Photos is linked to your Dropbox.
As soon as the photos syncing process is initiated, you will see a number of saved pictures in the bottom right corner.
When all photos from your iPad/iPhone are stored to your Dropbox, your iPad/iPhone will let you know the number of photos that were successfully downloaded. Keep in mind that you can always stop, pause, and resume the photo syncing progress at any time.
The ability of Sync Photos To Storage to work with Dropbox is an exclusive feature that allows individuals to store photos on this widely used cloud. At the same time, if you don't have access to the photos stored on your computer, you can access them on a cloud, which is extremely convenient, especially if you are traveling.