Get More In-Depth Information About Your Network with Network Tools 1.3
Reading Time:
3
minutes
Updated on Jan. 09, 2020:  We've stopped support of Network Tools. The team that developed the app is now entirely focused on KeepSolid VPN Unlimited and other online security products and bundles. Check out what's already available here and stay tuned for our new solutions! 
We are excited to announce the release of a new version of our smart network analyzer Network Tools. With the major UI improvements and new features, this utility becomes even more user friendly and gives extended information about your network condition and the status of every device connected to it.
No matter what your network needs are, Network Tools will make the process of gathering the information a simple task. Moreover, it won't cost you a single penny.
New possibilities with new features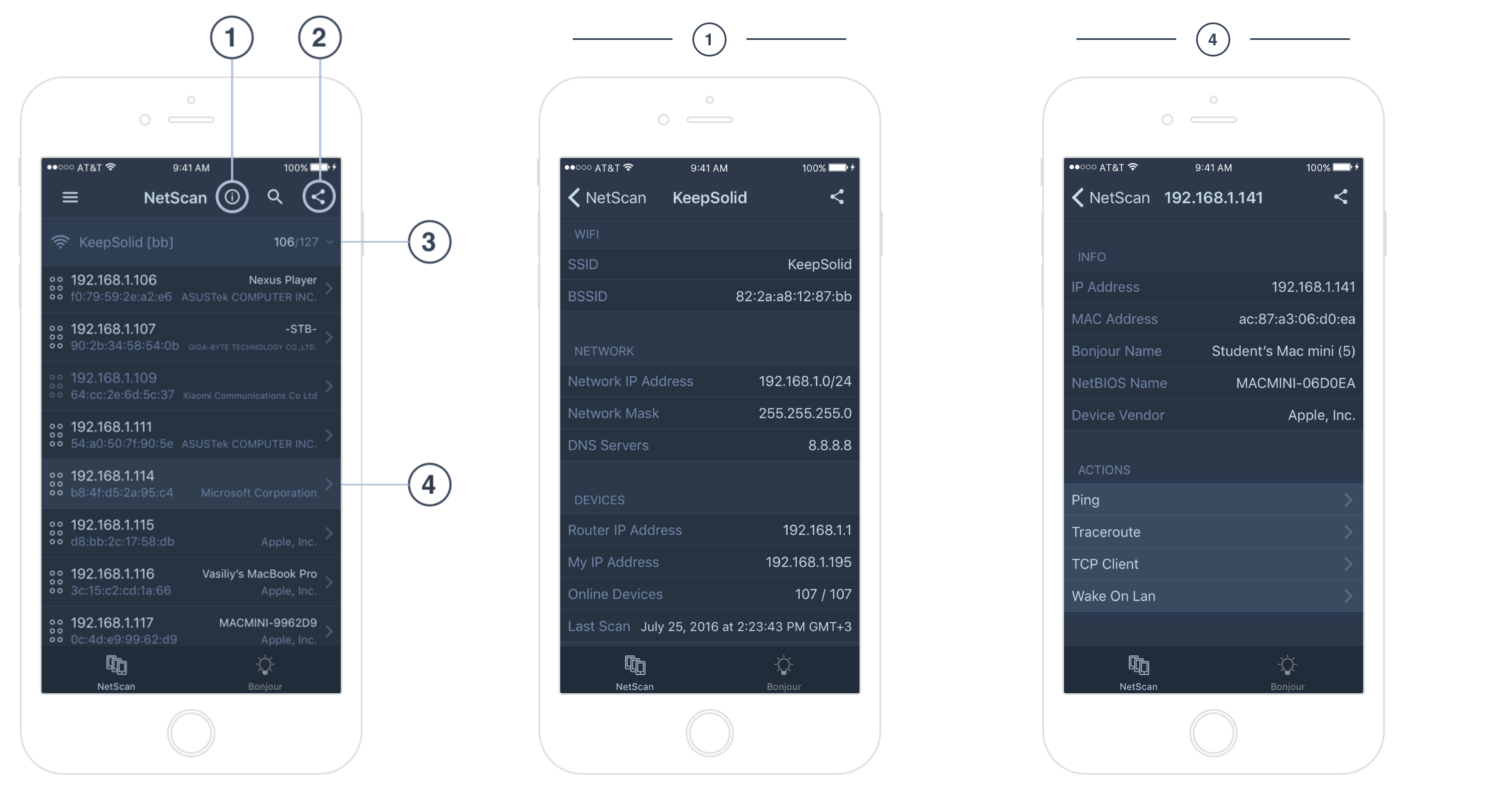 Our updated NetScan tool gives you a valuable insight into your network, allowing you to see a number of data points and variables. In the screenshot above, we highlighted the new features of NetScan that will enable you to:
1. Get more in-depth information about WiFi and Cellular networks. Please see the network scan results example on the screenshot

2. Export results and send them to your system administrator. This feature is available for Server Check and Censorship Test tools as well.
3. Study the information about all the previously scanned networks. Now NetScan saves this data for your convenience.
4. Get the information about each device separately. However, there is one more effective feature here that enables you to learn more about the device connection status right from this window. Without searching among the available tools for the one you need, you can instantly take ping, traceroute and more tests at this stage. Read more about ping and traceroute tests here.

Details lead to a faster fix
Server Check reads the server's response headers and detects any potential blocks. Now this tool gives more detailed info on availability issues, showing the extended explanation of the DNS server and HTTP(S) test results.
Server Check allows you to export the information you get. If you need to take the opinion of your colleague, simply send the results and successfully solve the issue in less time.
Network Tools is one of the best solutions on the market for fast and accurate network analysis, server availability check and network censorship test. The app is available for absolutely FREE on iOS.
Download Network Tools and get started with your network analysis.